Power Over Parkinson's: How One Family Isn't Letting a Diagnosis Define Them
For the last 20 years of his career, Gary Rogliano was a partner at several successful private equity funds, and he never expected to retire. In fact, he always anticipated working until at least age 102, just like his father.
"I was one of those guys who worked pretty much 24/7," he told us recently. "I didn't take much time off unless it was for my kids or my family."
His nonstop lifestyle was upended in May 2018 when doctors confirmed something his wife Angela had feared for months.
"I was the one who first suspected it," she said. "He had a shuffle in his walk, and I guess that was his first symptom. I thought to myself, 'I know this walk, I've seen this walk before.' Then all of a sudden it clicked in my head that he could have Parkinson's disease."
Besides the initial shock, Gary said the most difficult thing about his diagnosis was looking ahead to what seemed like a pathless, uncharted venture.
"I had no idea what to do, and I had no idea what Parkinson's was," he said. "You hear a little bit about Muhammad Ali and Michael J. Fox, and that's about it. There was nowhere to go, nowhere to turn."
Gary was unhappy with the hands-off approach his diagnosing doctor offered, so after some searching, his daughter Margaret Preston found the help their family was looking for in the Parkinson's and Movement Disorders Center at the VCU Health N.O.W. Center.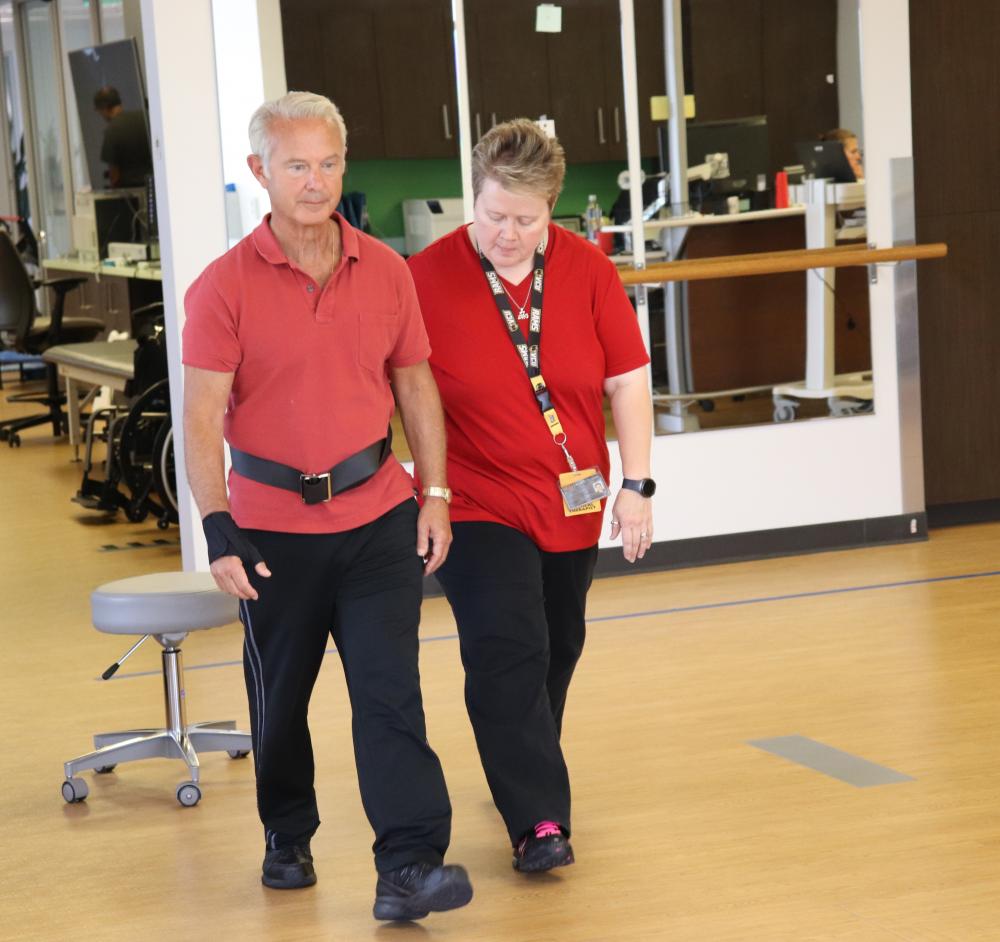 Jonathan Snider, M.D., a neurologist at the center, evaluated Gary and connected him with many of the treatments offered at VCU Health, including physical therapy, occupational therapy, speech therapy and sleep therapy.
Staying active is critically important for people with Parkinson's, so Margaret also found and pieced together various options to help Gary keep moving, such as boxing, taekwondo and yoga.
As Gary made his way through therapy and the host of new activities Margaret helped him find, he began to see troubling patterns emerge among the new friends he was meeting.
"I got to talk to a lot of people who had Parkinson's, and a lot of them were like me, newly diagnosed, don't know where to go, don't know what to do," he said. "I began to hear from a lot of people who were short on cash, they were having financial difficulty because they couldn't work anymore."
That's when Gary saw an opportunity and decided it was time to retire.
Power Over Parkinson's
Gary retired in 2018 at 68 years old, but he did not slow down.
In 2018, the Rogliano family launched Power Over Parkinson's (POP), a 501(c)(3) nonprofit organization focused on providing financial assistance and connecting Parkinson's patients with beneficial resources in Central Virginia.
"We saw gaps in the care in Richmond," said Margaret, who serves as vice president of POP. "Not gaps in medical care, but gaps in social care and financial care. POP is trying to fill the gaps in Richmond by providing financial support, providing social support and getting people into working out, because that's really the main mission and what my father is passionate about."
One of POP's biggest initiatives has been its partnership with VCU Health. In July, the Rogliano Family and POP committed $750,000 to help develop a Parkinson's and Movement Disorders Exercise and Wellness Program at VCU Health. Specifically, the gift will endow a chair to assist in recruiting a visionary Parkinson's and movement disorders clinician-scientist who will explore ways in which exercise and wellness can be used to better treat Parkinson's.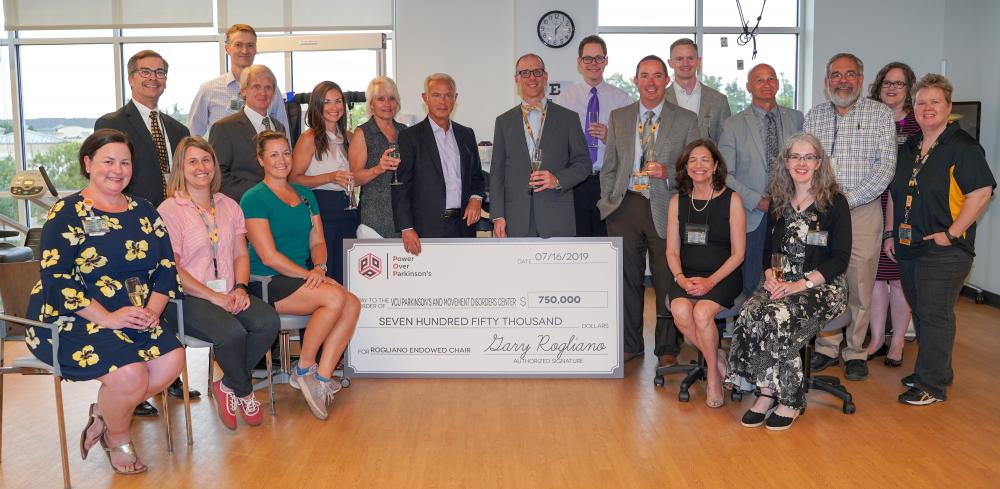 "Exercise and physical activity are important for all of us in maintaining health, but they have a particularly powerful role in the management, adaptation, response and treatment of a variety of neurodegenerative diseases, including Parkinson's disease," said Gordon Smith, M.D., chair of neurology at VCU School of Medicine. "There is likely a specific effect exercise and physical activity have on the neurodegenerative process that leads to better outcomes among Parkinson's patients and others with neurodegenerative disorders in combatting their illnesses."
In finding a place to make a gift and establish something as impactful as this new chair, the Roglianos see VCU Health as the perfect partner.
"VCU Health has been wonderful for my father," Margaret said. "They provide comprehensive care, and everything is under one umbrella. Because we're so happy with his care there, it was a natural relationship to make, as far as doing good together. We all have the same goal to help people. We see that based on the care of my father and we want other people to experience that care."
Most of the therapy and services the Roglianos want to share with the community happens at the N.O.W. Center, which opened in 2016 and is located just outside the Short Pump Town Center in Henrico County. Therapy at the center focuses on restoring motion and helping patients with orthopedic and neurological illness survive and thrive. The facility and its clinicians offer a unique model of care that is regionally focused and represents the future of multidisciplinary care delivery.
Support from families like the Roglianos, other donors and volunteers makes a substantial impact on facilities like the N.O.W. Center and the people in it.
"Philanthropy is absolutely critical to what we're trying to do here at VCU in neurosciences and across the entire organization," Dr. Smith said. "Our ability to succeed in our multiple missions – provide the best patient-centered and innovative care, educate the next generation of clinicians and clinician-scientists, and discover new treatments and cures for diseases — is only possible with engagement from donors and volunteers. This isn't only because of the financial investment that allows us to engage in high-reward sorts of activity and research, but it's also because of the ideas, partnerships and inspiration they provide."
Making this type of impact is the work that Gary Rogliano finally decided to "retire" into. POP was created to help the new friends he met, and continues to meet, along this new chapter of his life. If you're interested in joining Gary and his family's mission at VCU Health by supporting the Rogliano Family Endowed Chair, contact Carrie Bickford, VCU Health's interim director of development, at 804-828-3652 or carrie.bickford@vcuhealth.org.
If you're interested in learning more about the various tools we have available at the MCV Foundation to help you make an impact on Parkinson's disease or any disease you're passionate about, visit our giving page.