Rare Complication Meets its Match at VCU Health
Five weeks after he underwent a procedure to treat atrial fibrillation, Ed Prestemon and his wife Patty traveled from North Carolina to Richmond to visit their daughters.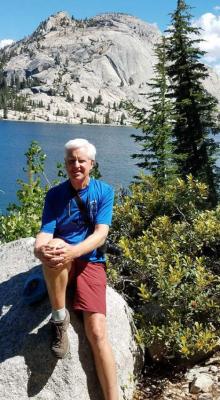 Not long into helping one daughter with some minor home renovations, Ed began to feel extreme fatigue and chest discomfort. Patty, a retired nurse, knew she needed to get Ed to an emergency room, and when she did, his condition deteriorated rapidly.
Ed began shaking and spitting up large amounts of blood, but it was still 24 hours before doctors identified the problem.
Related to his recent procedure, Ed had developed an atrial-esophageal fistula — a condition in which a passage forms between the atrium and the esophagus. Every time Ed's heart beat, it pumped blood into his esophagus.
He needed emergency surgery.
Articles cited on the National Institutes of Health website note that an atrial-esophageal fistula is rare and usually fatal. Many patients die of massive hemorrhage before they can even be assessed.
"We almost said our goodbyes right there because they gave us a 15% chance that he'd make it through the surgery," Patty told us. "And this was a healthy guy, you know. He hiked, he biked, he weightlifted."
Ed was transferred by ambulance to VCU Medical Center on the MCV Campus, where he was met by cardiothoracic surgeons Daniel G. Tang, M.D., and Rachit D. Shah, M.D.
Atrial-esophageal fistulas are so rare that neither doctor had ever seen a case before, but they were confident they could help Ed.
Rising to the Challenge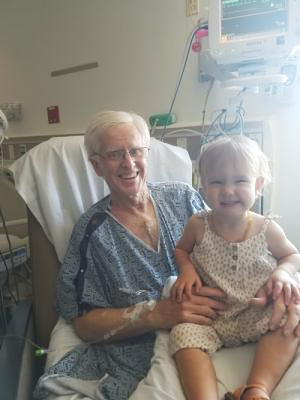 Through nearly 14 hours of surgery over two days, Drs. Tang and Shah successfully repaired the holes in Ed's atrium and esophagus, but not before he suffered several strokes.
What followed was an extensive hospital stay totaling 43 days as Ed moved from the ICU to a step-down unit to inpatient rehab.
Ed's first memory of his time at VCU Medical Center began at inpatient rehab, where he spent ten days, before being released to home rehab and outpatient rehab at Sheltering Arms. At rehab, Ed told his therapists that his goal was to get back to the activities he had always enjoyed — kayaking, biking, hiking and volunteering.
Seven months after the emergency surgeries that saved his life, Ed grinned as he recalled, "I actually sent the rehab therapists a photo of me kayaking while we were in Florida."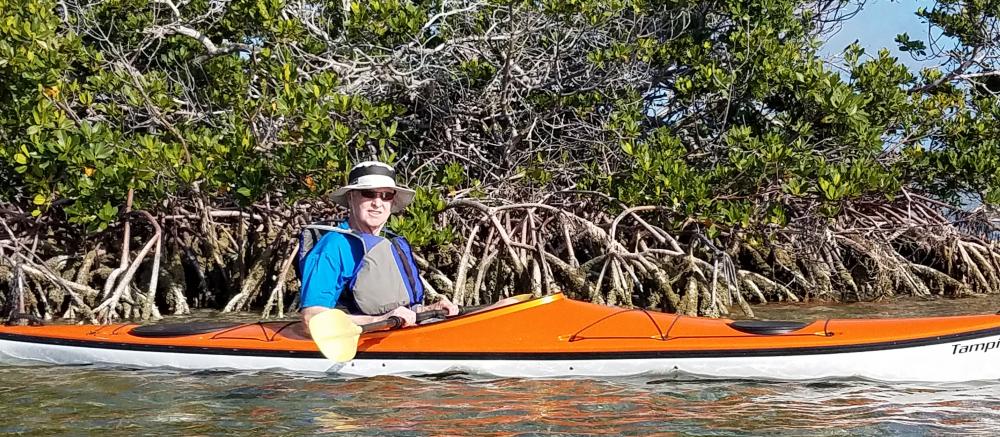 Glowing Praise and a Generous Gift
"I was very unlucky to have the initial problem happen to me," Ed said. "But I was even more lucky to have it happen when I was in Richmond, when I was five minutes from the ER … and when I was able to get to VCU Medical Center where I could get the surgery I needed right away. VCU Medical Center had the doctors and the resources that I needed, so I was very fortunate."
"We received great care at VCU," Patty said. "Being a nurse and being in other hospitals and seeing how different hospitals work, good and bad, my daughter and I both agreed —the nurses were great. ICU was wonderful —they couldn't have been nicer to us."
Today, Ed is thrilled with the way his recovery is going.
"We just got back from Florida, and we were able to hike and bike and kayak, which we weren't sure I'd be able to do," he told us. "Obviously, the most important thing is getting together with our family. Last Thanksgiving was a really great get-together, and then we're here this week for our granddaughter's second birthday and our other daughter's baby shower. Just being able to be here for those makes us very thankful."
To show their appreciation to VCU Health and to the doctors, nurses and rehab therapists who saved Ed's life and helped him get back on his feet, the Prestemons made a generous gift to support both cardiothoracic research at VCU Health and the new Sheltering Arms Institute.
A joint venture between VCU Health and Sheltering Arms, the new Sheltering Arms Institute will be a 114-bed, 200,000-square-foot hospital located in the West Creek Medical Park off Broad Street Road. The state-of-the-science institute, which is expected to open in 2020, will combine the current inpatient rehabilitation programs of Sheltering Arms and VCU Health to provide comprehensive and innovative physical rehabilitative inpatient care for people who have faced challenges such as stroke, brain and spinal cord injuries.
If you're interested in learning about all the tools we have available that you can use to help save and improve lives like Ed's in Central Virginia and beyond, please explore our giving page.
To learn more about supporting cardiothoracic surgery and research at VCU Health, contact Carrie Mills at (804)828-0423 or carrie.r.mills@vcuhealth.org.
To learn more about supporting rehabilitation services at VCU Health, contact Nathan Bick at (804)827-0387 or nathan.bick@vcuhealth.org.