Research Fund Honors Leadership of Longtime Massey Director
Many people familiar with VCU Massey Cancer Center struggle to imagine the state's leading cancer research and treatment facility without first thinking of Gordon Ginder, M.D., the center's director for 22 years.
Dr. Ginder is a nationally recognized researcher and has created a legacy of leadership excellence for Massey that is marked by both his humility and kindness. Earlier this month, he retired from his role as one of the longest-serving directors of a National Cancer Institute-designated cancer center. During his tenure as director, Massey strengthened its reputation as a premier institution for innovative research, patient care and education.
"It has been my great privilege to serve as director of VCU Massey Cancer Center," Dr. Ginder said. "I am deeply grateful to the many wonderful and passionate community supporters of Massey and the dedicated and hardworking Massey researchers, clinicians and staff who made possible our success over the years."
Thankfully, Dr. Ginder will remain a part of the MCV Campus community as a scientist and hematologist-oncologist. He will continue pursuing promising research, mentoring and training the next generation of physicians, and caring for patients with blood and lymph node cancers.
"When I took this position, I said that one of my goals was to make this cancer center a place where I would want to come as a physician and researcher," Dr. Ginder said. "As I look forward to the next phase of my career, I am happy that I will be doing just that — focusing on my research and my patients here at Massey."
For his research with the Cancer Molecular Genetics program, Dr. Ginder focuses on epigenetics and the regulation of genes in cancer and blood diseases. He currently holds a $3.2 million grant from the National Institutes of Health to support a team science project seeking to identify molecular targets that could be used to develop novel therapies for multiple blood disorders. The findings of this project could have significant implications for the future treatment of blood diseases and certain cancers, including leukemia and breast tumors.
Under Dr. Ginder's leadership, Massey has grown substantially, increasing both its research output and funding for lifesaving cancer research. "Dr. Ginder leaves a lasting legacy that has impacted countless lives within and beyond Virginia," said Steven Grossman, M.D., Ph.D., Massey's deputy director.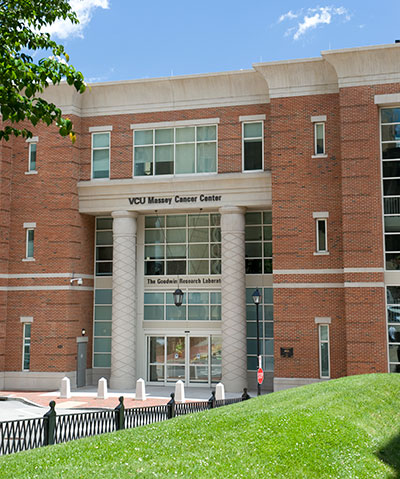 Massey has also expanded immensely as a multidisciplinary, comprehensive cancer care facility, becoming a referral center for the most complex and rare cancers and treatment options for patients across Virginia and beyond. Among many other landmark care services, the cancer center boasts one of the largest selections of cancer clinical trials in the state; internationally renowned palliative care that is integrated with its cancer care; the largest and most comprehensive bone marrow transplant program in Virginia; a world-class breast health team; next-generation genome sequencing capabilities for precision cancer treatment; the commonwealth's first cardio-oncology program; and FDA-approved CAR T-cell therapies for the treatment of adults with B-cell lymphomas and children with B-cell acute lymphoblastic leukemia.
"Dr. Ginder's visionary and dedicated leadership of Massey leaves a lasting legacy that has impacted countless lives within and beyond our community," said Marsha Rappley, M.D., outgoing CEO of VCU Health System and vice president of VCU Health Sciences.
Part of that legacy includes laying the groundwork for the future of cancer treatment at Massey Cancer Center. In the coming years, Massey will consolidate most of its outpatient services in an oncology pavilion in downtown Richmond. Projected to open in 2021, the pavilion will be part of a new VCU Health outpatient facility currently under construction. It will serve as a lasting reminder of many such state-of-the-art cancer research, training and care facilities that were built across the university and health system during Dr. Ginder's tenure, including the first building dedicated solely to cancer research — the Goodwin Research Laboratory.
Dr. Ginder's leadership will be remembered as one of service to the community and of fully embodying Massey's mission to save and improve the lives of those affected by cancer. To celebrate his leadership, a new fund — the Gordon Ginder Research Excellence Fund — was established to fuel discovery of new treatments and therapies through promising research, such as Dr. Ginder's work on developing novel therapies for multiple blood disorders.
To learn more about how you can honor Dr. Ginder's leadership by supporting innovative research, please contact Martha Quinn, executive director of development for VCU Massey Cancer Center, at 804-827-0652 or mquinn3@vcu.edu.