Reynolds Foundation Pushes Young Chair Past Goal
Just months after MCV Foundation board members helped reignite a campaign to fully fund the M. Theresa and Harold F. Young Endowed Chair in Neurosurgery, the Richard S. Reynolds Foundation provided the gift that accomplishes that goal.
The Richard S. Reynolds Foundation's $300,000 commitment pushed the fund past the $1.5 million needed to establish the Young Chair. Now valued at more than $1.6 million, the fund has received generous support from many of Dr. Young's grateful patients and their families, as well as faculty and alumni.
Two of the most fervent supporters have been MCV Foundation board members Charles Crone and Harry Thalhimer, who helped lead to the effort to complete the funding for the endowed chair.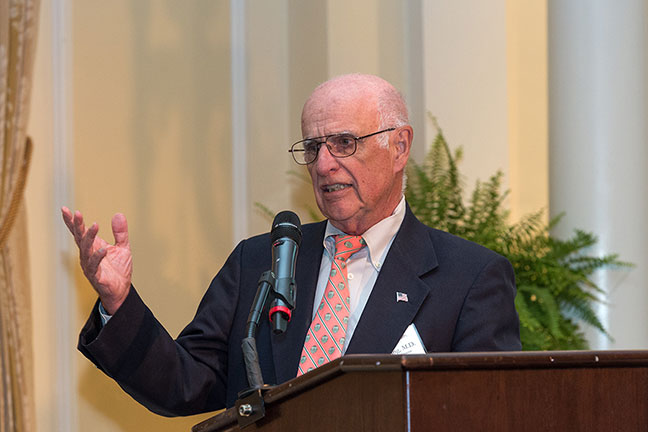 "Harry Young is one of the top historical figures in health care on the MCV Campus," Thalhimer said. "He's a great human being and he's done so much to help people. Everybody has stories about Harry Young calling at midnight to check up on them. He's a healing guy and everyone we've approached wants to be a part of this."
Dr. Young, a renowned neurosurgeon known for his bedside manner and ability to relate to patients, served as chair of VCU School of Medicine's Department of Neurosurgery from 1985 to 2015. He continues to see patients since stepping down as department chair. The endowed chair named for him will enable the school to attract or retain a world-class faculty member who will pursue neurosurgical clinical care, research and education in the tradition that Dr. Young personified.
"Through his exceptional care, professionalism and leadership, Dr. Young established a culture of excellence in the Department of Neurosurgery, and this newly endowed chair serves to cement that legacy thanks to the foundation Dr. Young established," said Peter Buckley, M.D., dean of the VCU School of Medicine. "Because of this generosity, our neurosurgery team has the opportunity to grow to treat more tumors and other neurological issues, conduct more research that uncovers additional pathways to healing and train more neurosurgeons to deliver care across the world."
Even though the chair is fully funded, fundraising will continue to strengthen the new chair's impact.
If you're interested in contributing, please contact Brian Thomas, MCV Foundation vice president and chief development officer, or Joy Sanders Malkin, assistant dean for development at VCU School of Medicine and VCU Health, at 804-827-4939 or joy.sanders@vcuhealth.org.