Stroke Survivor Paints with Purpose
The most compelling thing about watching Sara Anderson paint with her left hand at the kitchen counter in her Richmond home isn't that she's actually right-handed.
It isn't even that these left-handed paintings she's been working on for months have raised more than $2,000 for the VCU Health Comprehensive Stroke Center.
What's so impressive about this scene is that only 10 months ago, Sara could barely move her arm or hold a paintbrush.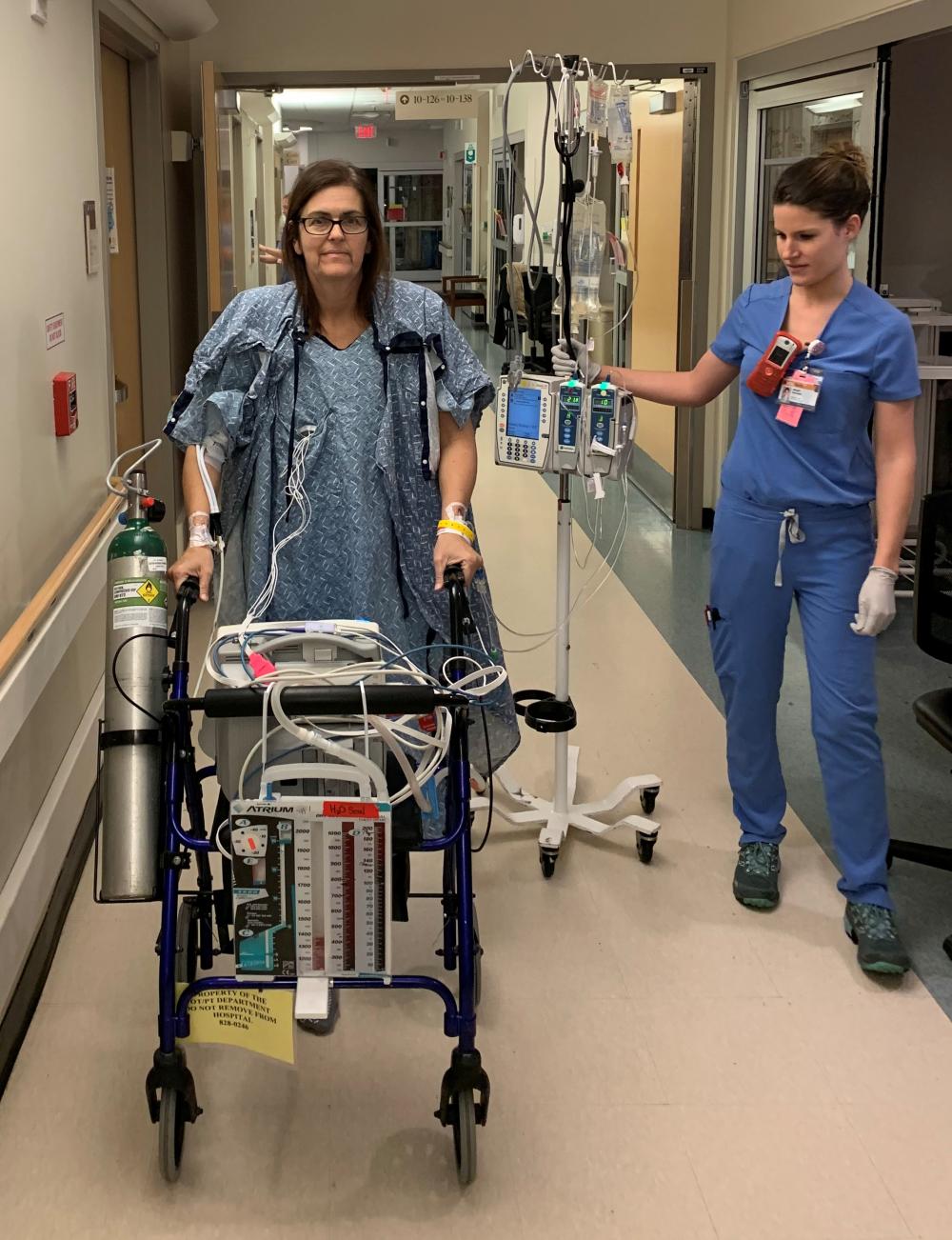 Her journey from suffering a stroke to recovering and giving back to those who helped her began January 15 while hospitalized for a separate procedure. Ann Ritter, M.D., a friend, and a VCU Health pediatric neurosurgeon, noticed her face beginning to droop and alerted Sara's doctors, who acted quickly. The neurology team was emergently called, and Sara was treated with an intravenous medicine that can dissolve a clot causing the ischemic stroke. She was also treated by the neurosurgery team, who performed an endovascular treatment, removing the clot from her brain with the use of a catheter.  VCU Health was the first in Virginia to offer this procedure.
"The medicine stung so bad," Sara recalled. "I remember one of the nurses told me to squeeze her hand and I started to scream. I said, 'I'm so sorry,' 'I'm so sorry.' And she said, 'No, you scream as loud as you can. It's that medicine. It's that medicine breaking up the clot.'"
Sara spent the next two weeks in the hospital, then began outpatient occupational, physical and speech therapy at the VCU Health N.O.W. Center in Short Pump. The PT was for the foot she was dragging. The speech therapy was for her word-finding. The OT was for her left arm, which she needed to hold books for her kindergarten class as a teacher, to cook for her family at home as a wife and mother, and to play tennis with her husband and friends.
"The staff couldn't have been more patient and more kind during therapy, because it's hard," Sara said. "It's frustrating."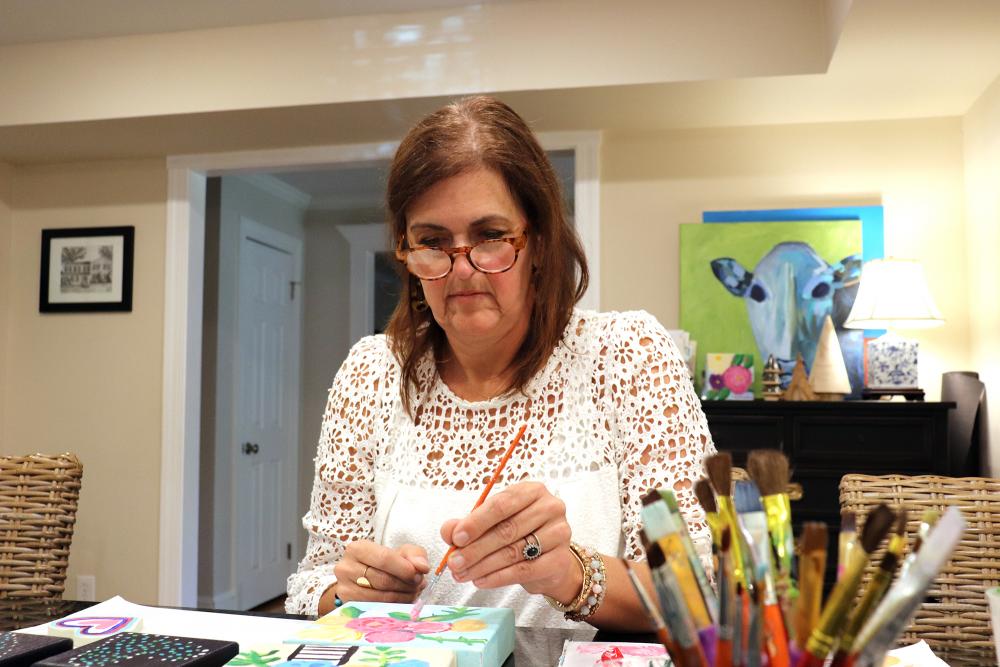 One day during therapy, she had an idea.
"I was like, you know what? I could probably finger paint or something," she said. "I started out doing that, then I tried out putting a brush in my hand."
What flowed through Sara's left hand in the coming months was beautiful on the surface, but also carried with it undertones of hope, hardwork, tenacity and recovery that are just as apparent in her art as the colors on the canvas.
And soon she would add one more undertone — selflessness.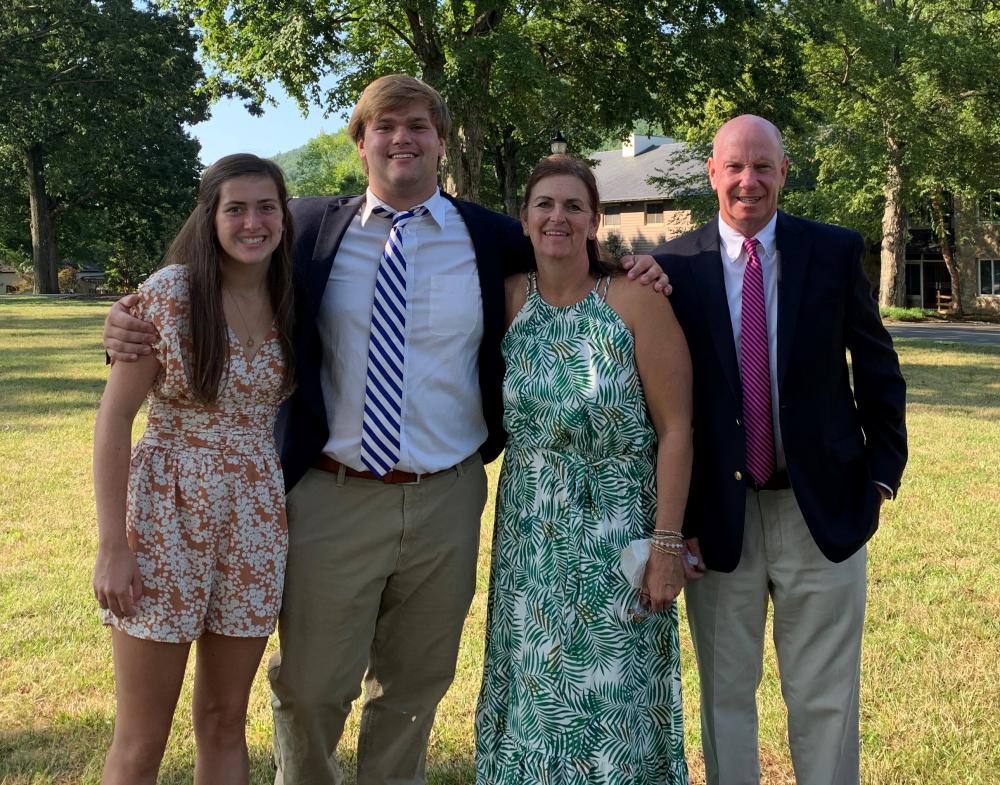 "My husband and I had been talking about what we could do to show our appreciation for the stroke center," Sara said. "I had all of the paper ones and a bunch of others and wondered what we would do with all of it."
"Sell them and give them to the stroke center," her husband said.
With some input from Sara's daughter, Alder Dickey, on setting up a new Instagram account, Left Hand Squiggles was born.
Sara and her family had their Left Hand Squiggles social media and website set up in time to celebrate National Stroke Month in May, and raised $1,554. Then a friend suggested ornaments, so Sara painted a batch that quickly sold out, netting another $500. In December, she'll be selling additional paintings for the holidays. All of the proceeds benefit the VCU Health Comprehensive Stroke Center, which is the only Comprehensive Stroke Center in Central Virginia that is staffed 24/7 by board-certified vascular neurologists and endovascular Neurosurgeons.
"I really honestly think I would not be functioning the way I am functioning without the therapists at the N.O.W Center telling me, 'This is what you need to do. These are the steps. This is how we're going to get you back,'" Sara said. "I feel like I owe it to them. Painting is a payment of gratitude. It's something I can do to thank them, because based on what doctors have said, if they hadn't recognized the clot and gotten it out, my quality of life would have been deteriorated. This is my way of saying, 'Thank you for giving me back my life.'"
To learn more about supporting the VCU Health Comprehensive Stroke Center or the VCU Health N.O.W Center, contact Laura Renaud, senior major gifts officer, at 804-628-6226 or Laura.Renaud@vcuhealth.org.