Together, We've Helped VCU Health Provide Care for Our Community
As one of the top hospitals in the state and the commonwealth's largest safety net health care provider, VCU Health is an essential and trusted part of the Central Virginia community.
In fact, the academic health system and its surrounding community are best described as a team, and the foundational truth about a team is that its members support each other. That's exactly what the community has done for VCU Health during the COVID-19 pandemic.
Since the pandemic began, community members have contributed more than $1 million to support COVID-19 care and research, 23,000 meals for health care workers, and 5,400 handmade masks.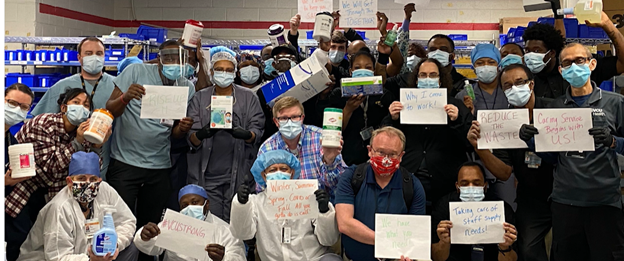 This generosity has inspired VCU Health team members and helped save lives.
"I arrived on campus on Oct. 1, 2020, and I knew I was coming into a challenging situation; our whole country was in a challenging situation," said Art Kellermann, M.D., M.P.H., senior vice president for health sciences at VCU and CEO of VCU Health System. "I was blown away by the support that I saw coming from the community. It lifted a team that was already heavily in the fight. It lifted their spirits and gave them additional tools to move forward. We wouldn't be where we are today without that generosity."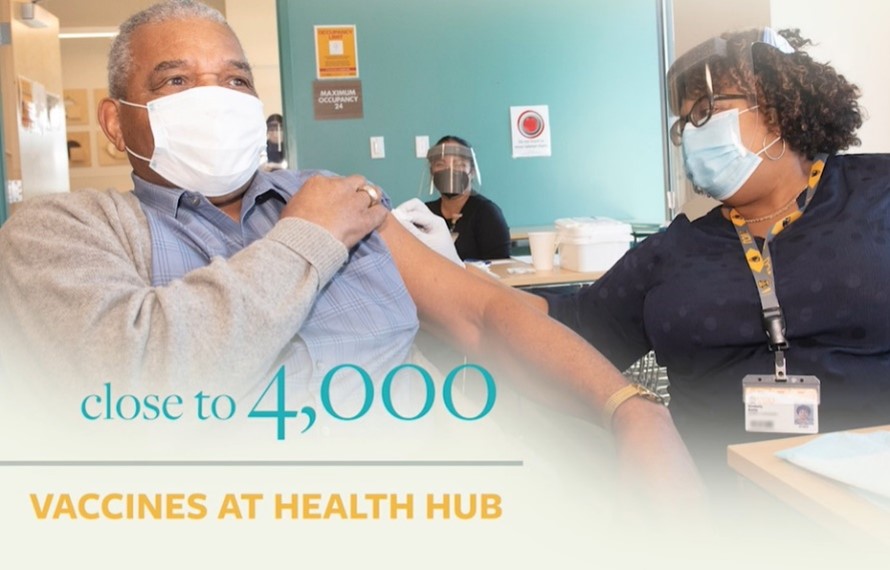 Among the team members who put the donations to good use is Sheryl Garland, VCU Health's chief of health impact and executive director of the Office of Health Equity. She and her team leveraged donated funds to help deliver vaccinations throughout the region. In addition to staffing 130 vaccine clinics in Central Virginia, more than 2,500 VCU Vaccine Corps volunteers delivered nearly 4,000 vaccines at the VCU Health Hub in Richmond's East End.
"The vaccine clinics provided access to seniors and minority communities, both disproportionately impacted by the COVID-19 virus," Garland said. "There were several days when I got off the phone and I was in tears because the individuals I talked to were in tears, because they just wanted to get a vaccine."
"This fund made it possible, and so through it, we were not only able to treat victims of this pandemic, but prevent many more people from becoming victims," Dr. Kellermann said.
The COVID-19 Relief fund also supported important COVID-19 research, helping VCU contribute scientifically to battling the pandemic.
For example, Gonzalo Bearman, M.D., chair of the Division of Infectious Diseases at VCU School of Medicine and associate hospital epidemiologist at VCU Health, conducted a study that examined the frequency of health care worker infection compared to that of the community. His team found that health care worker infection was significantly lower than in the wider community, despite the high risk of infection.  
"That helped us crack the code and make major contributions to the country and to the world in fighting his pandemic," Dr. Kellermann said.
Additional research benefited from fundraising led by MCV Foundation board members and their friends and colleagues in the community. The trial they helped fund is underway and will build a greater understanding of how high doses of Vitamin C delivered intravenously can be a safe and effective treatment for severe cases of COVID-19. The therapy, designed by Alpha "Berry" Fowler, M.D., a VCU Health pulmonologist and the W. T. Thompson Professor of Medicine at VCU School of Medicine, seeks to regulate the body's immune system to avoid aggressive, dangerous immune responses in the lungs.
Education is of course another critical component of an academic health system. Donations enabled distance learning for students and virtual tours for prospective medical trainees. In addition, the schools of Dentistry, Pharmacy and Nursing, along with the College of Health Professions, created or leveraged existing emergency student relief funds that could provide support for students who were affected financially by the crisis.
Finally, community support throughout the pandemic has lifted the spirits of VCU Health employees, and that has been invaluable over the past two years.
"I think one of the things that meant the most was the hundreds of notes, cards, messages of encouragement or support from patients, community members and kids that just kept people going," Dr. Kellermann said. "All of that made a difference. We're grateful to everything that Richmond, the Commonwealth of Virginia, and the people who contributed to this fund have done to make a difference. It keeps us going every day. It reminds us of why we're here and we're deeply grateful."
For more information about supporting VCU Health, contact Tom Maness, associate vice president of development, at 804-827-4936 or temaness@vcu.edu.