Treating Patients Like Family: VCU Health Nurse Wins Service Excellence Award
On a near-freezing winter night several years ago, nurse Tanya Scott learned a patient on her unit at VCU Health would soon be discharged with nowhere to go and very few clothes to keep warm.
The patient was experiencing homelessness and did not know the area well, so Tanya knew he needed more to protect him from the elements. She decided to give the man the coat off her back along with her hat, scarf and gloves.
She walked into his room and said, "Hi, I just want to make sure this fits you," slipping the coat on his arms as she spoke. She never told him the clothes were hers or where they came from, but he was thankful and warm nonetheless.
"I'm going to go home to a warm house with heat," Tanya explained recently in an interview. "My car is warm. I work, so I can get another coat and scarf. He doesn't have any of that, so if I can provide a little warmth for him, then so be it. That's what I did."
There are countless stories very much like this one when it comes to Tanya Scott, who has worked as a care partner and nurse at VCU Health for 24 years. She has purchased food for a patient and their family who didn't have money, purchased birthday cupcakes for a patient who turned 95 and had no family members, and attended funerals and memorial services for patients.
She also has been a leader in lifting up her colleagues by spearheading efforts to achieve certain assessment and reporting goals, organizing the annual Care Partner Appreciation Week, organizing a pretty in pink party to uplift a co-worker who was diagnosed with breast cancer, and working extra hours to assist if there are staffing issues.
For all of these things and more, VCU Health awarded Tanya this fall with the Service Excellence Award in Honor of Denise Lynch. The award honors and encourages exemplary service across VCU Health.
"I think that every patient that comes in that hospital should have a great experience, because being in the hospital isn't always the best experience," Tanya said. "No person wants their patient or their family member to be in the predicament, so I'm always thinking about how I want my loved one to be treated and how I want to be treated as a patient. How I want to be treated is how I take care of every patient, and that's just how it should be."
Philanthropy Recognizes Service Excellence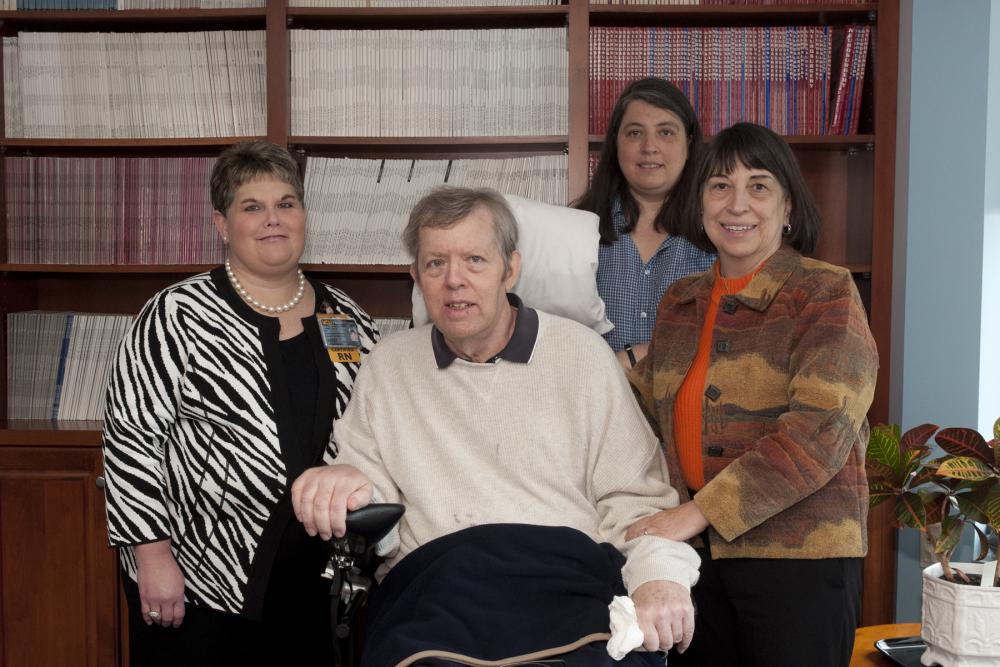 In 2013, Sandy, Dan and Jess Schmidt pledged a gift that would recognize the care and attention they received at VCU Health as Dan battled many complicated health challenges. 
Denise Lynch, RN, leads the Access, Support and Assistance Program (ASAP) that helps patients navigate the VCU Health System. She was the driving force behind the care for which the Schmidt family was so thankful.
"We set it up so every year somebody would be nominated to receive the Service Excellence Award in honor of Denise Lynch, who exemplified extraordinary service to patients," Sandy said. "We wanted to reach the entire hospital to say, 'This is who you should emulate.' Denise is somebody who everyone should aspire to be like."
As it turns out, Tanya knows Denise well, and she said it was the lessons she's learned from Denise and other VCU Health nurses over more than two decades of service that have made her the excellent and caring provider she is today.
"Those examples made me realize the type of nurse it takes to give that good, all-body healing ­– mind, soul and body," she said. "The doctors do the medicine, and that works great, but you need something humane, you need someone to say, 'I may not know what you're going through, but here's a little bit of time I can sit and talk to you. Sometimes they just need some normalcy or another human to talk to. I may not be able to relate, but I can help you respond to what it is you're going through."
Tanya also said that knowing a patient and his family made a gift to recognize the hard work she and her colleagues put in is invaluable.
"We at the bedside are warriors," she said. "We come to work every day and battle against different diseases and psychosocial issues. We do all that every day and still come in the room with a smile on our faces. It was an eye opener for someone to say, 'We see you, and we know you, and this is an award we developed because we know you're out there doing these things. Hard work doesn't go unnoticed."
If you would like to learn more about the exceptional care Denise provided the Schmidt family, please find their story on page 32 of our Spring 2020 Chronicle of Giving magazine.