Toward a Healthier Virginia for All
This article is part of an ongoing series of stories highlighting VCU Health programs and initiatives aimed at addressing issues of access and equity in health care.

Ryan Mire, M.D., alumnus of the internal medicine residency program at the VCU School of Medicine and currently a Nashville-based physician and president of the 168,000-member American College of Physicians, returned to campus in December for a Grand Rounds lecture on the historical perspective of systemic racism in medical education.
The lecture was hosted by the VCU School of Medicine's Office of Diversity, Equity and Inclusion (DEI); the SOM Department of Internal Medicine; the VCU Wellness Task Force for Physician Faculty; and the MCV Foundation.
Dr. Mire's lecture provided an historical perspective of systemic racism in medical education, connecting past and present while offering health equity and DEI as effective frameworks to redress current effects of systemic racism in academia and medical education.  He described how seeds of generational mistrust  were planted early and then cultivated by a national health care system that continued to limit or outright deny Black people access to medical school and the medical profession.
[Dr. Mire] is a role model for all of us in how we listen to people and how to be very inclusive in bringing people into conversations and strategies.

Lisa Ellis, M.D., VCU School of Medicine
Until reforms began in the mid-1930s that allowed Black people access to post-graduate opportunities, "only white doctors were hired [in hospitals] and only whites got internships and residencies, which led to this mindset among Black people that they were being experimented on," Dr. Mire said. "They couldn't even have Black doctors take care of them in their own communities at what they considered their own hospitals."
"It created a mindset of survival mode – even though Blacks got sick, they didn't go to hospitals," he continued. "That's where some of the generational mistrust originated."
The lecture is part of larger efforts by VCU and VCU Health to help address the racial disparities within health care. Dr. Mire's presentation was the third annual DEI lecture, part of the VCU Office of Health Equity's History and Health Program, which launched in 2021 and offers programming and events focused on racial equity.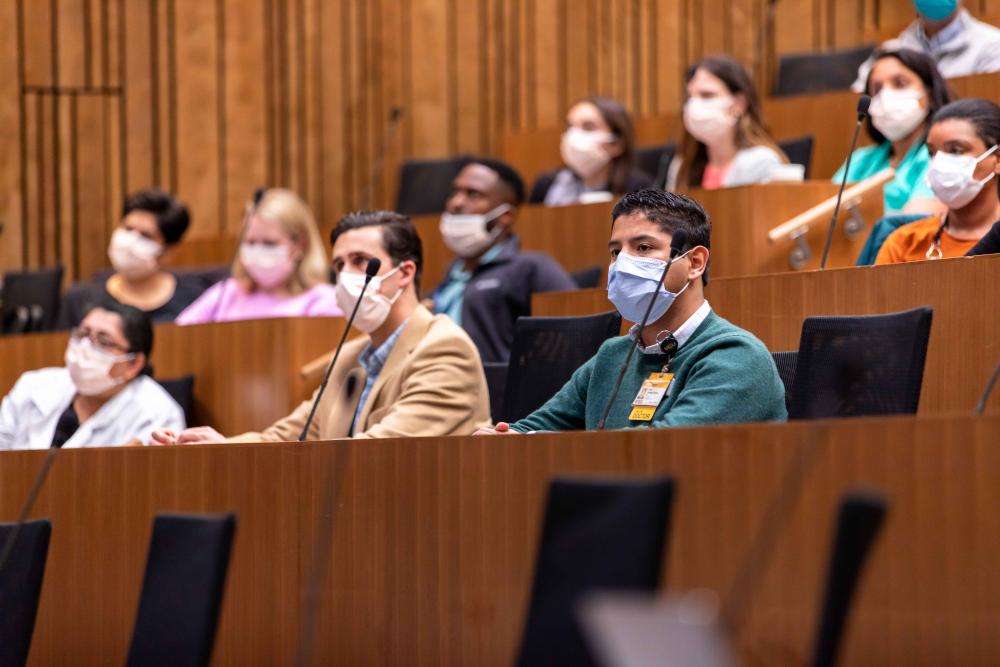 It was also the inaugural Wellness Council Lecture, and had a goal to support doctors' mental wellbeing by providing the opportunity to learn the history of systemic racism and how those dynamics might present with patients and throughout health systems today.   
"We had the great opportunity to combine these two initiatives so that we can really bring together numerous spokes of this organization for this very important topic," said Lisa Ellis, M.D., an internal medicine physician at the VCU School of Medicine.  In introducing Dr. Mire, she called him an effective teacher, a proven leader and a talented physician.
"Dr. Mire leads by example when it comes to exploring the complicated intersection of medical professionalism and holistic wellness," Dr. Ellis said, "while also illuminating the significance that diversity, equity and inclusivity bring to the medical profession. He's a role model for all of us in how we listen to people and how to be very inclusive in bringing people into conversations and strategies."
Last month, the MCV Foundation announced it awarded $4 million over four years to the university to aid efforts to recruit highly qualified students from underrepresented backgrounds to the university's five health sciences programs – the schools of Medicine, Pharmacy, Dentistry and Nursing, and the College of Health Professions. Our history cannot be changed, but each of us can help to create a different future.
---
If you are interested in viewing the full lecture, a recording has been made available online. If you would like to support health equity initiatives on the MCV Campus, please contact Brian Thomas, the foundation's vice president of development and chief development officer.
Contact
Executive Vice President & Chief Development Officer
804-828-0067