VCU Health on the Northern Neck
This year, Riverside Health System on Virginia's upper Middle Peninsula and Northern Neck region joined VCU Health System.
The change means that through the newly named VCU Health Tappahannock Hospital and surrounding physician offices, the region's community members now have access to the continuity of services available at a major academic health system.
It also means opportunities to support important services at the community-based Tappahannock hospital are growing. Several funds were created as a result of the recent merger, and they include:
VCU Tappahannock Hospital Operating Fund, which will be used for general operations support.
VCU Tappahannock Hospital Cancer Care Fund, which will be used for cancer care and infusion center support.
VCU Tappahannock Hospital Capital/Equipment Fund, which will be used to purchase state-of-the-art equipment and build modern facilities.
VCU Tappahannock Hospital Jeffrey M. Haskins Memorial Scholarship, which is an endowed fund supporting scholarships and continuing education.
"Our goal is to help raise money for these funds and others that will benefit the hospital in Tappahannock and, ultimately, residents throughout the community who now have access to more comprehensive care through an expanded network of providers as well as the same experts and physicians they've come to know and trust," said Niles Eggleston, assistant vice president for development for VCU Health and VCU School of Medicine.
Support Spotlight: Jeri Sibley VCU Tappahannock Cancer Wellness Fund
For more than 15 years, Jeri Sibley was a dedicated staff leader at Riverside Tappahannock Hospital, now VCU Health Tappahannock Hospital. She brought tremendous experience, energy and passion to each department she led. When a cancer diagnosis made her a patient, she became an unrelenting advocate for improving every aspect of the patient experience.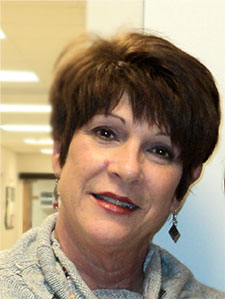 Sadly, Jeri lost her battle with cancer in February. Long before her diagnosis, Jeri cared deeply about making a strong professional impression. She dressed impeccably, sported high-quality wigs, and many remember her as a woman who would never be seen without lipstick, even while in home hospice.
VCU Health Tappahannock plans to honor her legacy of leadership and service by establishing a fund to support wellness services for patients experiencing cancer.
"Anyone who knew Jeri knew she could be quite a force of nature in her advocacy for patients and team members. This fund will help honor her legacy at VCU Health Tappahannock," said Liz Martin, president of VCU Health Tappahannock Hospital. 
The Jeri Sibley VCU Tappahannock Cancer Wellness Fund will help provide wellness and beauty services such as wigs and/or head coverings to oncology patients. The program plans to offer a nod to Jeri's unforgettable legacy by including a tube of lipstick for women who receive support from the fund.
Please join the effort to honor the memory of Jeri Sibley through a contribution to the Jeri Sibley VCU Tappahannock Cancer Wellness Fund, which will ensure patients receive cancer care with comfort and dignity.
If you would like to support any fund for VCU Health Tappahannock Hospital, contact Niles Eggleston, VCU Health's assistant vice president for development, at niles.eggleston@vcuhealth.org or 804-829-2112.