VCU Health: The State's Safety Net
Toward a Healthier Virginia for All
This article is part of an ongoing series of stories highlighting VCU Health programs and initiatives aimed at addressing issues of access and equity in health care.

While VCU Health is one of the top health systems in Virginia, where many of the most advanced surgeries, therapies and other treatments are available, it also is the state's leader in caring for vulnerable populations. The health system sees more patients who are uninsured or covered through Medicaid than any other entity in the commonwealth.
Classified as a safety-net health system, VCU Health ensures its leading health care options and compassionate care are available to every person who walks through its doors, regardless of socioeconomic status or ability to pay. 
"This is an academic health center that has not forgotten it exists to serve the community, the state and the country. Not the other way around," said Arthur Kellermann, M.D., senior vice president for health sciences at VCU and CEO of VCU Health System. "There are academic medical centers that do a great job with safety-net care but may not be where you would go for the most high-tech or most skilled treatment. And there are certainly places that offer high-tech skilled treatment that want nothing to do with anybody who isn't well-connected with lots of money. VCU does both, and we do both incredibly well."
What is a Safety-Net Health System?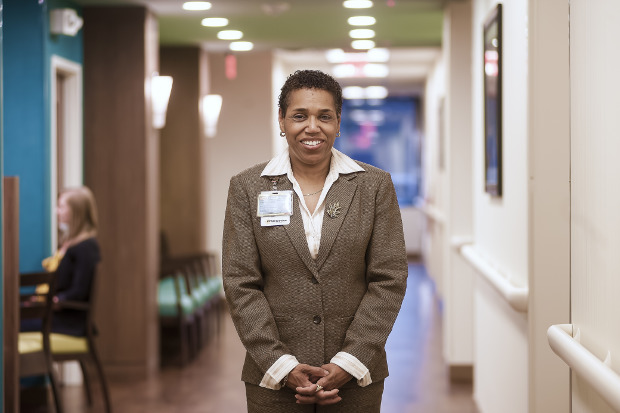 A safety-net hospital or health system is an institution that strives, as part of its mission, charter or goals, to provide a significant amount of services to vulnerable populations of patients, who are usually low-income or uninsured.
Safety-net hospitals often receive some combination of Medicare and Medicaid Disproportionate Share Hospital (DSH) payments, depending on the amount of vulnerable patients served.  These payments are intended to offset hospitals' uncompensated care costs to improve access for Medicaid and uninsured patients.
Safety-net hospitals may also be eligible to participate in the 340B drug pricing program, which provides discounted drug pricing to qualified entities for certain outpatient drugs.  Much like DSH payments, the savings generated from 340B drug pricing allow safety-net hospitals to stretch slim margins and resources and provide access to greater numbers of individuals who are vulnerable or low-income.
Safety-net hospitals and health systems are typically public or nonprofit.  As an authority of the Commonwealth of Virginia, VCU Health System falls into the former category. It is classified in the state budget as a "Type 1" teaching hospital.
The true mission of a safety-net health system extends beyond simply providing care and receiving reimbursements. Being a resource for the health of all individuals in a community means thinking about people and populations in holistic ways.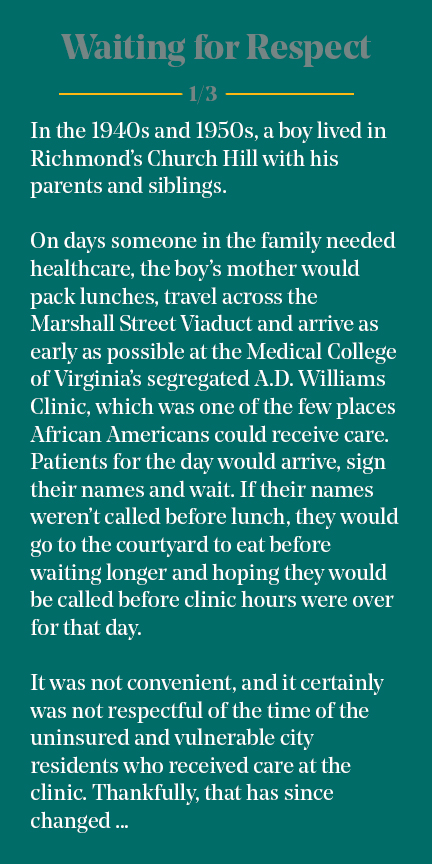 Sheryl Garland has worked at VCU Health for more than 30 years and serves as the health system's chief of health impact. "We think about the characteristics of communities and neighborhoods our patients live in," she said. "My role is to identify the issues and then look for partners and other providers that we can work with to try to address the issues … It's about looking through a health equity lens that guides us to make sure everybody has the opportunity to be as healthy as they can be."
What this means is patients are asked when scheduling appointments whether they have special physical, language or other needs. They're also asked about insurance, and if they don't have it, VCU Health has a dedicated team focused on financial screening to help individuals identify any programs and services that they may qualify for, including an indigent care program the health system participates in with the Commonwealth of Virginia that allows it to provide financial assistance for people who are at or below 200 percent of the federal poverty level.
Many individuals now qualify for Medicaid since the state expanded its Medicaid program in 2018, but there are still some who do not qualify for various reasons. In these cases, the health system's financial counseling team works with individuals to explore options to support their care.  there are special programs for people who might be over 200 percent of federal poverty level, or who might not be U.S. citizens allowed to avail themselves of certain programs. In addition, there are special programs in place at VCU Health that set up payment plans for eligible individuals.
Partnerships outside the organization are also important components of ensuring the long-term health of patients and community members.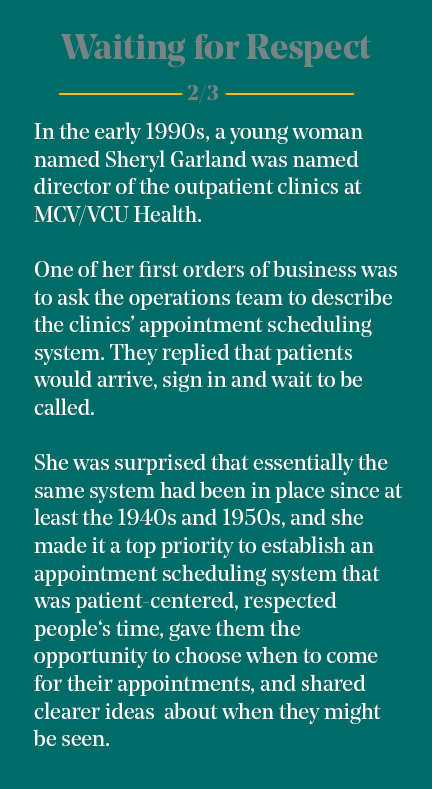 VCU Health has established a special partnership with Feed More that supports an in-house food pantry.  In addition, health system team members conduct screenings for food insecurity in several clinical areas and connect patients with food banks. On one clinical unit, a model is being tested that explores the impact of screening for certain health related social needs such as food insecurity, housing instability and transportation needs. Patients who screen positive for food insecurity receive a food box that has about six meals and a referral to the hunger hotline upon discharge.
Housing needs including homelessness and housing instability are also issues encountered by many VCU Health System patients.
"We have developed very intentional partnerships with Homeward and Virginia Supportive Housing so we can connect people who don't have stable housing with resources in the community," Garland said. "We also have a longstanding partnership with the Medical Respite, which is run by the Daily Planet Health Services. They provide a place to recuperate for people who are discharged from the hospital but have unstable housing for up to 45 days. We have negotiated to have beds designated for our patients at that facility, because we acknowledge if patients don't have anywhere to recuperate, they're going to end up back in the hospital."
VCU Health also has established an in-house medical-legal partnership program that provides free legal services to patients. "No other hospital in the Richmond area has this service," Garland said. "And we developed it because we identified that so many of our patients at VCU Massey Cancer Center, Children's Hospital of Richmond at VCU and other parts of the health system have needs where an attorney is most effective in addressing the situation."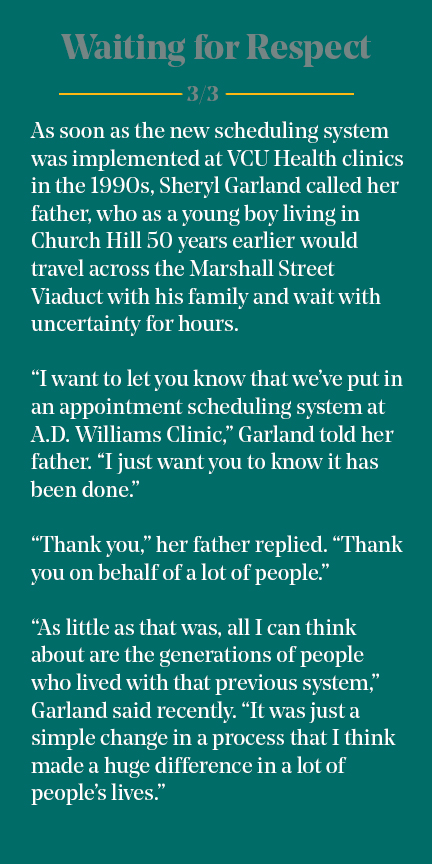 Additional outreach includes the VCU Health Hub at 25th, which is a facility located in Richmond's East End that aims to help residents in surrounding neighborhoods reach their health and wellness goals.
"The Health Hub provides opportunities for university and the health system faculty, team members and learners to engage in authentic community engagement and outreach with community residents," Garland said. "We need to be present for those who are most vulnerable, and what we found when we look at some of the characteristics of the East End community is that many residents have significant needs. Data for this area in the City reveal high poverty rates and low educational attainment rates. The latter often results in health literacy issues. There are also social determinants that impact the community's residents such as transportation issues, access to healthy food, and neighborhood safety.  All of these issues ultimately impact the health of individuals. These social determinants are of particular concern for many patients who receive care in safety-net health systems and creates the need for organizations like VCU Health to think about how it is that we are addressing the health-related social needs for our patients. The Health Hub provides an opportunity to engage with community members and partners through the development of innovative partnerships."
All this work to ensure patients are treated well and remain healthy falls in line with an interesting concept Dr. Kellermann learned at his former place of employment, the Uniform Services University.
"Treating trauma and battlefield injuries is the second most important thing in military medicine," he explained. "The first is keeping the force healthy and ready to achieve its mission. Imagine having an academic medical center in this community, in this state, with the goal to keep the population healthy, so the commonwealth can educate its children, build a vibrant economy and do all the things that Virginia is capable of doing. What a powerful idea! That is what VCU Health is all about and what VCU has always been about."
If you're interested in supporting VCU Health in its mission to provide top quality care and be the safety net for Central Virginia, please visit our giving page to explore the various ways we've made available for you to make an impact.