VTCC Holds Ribbon Cutting, Opportunities for Community Support Still Available
VCU Health and Children's Hospital of Richmond at Virginia Commonwealth University celebrated the ribbon-cutting for their new Virginia Treatment Center for Children on Nov. 17.
The two-story, 119,000-square-foot facility opens to children and families in early 2018 and is located on the CHoR Brook Road Campus in Richmond's Northside.
The facility is transformational for children's mental healthcare, bringing VTCC's services out of a 50-year-old institutional space and into a modern facility with an inspirational design that incorporates natural light, green space and unique safety features important to modern mental healthcare.
"It starts with need, you think about the fact that one in five children are impacted by some kind of mental illness, that if untreated it can affect their entire future," said Sandy Lewis, Ed.D., VTCC's executive director. "So you have this rare opportunity to impact treatment and healing not only with the child, but the family. And when you do that, you have an impact on the community."
For Kiva Gatewood, whose son has been treated at VTCC since he was 3 years old, the new facility means the quality of the programing, treatment and diagnosis that she's experienced for years will now be matched by an equally beautiful, functional, state-of-the-art building.
"The VTCC means the difference between our family being together and not being together," Kiva said at the event. "It's not just medicine, it's not just mental healthcare. It's actually a family. It's a family of people that care about our kids as much they do about their own."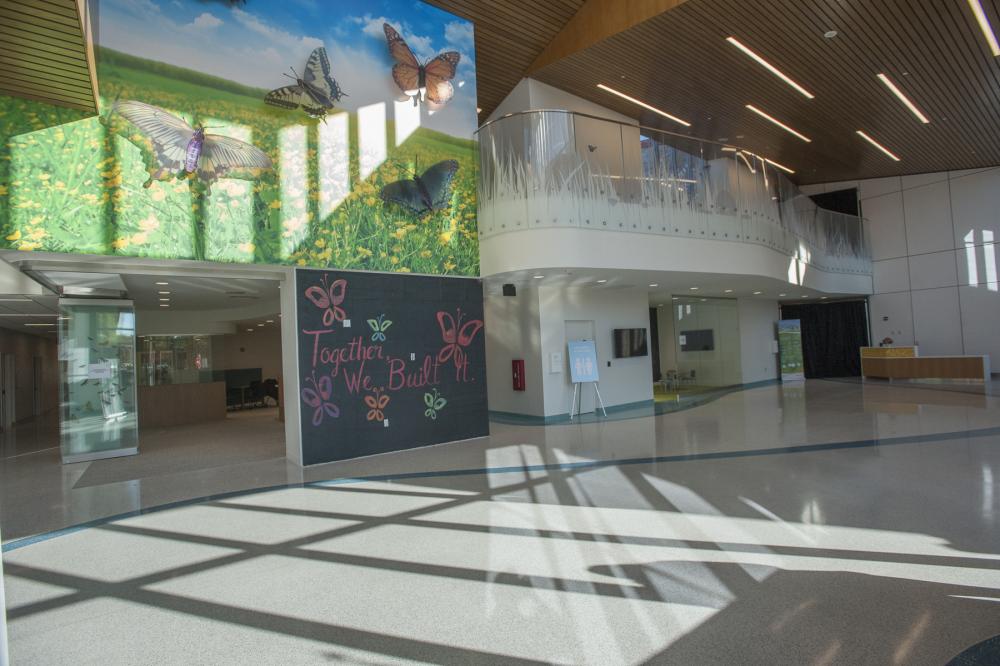 The new VTCC spans 4.5 acres and includes 32 inpatient rooms, 20 outpatient treatment rooms, a gym, recreational areas and gardens. For families, there is a Children's Mental Health Resource Center. The research arm of the VTCC, the Commonwealth Institute of Child and Family Studies, also will be housed in the new facility.
Clinicians, therapists and other caregivers at the VTCC will provide occupational, recreational, art, music and play therapy. There also will be school programs for children who are in the inpatient units.
This new facility and the life-changing care, research and education that it enables are the result of $56 million in funding from the Virginia General Assembly and a dedicated community of donors and mental health advocates. This support has been vital, and there is still a need for more.
"What is before you represents a tripling of our capacity," said Marsha Rappley, M.D., vice president for health sciences and CEO of the VCU Health System, as she addressed the crowd in November. "This is accomplished because of your partnership, because of people coming together. Our children need us to do that. They need to see our government, our hospitals, our universities and the citizens of the community wrap around them and say, 'We're going to take this on and we're going to make you better so we can all be better as a state and as a nation.'"
Remaining opportunities to support the VTCC include giving to and/or naming the inpatient waiting room, the kitchen and dining area, the main entrance water feature, education rooms, patient lounges, the doctors' on-call room, the staff breakroom, leadership offices, unit playgrounds and private family visitation areas.
To learn more about how you can be a part of supporting Virginia's children and adolescents who are battling mental health challenges, contact Lynn Meyer at 804-827-6297 or Lynn.Meyer@VCUHealth.org. You can also visit our giving page and search for "VTCC" or "psychiatry."