Imagine waking up after being knocked out by an IED. You're on the ground, face in the dirt, and not sure what just happened. Despite being groggy and confused, you must act quickly because you're in enemy territory. After a quick assessment, you find yourself one of the lucky ones — there's no external bleeding or other visible injuries. There's a piercing pain in your head, your ears are ringing, and you can't get your eyes to focus, but you force yourself to stumble around and check on the rest of your unit so you can all move to safety.
This is what countless military heroes have faced in the course of battle, some of them many times. It's what medical professionals call a mild traumatic brain injury (mTBI), commonly known as a concussion.
As the weapons of warfare have changed, with blast injuries on the rise, military personnel have returned from battle with different types of injuries. Since 2000, the U.S. Department of Defense reported more than 383,947 military personnel have sustained a traumatic brain injury, and 82.3% of these are mild. Actual numbers are likely much higher as many mTBIs go unreported.
"No one stops in the middle of a battle and gets assessed for a concussion," said David Cifu, M.D., chair and professor of the VCU School of Medicine's Department of Physical Medicine and Rehabilitation and senior traumatic brain injury specialist for the U.S. Department of Veterans Affairs. "Service members want to and need to keep fighting."
CHRONIC EFFECTS OF NEUROTRAUMA CONSORTIUM (CENC)
As U.S. veterans began returning home from the wars in Iraq and Afghanistan and reporting post-concussion symptoms, research into traumatic brain injuries increased. In 2013, the Departments of Defense and Veterans Affairs awarded Virginia Commonwealth University a $62.2 million grant to lead the Chronic Effects of Neurotrauma Consortium (CENC), making it the largest grant in VCU's history.
Dr. Cifu was named the principal investigator for CENC, a five-year study that brought together more than 70 of the top brain researchers in the country across 30 universities, 15 Veterans Affairs Medical Centers and 12 military treatment facilities.
We recently spoke with one CENC participant about the experiences that led to his involvement.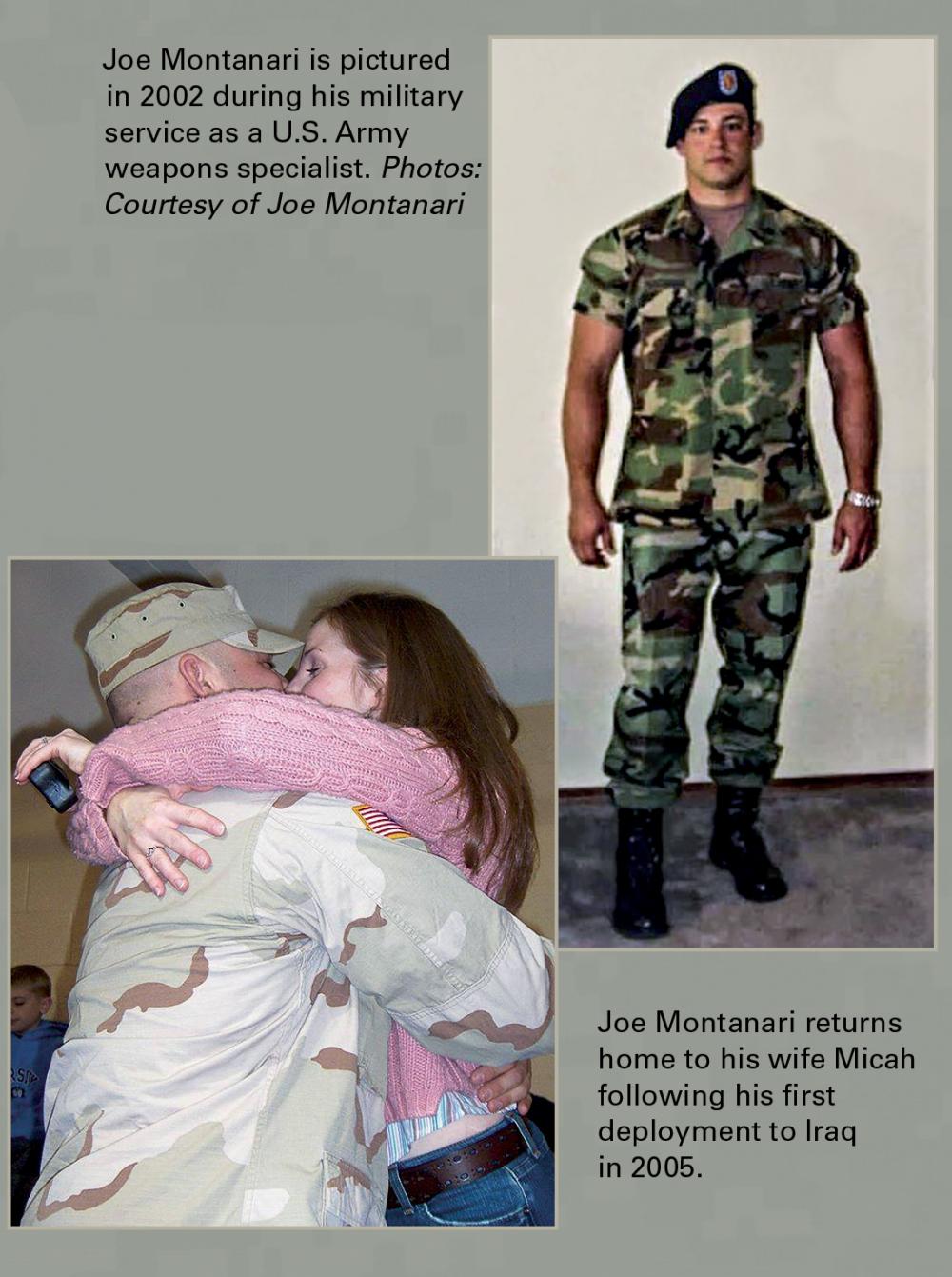 "I knew something bad had happened, but being deployed you just keep driving on," U.S. Army veteran Joe Montanari told us. "I didn't even know I had experienced a concussion until I started working with CENC."
Joe proudly served as a weapons specialist in the U.S. Army from 1999 to 2008, deployed to locations in Germany, Kosovo and Iraq. He was medically discharged after six years of active duty and four years in the National Guard.
"In talking with my friends, a few of us returned home with the same symptoms — headaches like crazy, not sleeping at all and lightheadedness. Your balance really goes sometimes — it's like standing in a parking garage on the rubber joints when a car goes by and you can feel the shakiness and instability for a couple seconds," Joe explained.
Joe is currently serving as a CENC military coordinator, where he is responsible for both recruiting and retaining service members and veterans as participants in the LIMBIC-CENC longitudinal study. He is also a participant in this research study. For him and veterans like him, it's not just about returning home, it's working hard to return to the fullest capacity possible to be there for their families. It was through his training and participation with CENC that he learned he was experiencing postconcussion symptoms from two combat-related mild traumatic brain injuries. "I'm the type of person that if something happens with my health, I like to break it down and know what's going on so I can get the right treatment. Knowledge is empowering."
Joe also hopes to be of service and use his experience to help future military service members. "I've already been through everything and experienced the injuries, so if I can help someone else out, I'm all about that. I know a lot of people I've talked to feel the same way. It's just helping out a future brother or sister who might sustain a mild traumatic brain injury in combat."
LONG-TERM IMPACT OF MILITARY-RELEVANT BRAIN INJURY CONSORTIUM (LIMBIC)
This fall, VCU announced it received another $50 million federal grant to pursue the CENC research and further study the long-term impacts of concussions on service members and veterans. This ongoing study is called the Long-term Impact of Military-relevant Brain Injury Consortium (LIMBIC). Dr. Cifu will continue as the principal investigator.
"We've narrowed the focus from 11 studies to 2 major, multi-tiered epidemiologic studies," said Dr. Cifu. "The first study will increase our longitudinal cohort of 1,700 veterans and service members to more than 3,000 from all eras of military combat (Vietnam to the present). Approximately 80% of this group will have experienced at least one mTBI, while the remaining 20% will be the control group who were exposed to combat but didn't have a concussion. Participants from both groups are likely to have other common conditions associated with combat, such as PTSD, depression, chronic pain and anxiety. The control group will allow us to see what's caused by having been exposed to the combat setting versus what's attributable to the additional mTBI.
"As with the research started in CENC, we'll be getting a 360-degree overview of every possible aspect of these participants, from their brain and nervous systems, to their endocrine and cardiovascular systems. We'll continue to follow this group annually over the course of their lives to search for any evidence of decline in function, including dementia and Parkinson's disease."
LOVING YOUR BRAIN
For veterans, service members, athletes and anyone who has suffered a concussion or even multiple concussions, Dr. Cifu has a positive message.
"Concussions and related injury factors contribute to less than 1% of all dementia and 'bad genes' may add another 5–8% at most. On the other hand, at least 50% of all dementias are the result of common lifestyle factors that are within everyone's control. Additionally, it's not the one-time concussion that typically causes long-term issues, if it was treated appropriately," Dr. Cifu explained.
"People who have a concussion improve and can return to their lives 99% of the time with the right diagnoses and care, and it's important to let them know that — YOU WILL GET WELL! For anyone who is still having ongoing symptoms, work with your primary care clinician to get additional information and care. The brain, the tissues around the neck and skull, and the other areas affected have remarkable abilities to heal and adapt, and you can be taught to control your symptoms and enjoy your lives.
"Our LIMBIC-CENC team at VCU and the McGuire VAMC (and nationwide) want to take this opportunity to educate people (injured individuals, their loved ones, clinicians) how to 'love' and nurture their brains and take care of their overall health over the long-term.
"Eating a vegetable-based diet, getting the right amount of sleep, finding a form of exercise that you enjoy and will do consistently, managing your weight and blood pressure, having good social support, keeping your mind active and engaging in a spiritual practice — these are the most important ways to support your whole health and offer your brain optimal wellness as you age.
"I'd like to acknowledge all the amazing researchers who are diligently working across the country, and most importantly, I'd like to thank our military veterans and service members who have risked their lives and sacrificed so much and are now helping us by participating in these studies," said Dr. Cifu.
If you would like to read more about Dr. Cifu's research, read the full version of this article in NEXT magazine.