Celebrating 60 Years of Second Chances at Hume-Lee Transplant Center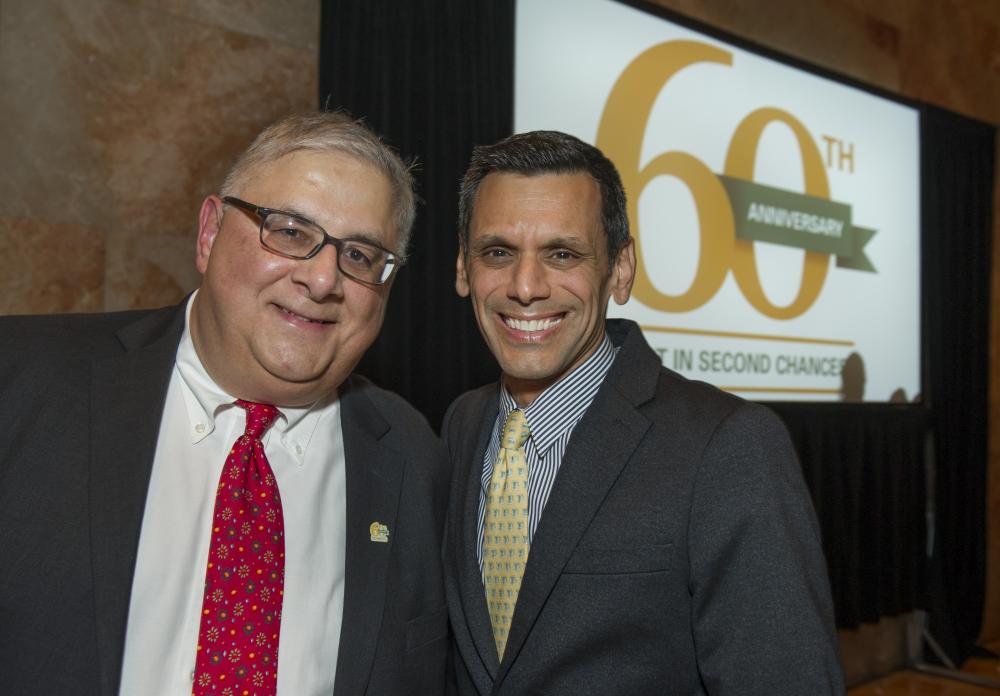 Editor's note: The foundation acknowledges with regret the controversy surrounding the lack of consent from Bruce Tucker's next of kin before his heart was used in the first heart transplant performed at MCV. The reality of this incident complicates the legacy of a medical breakthrough and underscores a collective and ongoing imperative for all of us at VCU Health on the MCV Campus to listen to and accept criticism and to learn from our past as we work to honoring the dignity of all whom we serve.
A year of celebration culminated on Dec. 2 as the VCU Health Hume-Lee Transplant Center commemorated 60 years of milestones and second chances.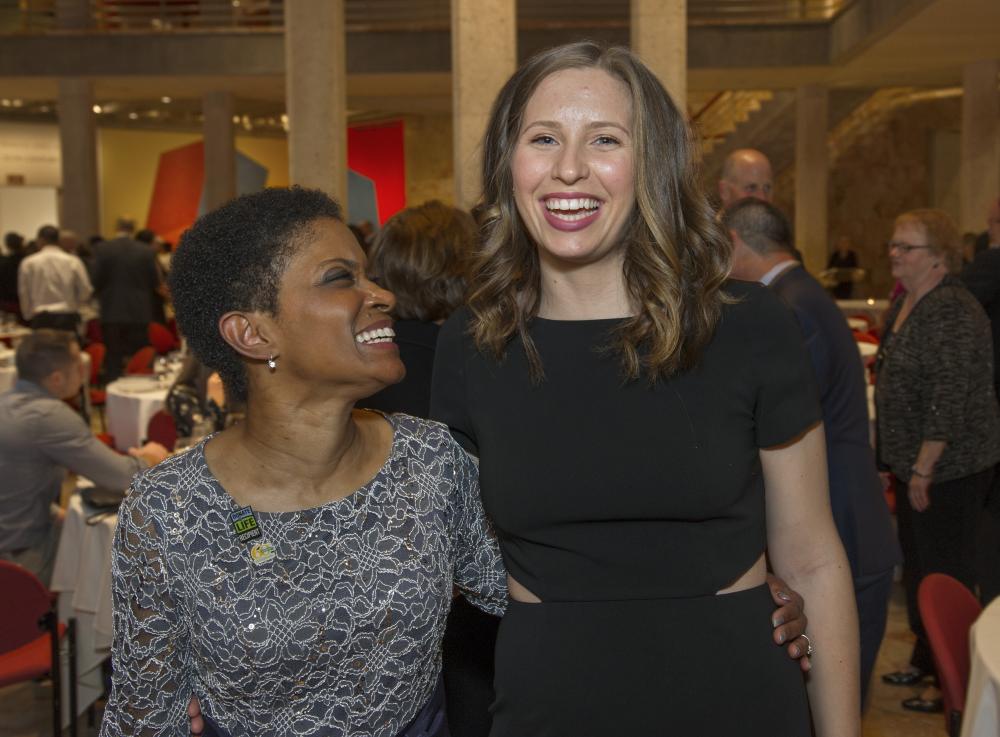 Organ donors, donation recipients, healthcare providers, friends and family gathered at the Virginia Museum of Fine Arts and shared stories about how the transplant center has been saving lives for more than a half-century.
Today, Hume-Lee is one of the busiest transplant centers in the nation, a fact that was highlighted this year on May 17 as VCU Health surgeons completed the center's 5,000th transplant.
Under the current leadership of Marlon F. Levy, M.D., professor and head, Division of Transplantation Surgery, Hume-Lee is continuing its rich history of innovation and advances in transplantation every day. One example of this is Dr. Levy's islet cell transplantation program, which is highlighted in our recent issue of NEXT magazine.
The precursor to what is now the Hume-Lee Transplant Center was established in 1956 as one of the nation's first programs in solid organ transplantation.
David M. Hume, M.D., who performed Virginia's first kidney transplant at MCV in 1957, was the program's founding chair, followed by H.M. Lee, M.D., in 1973, Marc P. Posner, M.D., in 1997 and Dr. Levy in 2015.
The center's early team, which included Dr. Hume, Dr. Lee, Richard Lower, M.D., and others, completed work in the operating room and the lab that led to the development of surgical techniques that were adopted around the world. Their discoveries in tissue typing and immunosuppression led the way in saving lives through organ transplantation.
Dr. Lower's team played an instrumental role in the world's first human heart transplant. Controversy surrounding the lack of consent from the family of Bruce Tucker, whose heart was used in the transplant after he was declared braindead, has complicated the legacy of this medical breakthrough. Subsequent legal proceedings and medical ethics discussions have resulted in further refinements in the official legal definition of brain death, opening the door for successful deceased donations from brain-dead patients whose hearts continue to beat.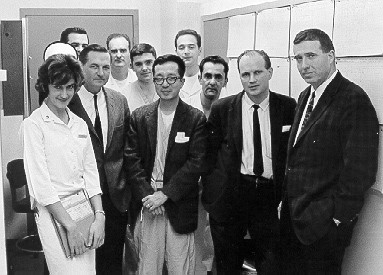 Dr. Hume initiated a kidney sharing system with regional hospitals, which ultimately became the United Network for Organ Sharing. Today, UNOS facilitates all organ sharing across the U.S. and is still located in Richmond.
Dr. Lee recognized the necessity for anyone who showed a need for organ transplantation to have the opportunity to receive donated organs, regardless of their social stature. As the president of the American Society of Transplant Surgeons, he successfully advocated for legislation to make the sale of human organs illegal. This position has become a standard that is considered a non-negotiable moral compass in the U.S. and is championed by experts such as MCV alumnus Francis Delmonico, M.D., who serves as an advisor to the World Health Organization on the topic of organ trafficking.
Another leader at Hume-Lee, Dr. Posner, increased the center's volume of care and improved the outcomes of its kidney and liver transplant programs, developed one of the first living donor liver transplant programs and began a pancreas transplant program for patients with Type 1 diabetes.
"What started as an experimental living kidney transplant from one brother to another in 1957 has become a comprehensive and well-established multi-organ transplant program that has given the gift of life and a second chance to more than 5,000 patients from 40 different states and 13 different countries," said Anne L. King, M.D., medical director of Hume-Lee's Kidney and Pancreas Transplant Program, at the Dec. 2 event. "The story of the Hume-Lee Transplant Center is truly the story of transplantation in this country. This is not simply because ours was the first stand-alone clinical transplant center built in the nation, but because our founding fathers are the founding fathers of organ transplantation."
In looking to the future of organ transplantation at Hume-Lee, Dr. Levy and Vigneshwar Kasirajan, M.D., chair of the VCU Department of Surgery, discussed new possibilities and approaches such as extended organ viability (the amount of time an organ can be outside of a body) and robotics that can improve precision in surgery.
"One of the joys for me to be here at VCU in a true academic environment is the thirst for knowledge and the joy of discovery, not just in the transplant team, but with every colleague we interact with," said Dr. Levy. "There is an abundance of resources and fertile minds for us to tap into to really create the next frontiers in transplantation."
A Year of Celebration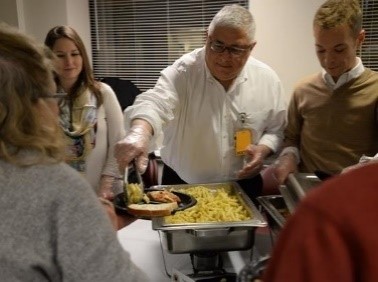 On Jan. 31, Hume-Lee staff served dinner to current guests of The Doorways, a facility where patients and their families can reside before and immediately after treatment. The dinner was a way to say thank you to the facility for its goodwill, and to kick off a yearlong celebration highlighting the 60th anniversary of its first organ transplant.
In April, Hume-Lee staff celebrated National Donate Life Month with the goal to increase organ donor registration and make the nature of giving a forethought as opposed to an afterthought. Staff participated in a panel discussion at Lewis Ginter Botanical Garden's Kelly Education Center on April 4 to highlight living organ donation from both the donor and recipient perspectives.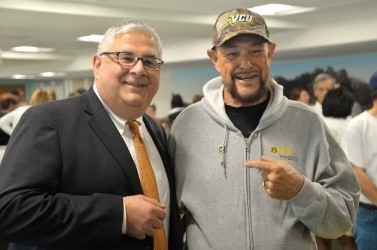 On May 17, Hume-Lee surgeons performed the center's 5,000th transplant, which meant a new liver and freedom from liver cancer for Elmer Lynn Jr.
On June 27, VCU Health patients, families, faculty and staff held an event on the MCV Campus to celebrate Elmer Lynn's milestone transplant.
On Dec. 2, Hume-Lee and VCU Health held its 60th anniversary celebration at the Virginia Museum of Fine Arts.
To read more about Dr. Levy's cutting-edge pancreatic islet cell transplantation program at Hume-Lee, or about Dr. Lower's role in the world's first human heart transplant, read NEXT magazine, the MCV Foundation's new publication covering innovations in patient care, research and education on the MCV Campus.