Amid Crisis, Inventing Solutions (Part 1 of 2)
Editor's Note: This story is excerpted from a feature published in the winter issue of NEXT magazine. Read the full story in our digital version of the magazine. It is the first part in a two-part series highlighting innovations across the MCV Campus during the COVID-19 pandemic.
***
In the early days of the COVID-19 pandemic in the U.S., "uncertain" was a word that became ubiquitous. Today, as the virus continues to spread, times are indeed still uncertain, but in those spring days in March and into April, no one had any idea what to expect.
Two of the main questions at the time had to do with looming shortages of diagnostic testing and personal protective equipment, especially for doctors, nurses and other hospital and health care professionals. There simply were no answers about where these critical lifesaving resources would come from as the entire country braced for impact.
It was in this crisis, as pressure to find any hint of an answer weighed more every day, that the brilliance and creativity of VCU Health's innovators shined brightest.
Creating In-House Testing: Clarity for Patients and Providers
On an afternoon in early March, Chris Doern, Ph.D., was called into a meeting with VCU Health System leadership. "As a microbiologist, I'm not used to sitting in a room with the C-suite," he said. "So that's when I knew things were going to be a little different."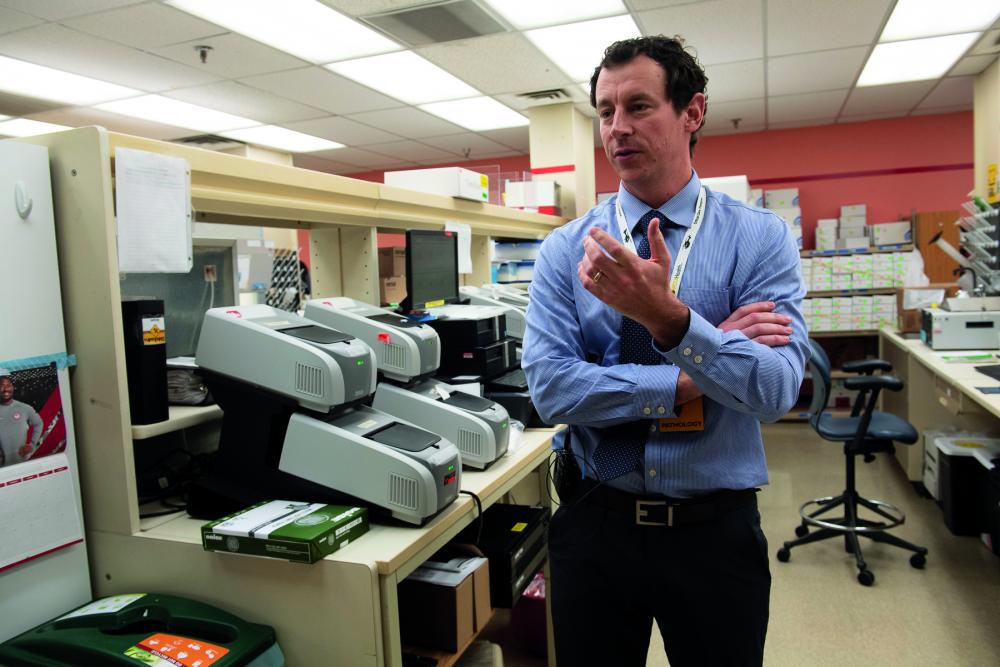 Dr. Doern, who leads the clinical laboratory providing diagnostic microbiology and immunology services at the health system, was called to the meeting as shortages in diagnostic tests, materials and instrumentation were emerging across the country and backorders for these supplies were growing nationwide. At that time, limited COVID-19 testing was available through the public health laboratory, with two- to three-day turnaround times for test results.
What followed that meeting, Dr. Doern said, was unlike anything he's experienced in his life. Within two weeks, he and his team developed their own COVID-19 diagnostic test, reduced turnaround time to a matter of hours, and increased capacity to hundreds of tests per day.
"The work of Dr. Doern and his team has been extremely important in battling this pandemic," said Gonzalo Bearman, M.D., an infectious disease expert, professor of medicine and director of the VCU Medical Center Infection Prevention Program. "Fast, reliable COVID-19 testing is critically important for identifying infected patients, maintaining isolation precautions and for starting timely contact tracing."
Only two weeks after Dr. Doern's meeting with health system leadership and one day before The New Yorker published an article titled, "Why Widespread Coronavirus Testing Isn't Coming Anytime Soon," VCU Health administered its first independently developed COVID-19 test.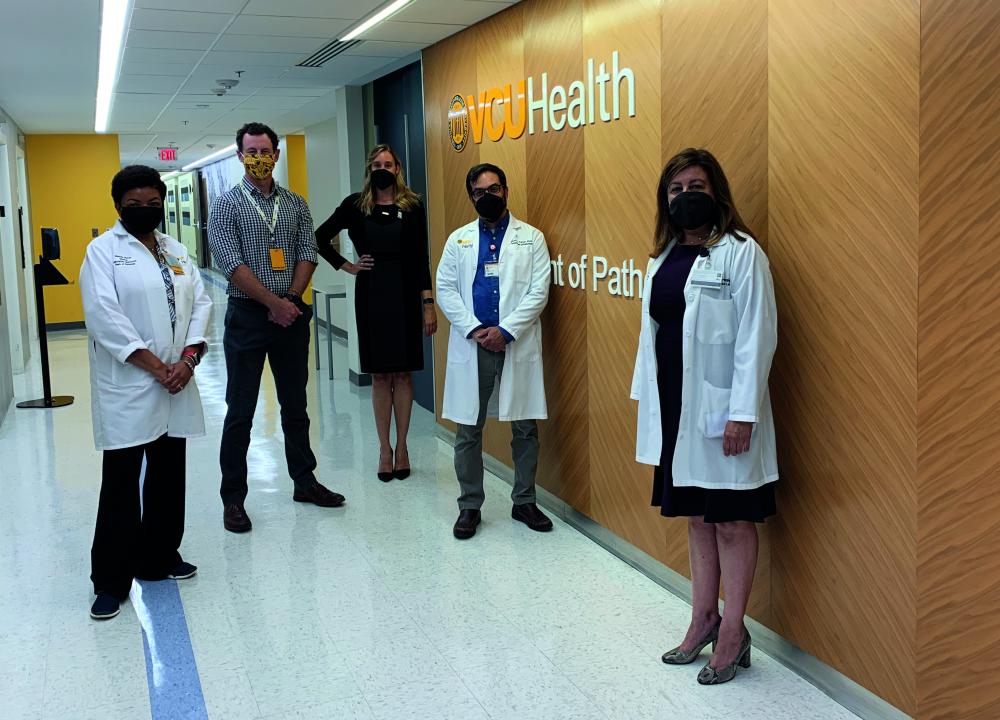 Moving from a capacity of 10 to 30 per day in the first week of testing to 100 per day in the following weeks, Dr. Doern's team, in collaboration with the VCUHS Molecular Diagnostics Laboratory — directed by Drs. Andrea Ferreira-Gonzalez and Scott Turner — gradually built capacity to where it stands today, which is 500 to 600 tests per day.
The lab became so efficient, that in addition to serving VCU Health, it helped with testing in the region, including assisting Virginia Department of Health with outbreak investigations, serving as the test facility for some of the early nursing home outbreaks, and helping surrounding health care systems, especially the Hunter Holmes McGuire VA Medical Center.
Dr. Doern said his lab's success did not occur in a vacuum, and that countless people around the health system made the testing development and implementation possible. He gives specific credit to that team of leaders who called him into the meeting in March. "I've got a small community of microbiologists from around the country who I communicate with very closely," he said. "I can say in no uncertain terms that the support and the compassion we've experienced here from hospital leadership is not common. In fact, it's an anomaly."
A Student's Impact on the Hidden Front Line
Kevin Wills beat cancer twice at ages 10 and 11. His experiences from that time immediately ignited a desire and a pursuit to one day work in health care.
This spring and summer, the VCU College of Health Professions student fulfilled that goal and more by contributing to a critically important — yet often overlooked — component of the health care system during the deadliest pandemic in more than 100 years.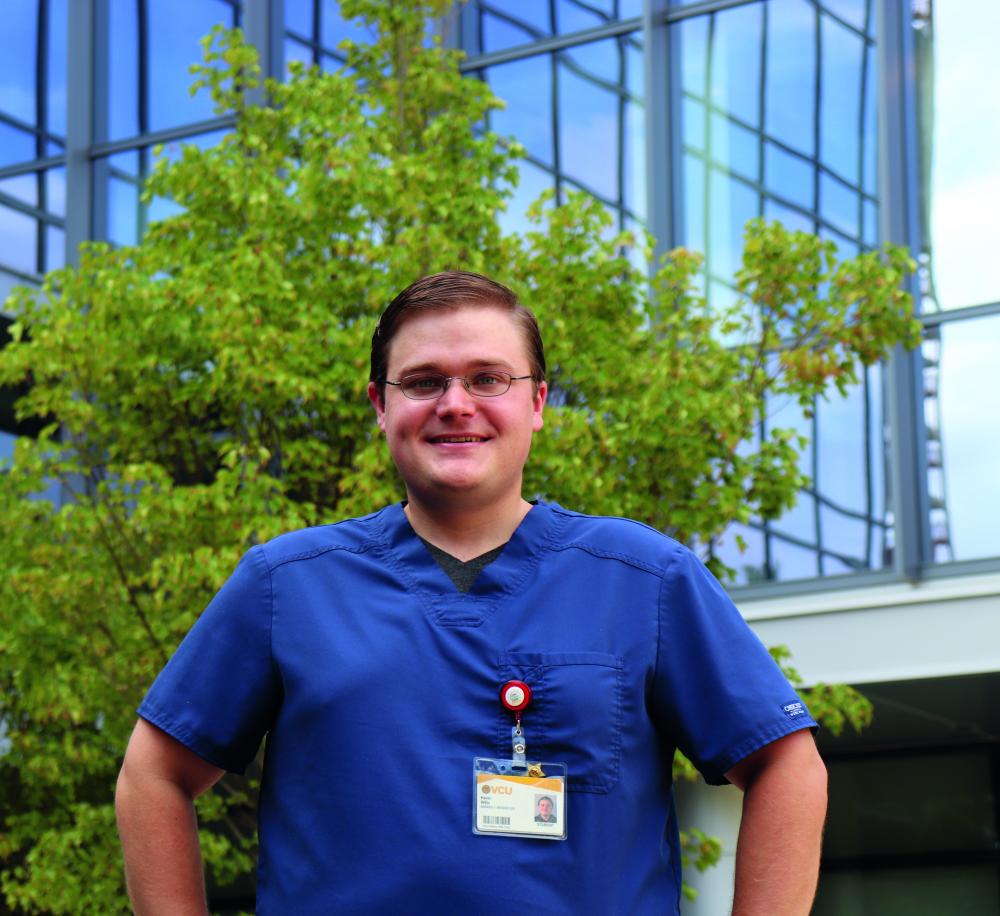 Wills was a student worker in the diagnostic microbiology and immunology lab that Drs. Doern and Bryson manage. He stayed longer than the usual student workers and has taken on responsibilities beyond the usual student workload, helping log, process and complete diagnostic testing, especially for COVID-19. In fact, he estimates that this spring and summer, he touched at least half of all COVID-19 tests that came through the VCU Health lab. He also played a big role in validating VCU Health's in-house test by running numerous blank and positive specimens, ensuring results were consistent and that there were no false positives or false negatives.
"I keep a list of people I'm going to thank for all they've done for us during this time, and Kevin stands out," Dr. Doern said. "That young man has saved us throughout this. You ask him to do something and he's doing it, and he works weekends. He is one of the heroes of this thing. Without him, I'm not sure where we would be."
His meaningful contributions are made possible by his time as a student in the Department of Medical Laboratory Sciences at the college, where as a master's degree student Wills says he's been given incredible opportunities to learn practical skills as well as theory, and to explore his interests outside his degree's concentration.
The department trains scientists to play critical roles on health care delivery teams. Its graduates — which make up most of Dr. Doern's staff — provide data in hematology, microbiology, immunology, medical chemistry transfusion medicine and molecular diagnostics that physicians need for accurate diagnoses and effective disease management.
The education and training have paid off for Wills as he received a job offer for a full-time position in the VCU Health lab after he graduated last December. He said he's overjoyed to find a career in lab sciences after setting his mind to it so many years ago.
Wills made that decision after beating rhabdomyosarcoma and adrenocortical carcinoma. "Ever since that, I've wanted to get into health care in some way," he said. "I didn't know the lab existed back then, but when I look back on it, I probably wouldn't have ever been diagnosed correctly if it weren't for the lab. They were there the entire time and I never knew it."
If you would like to support the MCV Campus in its ongoing response to COVID-19, contact Brian Thomas, MCV Foundation's vice president and chief development officer.