Brother Rats Show VMI Brotherhood Endures 50 Years Later
A group of Brother Rats demonstrated their respect and admiration for one of their own this summer.
Virginia Military Institute's Class of 1969 announced the Dr. Charles F. Bryan Jr. Parkinson's Research Fund at a surprise reception in honor of Charlie Bryan, an MCV Foundation board member, on June 26.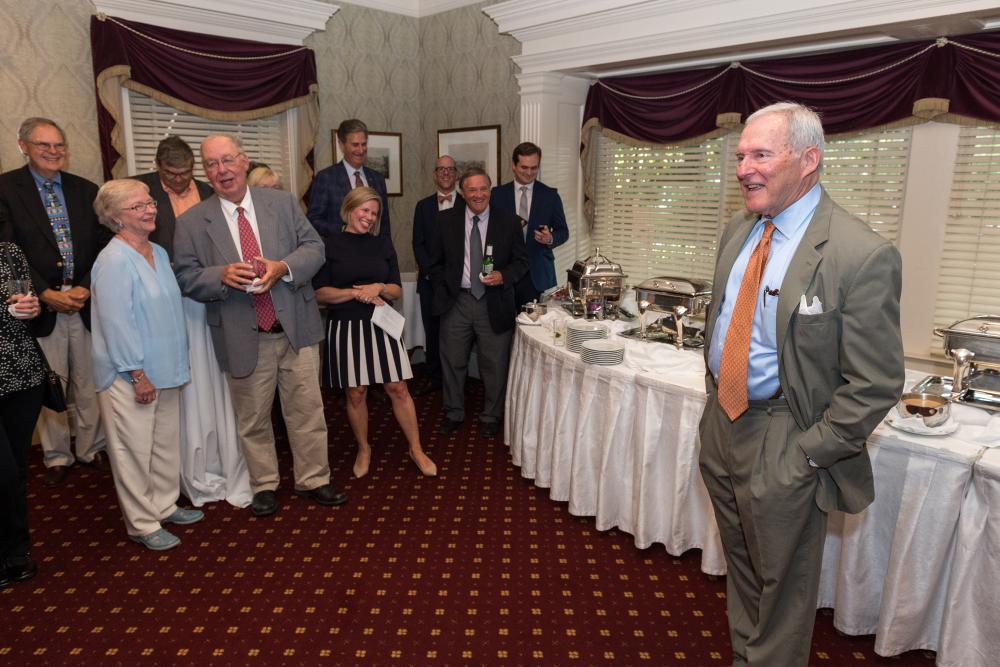 Charlie thanked his Brother Rats at the reception and said he survived VMI's first-year rat line with the support of those in attendance and many others. Now, 50 years later, those same friends are helping Charlie survive and fight Parkinson's disease through the new fund.
"We're very grateful for your support and your vision," said Gordon Smith, M.D., professor and chair of the Department of Neurology at VCU School of Medicine, as he addressed many of the donors and their families. "We're grateful for the money that has already come in for this fund because it's these types of funds that seed the research that we do here."
Charlie has supported Parkinson's research at VCU Health and the McGuire VA Medical Center Parkinson's Disease Research, Education and Clinical Center in various and significant ways ever since he was diagnosed with the disease more than a decade ago. His contributions have included participation in more than $5 million worth of fundraising activities alongside David Reynolds, a fellow member of the Parkinson's disease community group Movers and Shakers. That total was matched by the dean of the VCU School of Medicine to help open VCU Health's Neuroscience, Orthopaedic and Wellness Cener (N.O.W. Center) in 2011.
The results of those efforts have been life-changing for people in Central Virginia who are battling Parkinson's disease.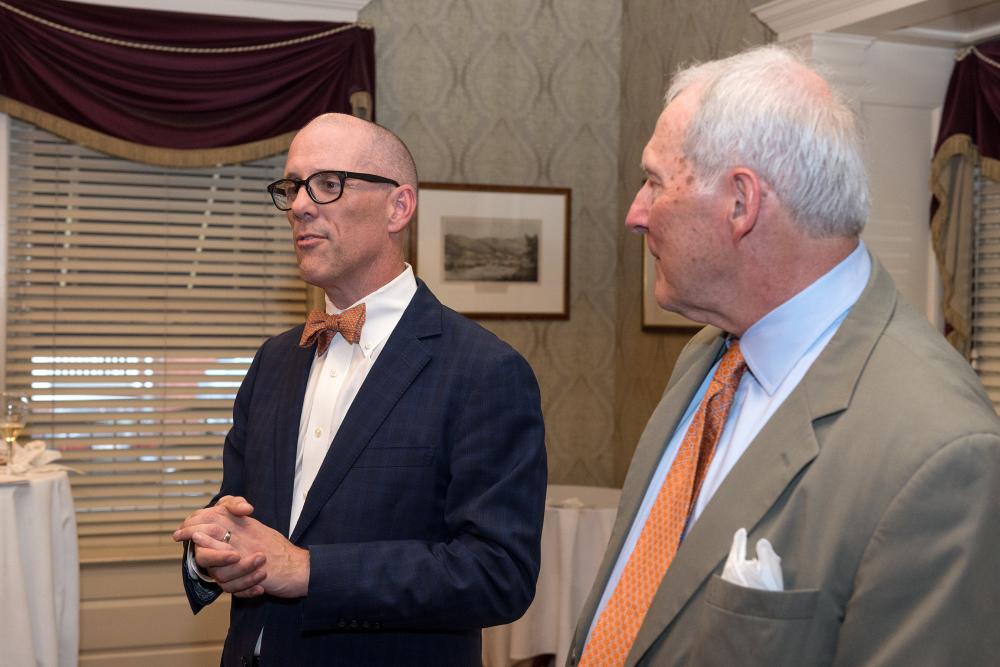 "The way the Parkinson's and Movement Disorders Center here at VCU Health was formed, and really the core of what's happening in neuroscience at VCU Health, came from Charlie," said Dr. Smith, who is also the C. Kenneth and Dianne Wright Distinguished Chair in Clinical and Translational Research in Neurology. "The advanced level of care and resources that people have access to today at VCU Health and the McGuire VA Medical Center was not always available in Central Virginia."
Despite Charlie's significant impact on improving access to care for his friends and neighbors, he has always remained humble.
"Every step of the way you've recognized others who have delivered for you," said Harry Thalhimer, former MCV Foundation board chair. "Whether it's the doctors, whether it's the technicians or the folks at the McGuire VA Medical Center, you've never stopped being appreciative and respectful in what you say, what you do and what you write. You set an example for all of us."
Now, thanks to the VMI Class of 1969, there is an instrument to honor Charlie as a man and as a fighter.
It only took two weeks for 27 of his Brother Rats to raise $30,000 for the fund, which has already grown significantly since it was announced, thanks to MCV Foundation board members and additional VMI graduates.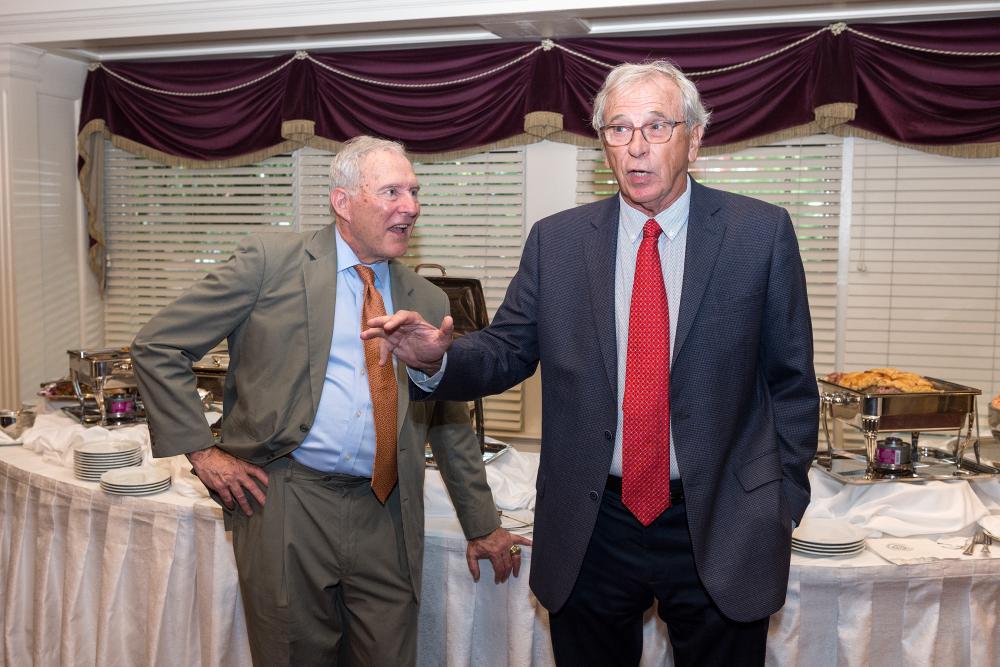 The idea for the fund was presented this past spring to Charlie's classmate John Ishon who helped lead the initial fundraising along with his daughters.
Although the Class of 1969 was just finishing a fundraising campaign for their 50th reunion, every Brother Rat who was asked donated without hesitation.
"I was not surprised by how quickly this came together for Charlie," John said. "One reason is because it was for Charlie, who is a great person and is always doing for other people. The other reason is because there is a comradery Brother Rats share with one another that I knew would inspire giving."
Both Dr. Smith and MCV Foundation President Margaret Ann Bollmeier recognized the VMI comradery in their remarks, saying they had never seen a group of classmates come together for one of their own like the Class of 1969 did in this case.
Charlie was impressed too.
"I am deeply touched," he said at the reception in his honor. "Parkinson's is an awful fate to put on anyone. One thing that VMI teaches us is to face adversity. I survived the rat line, and with a wonderful woman like Cammy (Charlie's wife) and good Brother Rats like you, I can survive this."
Supporting Research
As the fund continues to grow in Charlie's honor, it will support cutting edge research at VCU Health.
An example of this research, which Charlie's previous fundraising helped to support, addresses a phenomenon referred to as "freezing of gait."
Charlie experiences this symptom, which manifests in a complete stop or prolonged shuffle in the feet or legs despite an individual's best intentions to move forward. No medications or surgeries currently are available to treat it.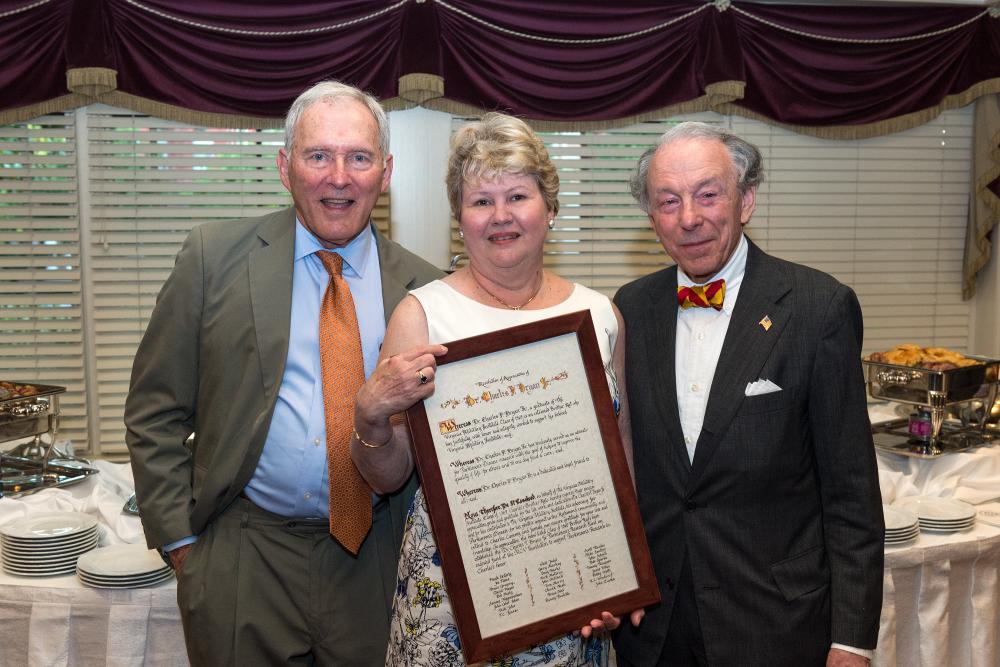 A team of five Virginia Commonwealth University researchers — led by Ingrid Pretzer-Aboff, Ph.D., senior nurse researcher in the School of Nursing, and Leslie Cloud, M.D., neurologist in the VCU Health Parkinson's and Movement Disorders Center — are testing a vibrating device worn inside the shoe that could put an end to the freeze.
The research is supported by a $434,715 grant from the Michael J. Fox Foundation, but in order to receive funding at that level or higher, whether from private foundations or from the federal government, initial data needed to be collected.
That is where seed funding, provided by mechanisms like the Dr. Charles F. Bryan Jr. Parkinson's Research Fund, comes into play. These funds provide critical resources for early research and ideas to help move them into large-scale clinical trials and then into clinics and hospitals where they can improve and save lives.
If you're interested in helping to provide this type of seed funding through the Dr. Charles F. Bryan Jr. Parkinson's Research Fund to support those who are battling Parkinson's disease, contact Carrie Bickford, interim director of development at VCU Health, at (804) 828-3652 or carrie.bickford@vcuhealth.org.
If you're interested in creating a similar fund with the help of classmates, friends or family, please visit our giving page to learn more about the various tools we have available that will allow you  to make an impact while honoring a loved one.