Celebrating Scholarships ... Virtually
One of our most beloved traditions looked a little different this spring. The COVID-19 pandemic once again made it impossible to host an in-person event for our celebration of endowed scholarship donors and recipients on the MCV Campus, but the foundation team could not let another year go by without providing an opportunity for scholarship donors and recipients to share their stories, say thank you and remind everyone of how critical scholarship support is for health sciences students.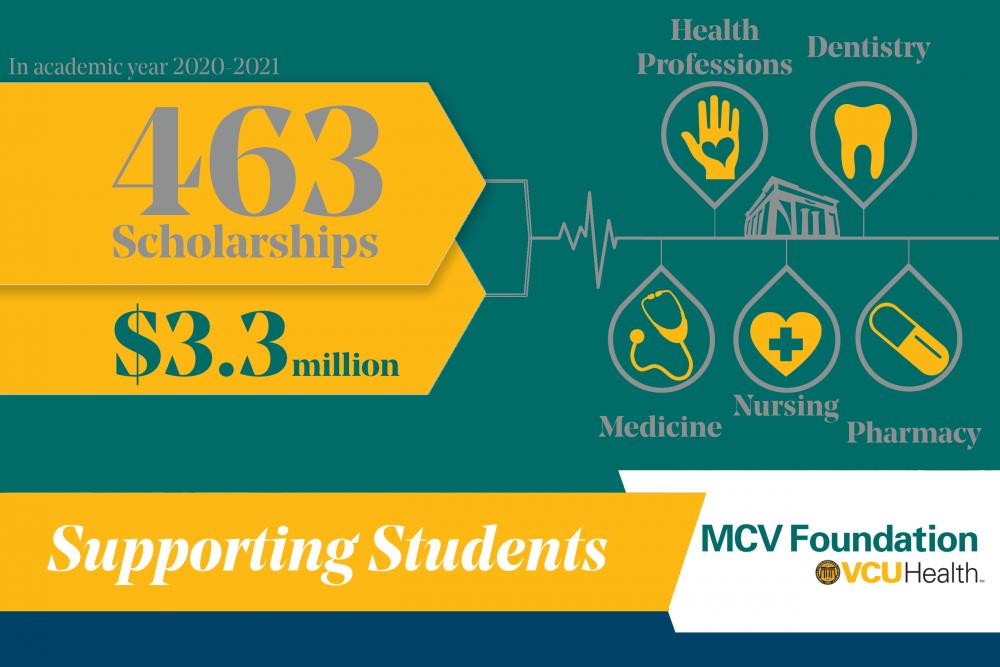 On March 7, the foundation broadcasted a virtual event to celebrate the donors and recipients of endowed scholarship funds. We featured many of these generous supporters and inspiring students from the College of Health Professions, the School of Dentistry, the School of Medicine, the School of Nursing and the School of Pharmacy.
"Everyone eagerly awaits the day we can gather again in person to celebrate the tremendous generosity of donors to endowed scholarships and to toast the great potential of the students who receive this support and whose stories inspire us and remind us of why scholarships are so important," said Margaret Ann Bollmeier, president and CEO of the MCV Foundation. "Until then, we are adapting to safely celebrate and want all of our friends to stay healthy."
This year, donors accounted for 463 endowed scholarships. Through these endowed scholarships, students from the four schools and one college on the MCV Campus had access to $3.3 million in funding and support that ranges from full tuition to modest support to help with expenses. In addition, 35 current fund scholarships allowed the foundation to provide more than $415,000 in financial assistance to students on the MCV Campus this academic year.
Donors can establish their own endowments or contribute to existing funds. To learn more about the various ways to establish a scholarship or grow an existing one, contact Brian Thomas, vice president and chief development officer.