A Community Effort: Raising Funds and Hope for ALS Patients and Families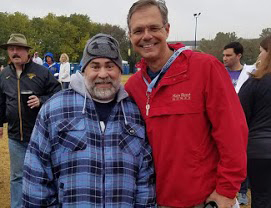 As Bobby Quinn and Vernon McClure worked and went to church together for more than two decades, they became something more than business associates or friends, they became part of the same community.
Bobby taught Vernon's son in Sunday school and worked as the sales manager at Griffith Heating and Cooling, the contractor that Vernon's company, Main Street Homes, hired for its HVAC needs. In both of those settings — and indeed many others across the Richmond area — Bobby made a name for himself as being someone people could count on.
"Whatever someone needed, they would call Bobby," said Michele Quinn, Bobby's wife. "Even if it was last minute, he would drop what he was doing to help people do things like move, or he would help people who were broken down on the side of the road. Even things at work that weren't sales related, he was out in the field helping his guys."
Then, in June 2016, Bobby began to notice that the hands he used to offer help and earn a living weren't quite what they used to be. His difficulty started with simple tasks like holding cups and grasping things, then it progressed to affecting his ability to access crawlspaces and attics at work.
Despite hopes that his challenges weren't symptoms of ALS, Bobby was officially diagnosed with the disease on April 3, 2017.
Often referred to as Lou Gehrig's disease, ALS is a progressive neurodegenerative disease that affects nerve cells in the brain and spinal cord. It progresses to involve muscles that control vital functions such as speech, swallowing and breathing. Life expectancy after diagnosis is two to five years.
Repaying a Helping Hand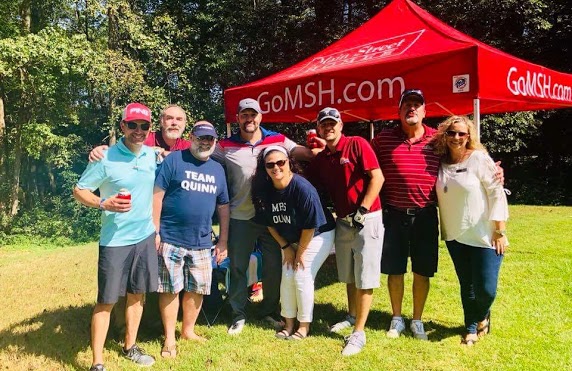 For years, Vernon and Main Street Homes had been holding a golf tournament in appreciation of all its contractors, but following Bobby's diagnosis they made other plans. Vernon continued the golf tournament, but he made it a fundraiser, on behalf of Bobby, to support the Harper's Hope Fund for ALS at VCU Health.
The Harper's Hope Fund for ALS was created in 2014 by Vic Harper, an ALS patient at the time, and his family to make an impact on ALS research and patient care – two things from which Bobby has directly benefited as a VCU Health ALS patient.
"Bobby and Michele have had a great attitude through all of this. He's inspired all of us, so we're just trying to help out," Vernon said. "Our mission statement is building value in our community. That is of course building homes and neighborhoods that we can appreciate, but it's also giving back to our community."
So far, the company's generosity has paid off in a big way.
The goal at the 2017 golf tournament was to raise $50,000. It seemed like a tall order at the time, but after the greens had cleared, Main Street Homes wrote a check to the Harper's Hope Fund for ALS for $82,000. Then, after their 2018 tournament, they wrote a check for $83,274.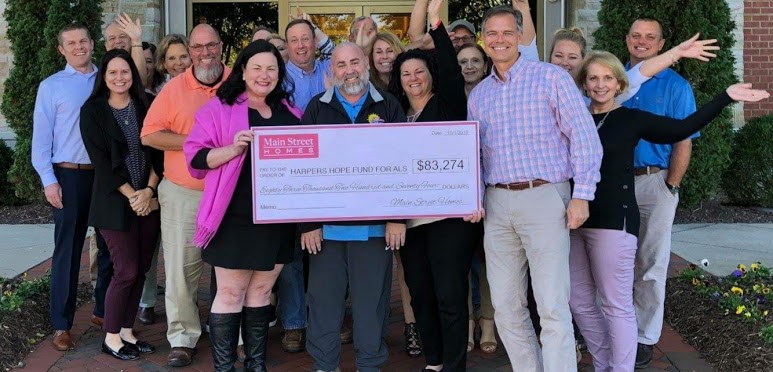 "And they did more than raise that money for Harper's Hope," Bobby said. "Many things are not covered by insurance with ALS, and Vernon and Main Street Homes handed me and Michele a check to pay for the lift in my garage and are helping with other upgrades around our house."
Bobby's Fighting Spirit
Bobby is still the person that his community counted on for help, but since ALS has taken his ability to use his arms, now he's just offering that help in a different way.
He has done a considerable amount of his own fundraising for the Harper's Hope Fund and other ALS organizations locally and nationally. Locally, he has worked with friends and teammates from his football days at Powhatan High School to host three Country Kickin' ALS events with bands and other activities to support the Harper's Hope Fund, among other ALS-related causes.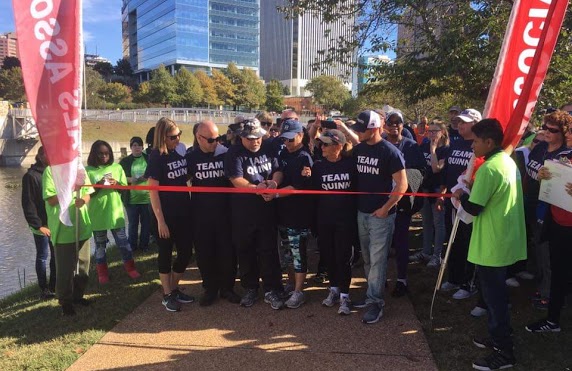 In each of the last two years, Bobby also has raised more than $20,000 for the ALS Association at its annual walk, which Vernon and other Main Street Homes employees have attended in support of Bobby.
"He's very competitive," Vernon said. "At events like the ALS walk we did last fall, he wants to be No. 1, so he's going to raise one more dollar than the next guy, definitely. That's been an inspiration too."
Bobby's personal battle continues, of course, and that happens at VCU Health where Michele said the ALS clinic team is like family now.
"It makes us feel that much more blessed because we have become very close with many of the people in the ALS clinic," Michele said. "I belong to several networking groups and there are so many people out there who have to drive two, three or four hours to get to their clinics, or they don't have the financial means or the community support that we have. Hearing about all those other stories and looking at our situation, we are very blessed by the support that we've gotten from VCU Health."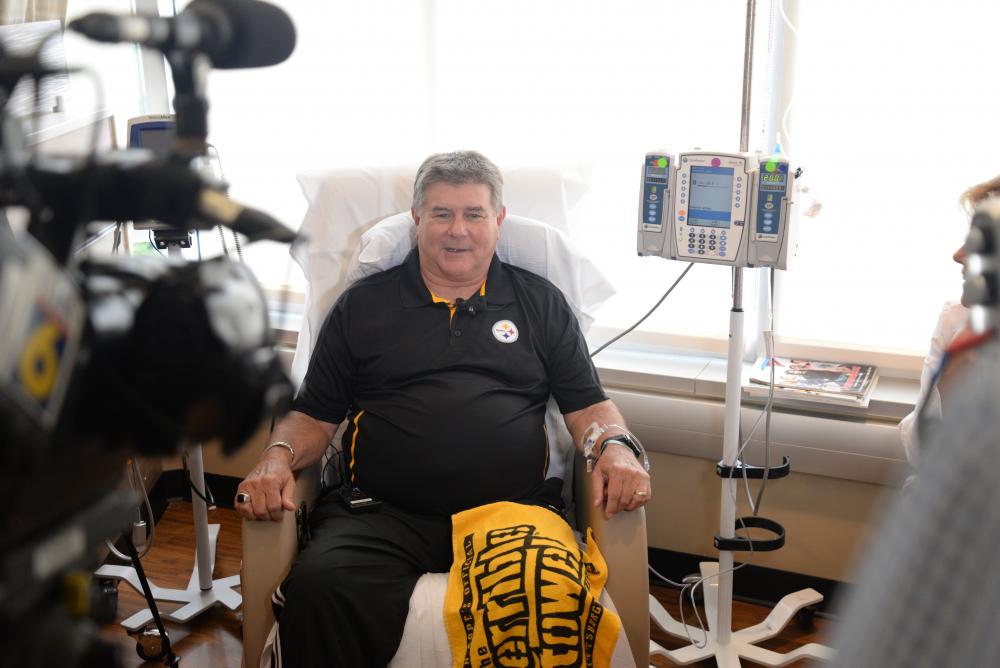 Thanks to contributions from organizations like Main Street Homes and others, the Harper's Hope Fund for ALS has been an integral piece of making Bobby and Michele's support system. The fund has supported the VCU Health team in conducting multiple clinical trials, identifying and administering new treatments for its patients, providing treatment to patients in the comfort of their own homes, and creating an assistance program for patients and their families.
Bobby has benefited from these advances, but he also has willed himself into being positive and making an impact alongside his community.
"Though ALS is going to rob me of everything physically, one thing it can't steal from me is my joy," Bobby said. "The drive for me is the awareness I bring and the funds that are raised. They may not fix me, because I might be too far gone, but if I raise one dollar that finds a cure for people down the road, it's been worth it to me."
This year's Main Street Homes Charity Golf Tournament to benefit the Harper's Hope Fund for ALS is scheduled for Sept. 30. The Country Kickin' ALS event is scheduled for Sept. 28.
To learn more about the Harper's Hope Fund for ALS and how you can be involved, contact Carrie Bickford, interim director of development at VCU Health, at (804) 828-3652 or carrie.bickford@vcuhealth.org.
If you're interested in learning about all the tools we have available to make an impact on patient care, research and education across the MCV Campus, visit our giving page.