Foundation Recognizes Leadership and Impact at VCU Health
Whether they have guided the academic health system through the worst public health crisis in 100 years, ensured an alumni association's legacy will live on after 130 years, or dedicated a lifetime to service, the MCV Campus of VCU Health has no shortage of impactful leaders.
This year on June 7, the MCV Foundation once again recognized a handful of those individuals at its annual awards dinner.
Under tents and among the blossoms of Lewis Ginter Botanical Garden, the foundation announced its four annual awards, a special recognition, and two individuals who were named lifetime honorary trustees.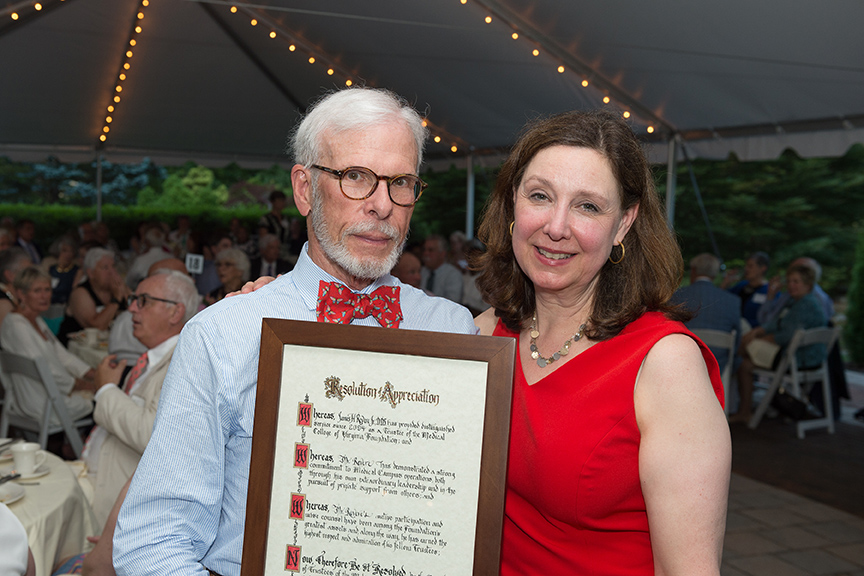 Lifetime Honorary Trustees
James H. Revere Jr., D.D.S., is a graduate, former instructor, former interim dean, fundraiser and mentor who has been a friend to the School of Dentistry for more than 50 years. He served on the MCV Foundation Board of Trustees from 2007 to 2019, leading the Communications Committee for two of those years.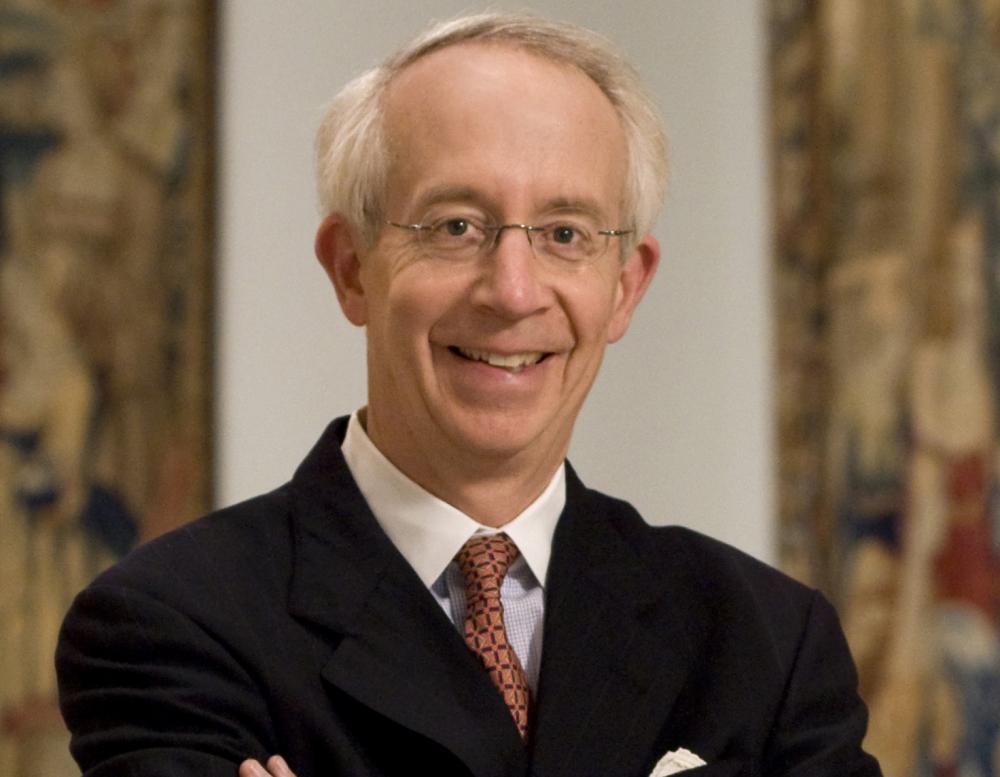 Herbert A. Claiborne III, J.D., served on the MCV Foundation Board of Trustees from 2014 to 2020, participating as a member of four committees and chairing one. As a lifelong resident of Richmond, Hobie appreciates the benefits of having a world class medical facility nearby, and serving on the MCV Foundation board allowed him to help support the academic health system.
Awards and Special Recognition
W. Robert Irby, M.D., Award
Recipient: Pam Parsons, RN, Ph.D.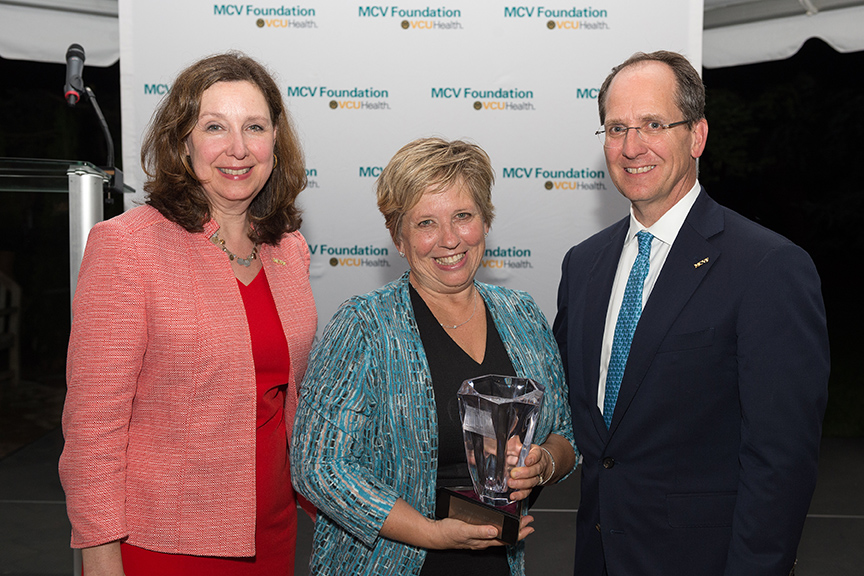 Pam Parsons, Ph.D., is the Judith B. Collins and Joseph M. Teefey Distinguished Professor, associate professor and associate dean for practice and community engagement at the VCU School of Nursing. She also is director of the interprofessional Richmond Health and Wellness Program.
Dr. Parsons, a two-time alumna of the school, has worked tirelessly to build the Richmond Health and Wellness Program, teaming with departments across the university to improve the health of vulnerable older adults and disabled adults residing in low-income housing settings.
Dr. Parsons has been instrumental in establishing relationships within VCU as well as the Richmond community, resulting in funding of more than $1 million.
The Irby Award was established in 2001 in memory of Robert Irby, M.D., an MCV rheumatologist who was devoted to securing financial support for the MCV Campus. This award is presented annually to a faculty member who has assisted with major fundraising efforts.
Dowdy Award for MCV Campus Volunteer Philanthropists
Recipient: Ghulam Qureshi, M.D.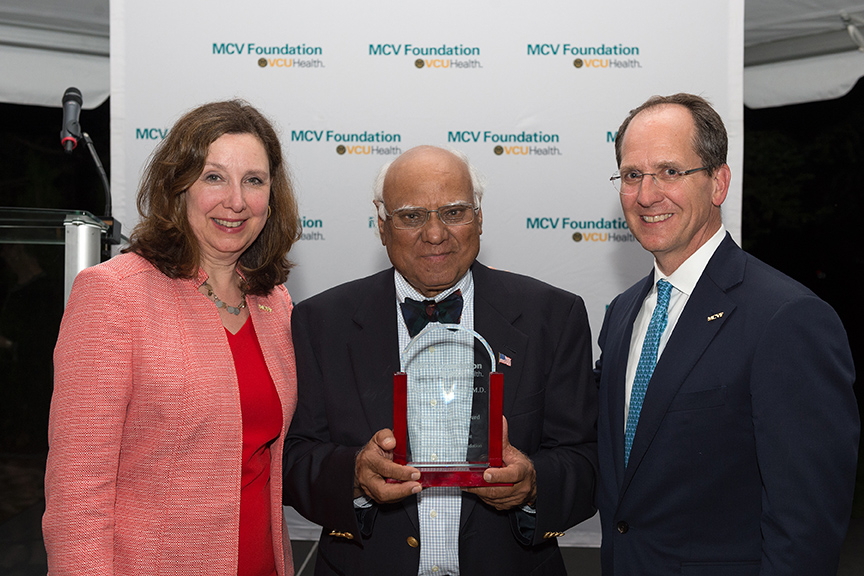 Ghulam Qureshi, M.D., is a hematologist who completed a fellowship in hematology on the MCV Campus in 1970 and residency in internal medicine in 1971.
In 2013, Dr. Qureshi approached MCV Foundation about raising funds to endow a professorship in memory of longtime faculty member G. Watson James, M.D., former chief of the Division of Hematology in the Department of Internal Medicine at VCU School of Medicine.
Dr. Qureshi began working with the foundation in 2013, and through consistent cultivation and solicitation over the years has raised approximately $600,000 for the G. Watson James Professorship.
In addition, Dr. Qureshi played a pivotal role in securing a $1 million gift that was matched to establish a $2 million chair at VCU Massey Cancer Center.
Dr. Qureshi joined the MCV Foundation Board of Trustees in 2015 and is committed to getting the G. Watson James Professorship to $1 million.
The Dowdy Award was established in 2006 in honor of Mickey Dowdy, who served as president of the MCV Foundation from 1993 to 2006. This award is presented annually to recognize a volunteer who has played a lead role in fundraising for the MCV Campus.
Eugene P. Trani award
Recipient: Becky Perdue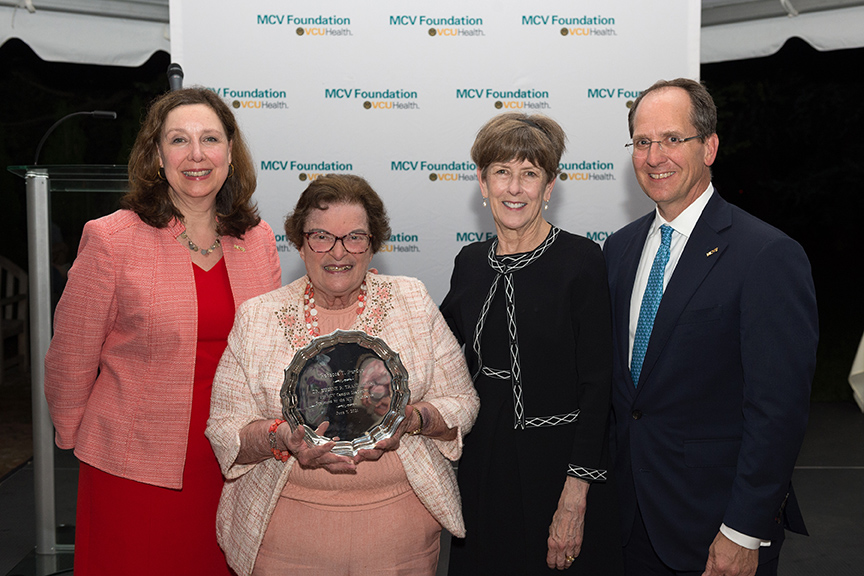 Rebecca Perdue graduated from MCV in 1962 with a B.S. from the Department of Medical Laboratory Sciences.
During her medical laboratory career, she led hospital laboratories, owned a lab sciences consulting business and served as group manager for the Commonwealth of Virginia Department of General Services, Division of Consolidated Laboratories.  She also held several elected positions at both state and national levels. Her significant contributions to the profession have been recognized by the American Society for Clinical Laboratory Science.
On the MCV Campus, she held several positions with the MCV Alumni Association, including president, vice-president and secretary, along with regular service on numerous committees. She has also completed 12 years of service on the MCV Foundation Board of Trustees, holding positions on four committees or task forces.
Perdue continues to provide philanthropic support to the medical laboratory sciences program at the VCU College of Health Professions and plays an active role in development, recently assisting with outreach to fellow College of Health Professions alumni regarding planned giving. In total, Perdue has tirelessly provided exceptional service to the MCV Campus and to the medical laboratory science profession for nearly 60 years.
The Trani Award was established in 2009 in honor of Eugene P. Trani, Ph.D., who served as president of VCU from 1990 to 2009. This award is presented annually by the Board of Trustees of the MCV Foundation to recognize exceptional dedication and support of the MCV Campus.
Jerome F. Strauss III Award
Recipient: Peter Buckley, M.D.
Taking the helm of a large academic health system and shepherding it through a time of leadership change is a daunting task on its own. So, when the World Health Organization declared a global pandemic on March 11, 2020, the interim role that Peter Buckley, M.D., assumed only a few months earlier for VCU Health became very different – and it became a role that no one had ever fulfilled before. A seismic shift occurred in the delivery of health care, not just for VCU Health, but for the world.
VCU Health's faculty and staff faced a daunting new evil in COVID-19. Our health science schools had to determine how to keep teaching without providing students clinical experience or in-person learning. Research, unrelated to COVID-19, was curtailed. Nonessential services and surgeries were forced to grind to a halt, and financial models were completely turned upside down.
Through all of this, Dr. Buckley led the way, encouraging his leadership team to make fast but thoughtful decisions. It was imperative that the health system turn on a dime to respond to circumstances that changed daily. He steadfastly encouraged team members to remember that they would not just survive, but they would also learn. While forced to consider new options and find new ways to treat and to teach, he encouraged all to take that knowledge forward and, even after the pandemic, find new ways to change the face of health care, research and education.
Since becoming dean of the VCU School of Medicine in January 2017, Dr. Buckley has been a steadfast friend of to the MCV Foundation, supporting its work and including it in his leadership team and fundraising initiatives. He launched the first fundraising training program for physicians at VCU. He has helped plan and has moderated many Discovery Series programs and other events hosted by the MCV Foundation. He has worked with the foundation to raise funds and steward donors, and has contributed substantial time to the relationship with alumni and donors.
The Strauss Award was established by the MCV Foundation Board of Trustees in 2016 in honor of Jerry Strauss, M.D., a nationally renowned researcher, educator and administrator who was appointed dean of the School of Medicine in 2005. This award is presented to a VCU administrator, faculty or staff member who has demonstrated extraordinary service and stewardship to MCV alumni, donors or other members of the community to support and advance the mission of the MCV Foundation.
Special Recognition
Recipient: Barbie Dunn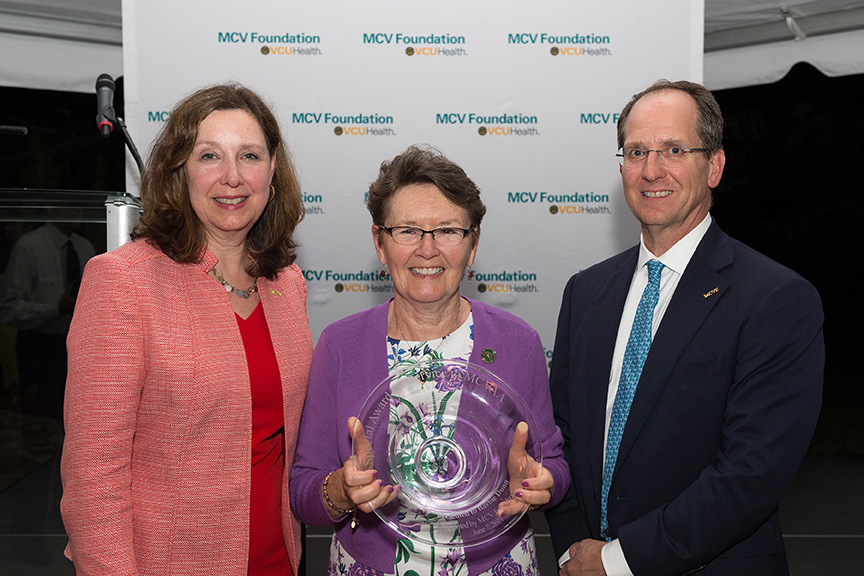 The MCV Foundation gave a special recognition this year to a person whose service to MCVAA, VCU Alumni and the MCV Campus has been exceptional. Nominated by six of her fellow MCVAA board members and the VCU Alumni Association, Barbie Dunn, Ph.D., led MCVAA through its recent transition, giving hundreds of hours of her time and expertise to ensure that the association's members and contributors would have a permanent legacy.
Dr. Dunn holds a bachelor's degree from the VCU School of Nursing and a Ph.D. from the VCU School of Social Work. Until MCVAA's dissolution in 2021, Dr. Dunn served as the association's board treasurer. MCVAA and VCUA worked for two years on a transition from their independent nonprofit organizations to a unified Alumni Council. The transition has taken a lot of time, thought and dialogue among all stakeholders, and Dr. Dunn has been at the forefront, dutifully ensuring that the MCV Campus is well-represented and supported through the process.
As the path forward became clear, and MCVAA decided to make this change, Dr. Dunn almost single handedly managed the entire process — much to the appreciation of her fellow board members. She secured legal counsel and went through the painstaking process of document review, management of assets, and developing operating agreements and guidelines. She worked tirelessly to pay bills, transfer systems, and manage the financial responsibilities of dissolving the nonprofit organization.
She also worked closely with the MCV Foundation to develop gift agreements and secure assets for the future, ensuring the MCV alumni legacy will be honored.
Through Dr. Dunn's efforts, three legacy funds were given to the MCV Foundation:
MCVAA Legacy Scholarship
MCVAA Permanent Endowment
MCVAA Reunion Endowment
Support for the MCV Campus, whether through a lifetime or a one-time contribution, makes a real impact on saving and improving lives. If you are interested in beginning or expanding your own impact on the lives of patients, researchers and students on the MCV Campus, learn more about giving to VCU Health.