Health in History: Expert VCU Health Panel Discusses Cancer Research and Treatment
Ten years ago, physician and Pulitzer Prize-winning author Siddhartha Mukherjee published his critically acclaimed book in which he called cancer the "emperor of all maladies." In the decade since the book was published, doctors and researchers have changed how we approach treating various cancers.
Dr. Mukherjee's book inspired discussions at the event called "Is Cancer Still the Emperor? How Innovative Research and Treatments Offer Hope for a Cure." A panel of VCU Health cancer experts responded to that question at the third installment of the Health in History series, an event the MCV Foundation hosted in partnership with the Virginia Museum of History & Culture.
More than 300 people braved an unusually cold night to attend the Nov. 13 event to learn about the history of cancer care and advances in treatment and prevention that have emerged since the book's publication.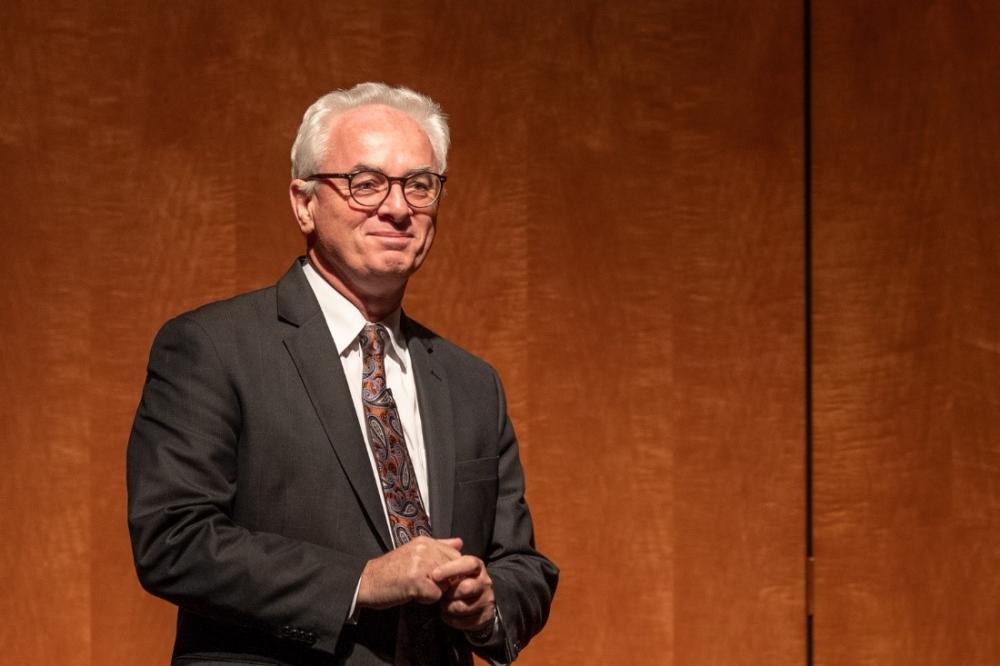 The panel, moderated by Peter F. Buckley, M.D., dean of the VCU School of Medicine, included Walter Lawrence, M.D., professor of surgery emeritus and director emeritus of the VCU Massey Cancer Center;  Steven Grant, M.D., professor of internal medicine and associate director for translational research at Massey; and John McCarty, M.D., professor of internal medicine and director of the Cellular Immunotherapies and Transplant Program at Massey.
"There's not a family in America who hasn't been affected by cancer," Dr. Buckley said. "We'll discuss everything from yesterday's surgery to today's personalized oncology to give a sense of how far we've traveled in the time since this book was released."
The evening began with a screening of a short video featuring Ross Mackenzie, retired editor of the editorial pages for the Richmond News Leader and Richmond Times-Dispatch. In the video, Ross shared a moving letter about his experiences with the lifesaving care he received after two cancer diagnoses. In remarks, the panel noted Ross's experience is a great example of the evolution in cancer care. His initial lymphoma diagnosis in the 1980s came as doctors were concluding that surgical approaches were not effective at treating the cancer, which meant Ross's treatment benefitted from more successful treatment using chemotherapy.
Panelists offered a variety of insights into the ways in which cancer treatment has evolved. Early approaches relied heavily on surgical solutions with varied success, and later research findings supported less dramatic cuts. The initial thinking, according to Dr. Lawrence, was that the larger the operation, the bigger the cure. "What amazes me is that we all thought we were doing the right thing," he said of cancer surgeries in earlier decades. Later research and scientific advances helped doctors adapt and perform surgeries with smaller surgical margins that led to similar positive outcomes.
Massive shifts have occurred since the federal government began focusing efforts to combat cancer in the 1970s. At that time, understanding the molecular and genetic aspects of cancer was a field in its infancy. Today, Dr. Grant explained, scientists routinely dissect and characterize the molecular and genetic aberrations in a patient's tumor.
"That provides enormous potential benefits, but it also presents some enormous challenges," said Dr. Grant, who co-leads Massey's developmental therapeutics program. Therapeutic regimens can target specific disruptions causing the mutation, but Dr. Grant noted that tumor cells are highly unstable and can mutate in ways that evade targeted therapies
The promise of evolving and new therapies was a common theme of the evening. Dr. McCarty described early experiences with transplantation in the late 1980s. "At that point, it truly was the Hail Mary pass in medicine," Dr. McCarty said. "When patients failed to respond to any other therapies, they were given what essentially would be lethal doses of chemotherapy to their bone marrow and we would give them back someone else's bone marrow."
The early years of transplant therapy were tough, Dr. McCarty said, but those efforts resulted in building better standards of care and options that are more precise in their aim.
"We're seeing new innovations about how to find better matches between a recipient and a donor," Dr. McCarty said. "Transplant is all about teaching the immune system to love the patient and hate the cancer."
Dr. McCarty also discussed immunotherapy as an exciting approach to treating cancer. Gene alteration and immunotherapy provide options for patients who were previously being sent into hospice care. In this treatment method, the immune system becomes the most important partner in fighting the cancer cells.
"We're seeing some amazing responses from people with metastatic melanoma," Dr. McCarty said, who explained that immunotherapy focuses on genetically modifying and training the body's immune system cells to target cancer cells before being infused back into the patient.
Panelists expressed a positive outlook on the advancements in cancer treatment and research. The American Cancer Society, Dr. Lawrence noted, has recorded significant decreases in deaths due to lung, breast, and prostate cancer from 1990-2017, which illustrates the importance of prevention research and early detection of cancer.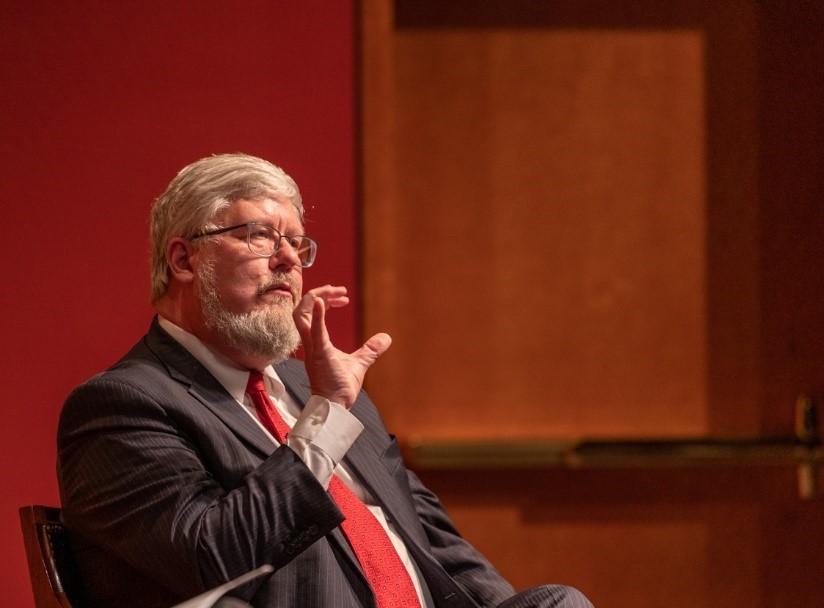 Dr. McCarty also emphasized the importance of investing in basic science research, which has fueled many breakthroughs when it comes to prevention and treatment of cancer.
The Health in History series encourages participants to explore the interplay between history and health in our community and country by featuring authors of medical history and experts from the MCV Campus who can highlight the advances in care available in Richmond. The inaugural event focused on heart transplant, and the second event covered the 1918 flu pandemic.
The partnership is possible thanks to the creative vision of Austin Brockenbrough III, a member of the Virginia Museum of History & Culture Board of Trustees and one of the MCV Foundation's lifetime honorary trustees, who envisioned the idea of this series. The events help raise awareness of the outstanding medical care and research that happen each day on the MCV Campus.
Charles F. Bryan Jr., Ph.D., provided another critical connection between our foundation and the Virginia Museum of History & Culture. He is president and CEO emeritus of the Virginia Historical Society and a member of our board of trustees. The Virginia Sargeant Reynolds Foundation provided generous support for the event series.
Events like this highlight the important role VCU Health plays in keeping us all safe and healthy. If you're interested in being a part of this mission to protect our community and future generations through patient care, research and education, please visit our giving page to learn about all the opportunities available to make gifts across the MCV Campus.