MCV Foundation's Discovery Series: Breakthrough Science, Innovative Treatments and Compassionate Care at VCU Massey Cancer Center
Numerous hands – too many, some might say – went up when Michael Elliott, M.D., COO of VCU Health, asked the crowded room before him how many people knew a loved one or friend who had pancreatic cancer.
He acknowledged those raised hands solemnly, as pancreatic cancer survival rates rank among the lowest of all common cancer diagnoses. 
But despite the bleakness that swirls around pancreatic cancer, there are hope shots from those who refuse to settle when it comes to fighting the disease. Joining Dr. Elliott on this night were three individuals whose collective expertise has VCU Health and Massey Cancer Center poised to lead that fight.  
About 80 people gathered at the Country Club of Virginia in Richmond on Oct. 26, followed by more than 180 on Nov. 2 in Williamsburg, as part of the MCV Foundation's ongoing Discovery Series. The series was established in fall of 2013 to connect Williamsburg-area residents with the cutting-edge research and medical care happening on the MCV Campus. In 2019, the Discovery Series expanded to include a Richmond component.
Insightful and engaging, the series offers lively panel discussions from doctors, researchers and health professionals from around campus who share their latest findings. The panel discussion is followed by a "strolling supper" in which the audience and panelists can further engage one on one and continue conversations while they dine.  
The early popularity of Discovery Series led to the formation of the Discovery Society in 2015.
From an inaugural membership of 74, the society today boasts nearly 250 members who have collectively given more than $6 million. Equally as important are the opportunities it affords those who may not otherwise be aware of the medical breakthroughs and advancements occurring on the MCV Campus. Society members have become advocates and fundraisers – even clinical trial participants – thanks to these events that bring the news of medical advancements right to them This fall's events were titled Massey Cancer Center: Breakthrough Science, Innovative Treatments and Compassionate Care.
The Richmond panelists included:
Oxana Palesh, Ph.D., M.P.H., professor of psychology and co-leader of Massey Cancer Center's Cancer Prevention and Control Program
Said M. Sebti, Ph.D., associate director of Basic Research at Massey Cancer Center
Jose G. Trevino II, M.D., FACS, associate professor and chair of the Division of Surgery Oncology and Surgeon-in-Chief at Massey Cancer Center.
Drs. Sebti and Trevino also spoke in Williamsburg. There, they were joined by Jennifer Myers, M.D., associate professor of Internal Medicine, Division of Hematology, Oncology & Palliative Care at Massey Cancer Center.
The panelists at both events talked about initiatives that replace decades-old standard care practices with tailored cancer treatment plans for patients, including identifying and treating upwards of 12 side effects commonly associated with cancer.
They discussed their efforts to collaborate across disciplines in a variety of ways, from creating cancer drugs that are less toxic and yet more effective, to treatment plans that involve everyone from biologists and medical oncologists to surgeons and pharmacologists.
They also talked about the importance of VCU Health's efforts to diversify and expand clinical trials, moves that are putting the medical campus in the national spotlight.
**
An advocate for a multifaceted approach to treatment and care, Dr. Trevino told his Richmond audience that the fight against pancreatic cancer often begins not with a tumor, but a thought.
By the time cancer patients see him, he said, many have been told by their primary care physicians that they need to get their affairs in order because little can be done for them.
He prefers to offer them hope.
"I'm a surgeon – I cut cancer out of people, and I believe in biology, but there's something about what happens here," he said, pointing to his head, "that determines everything.
"Here at VCU Health, we don't give up," he said. "We fight and we don't talk death, we talk about life."
It's an uphill battle, he acknowledged. A cursory online search of pancreatic cancer is typically associated with death. Even leading health organizations like the National Cancer Institute or the National Institutes of Health traditionally are hesitant to fund pancreatic cancer research because historically, outcomes for patients with pancreatic cancer were so bad.
Funding such research "just didn't make any sense because everybody who had it died," Dr. Trevino said. But he's hoping to change those dynamics and one way he's leading his team to do that is by working to make clinical trials representative of the communities he serves.
Most clinical trial participants, about 90%, are white, he said. Data, however, proves that Blacks, Latinos and other populations respond to therapies differently. Getting them into trials can be challenging, however, because many people in these communities either don't believe clinical trials work or don't trust them.
"If clinical trials aren't diverse enough, we don't have the ability to really know what's going to work for certain populations," he said.
"Biologically, we're all different and depending on our ancestry, our genes may make us more prone to develop certain types of cancers, but also more susceptible to therapies," Dr. Trevino said. "But it's on the physicians to be able to explain the importance of clinical trials."
A big part of diversification is removing outdated and prohibitive participation eligibility factors that have excluded people, usually minority populations, from clinical trials – namely that they have other diseases like HIV, hepatitis C, diabetes and hypertension.
"We're pushing the message that those factors cannot be real anymore," he said. "We need to bring the eligibility criteria down and diversify our clinical trials, and we will see incredible new therapeutics for certain patient populations that will help us all."
**
Massey Cancer Center is awaiting word from the National Cancer Institute on whether it has achieved comprehensive status – a nationally-recognized elite designation given to cancer centers that specialize in four fundamental areas of cancer research, from the basic science of cancer cells to screening protocols, translation and finally, clinical trials.
Currently there are 53 comprehensive centers nationally. Massey would be the 54th – an appropriate nod to a cancer center that touts success in all four of those research areas, said Dr. Sebti, who's been continuously grant funded by NCI since 1989, and among all funding sources, has been awarded a collective $60 million to support his work. 
Dr. Sebti described his research as spanning labs to clinics – designing drugs in a lab and then testing them in clinical trials. In Richmond, he spoke about a few notable highlights.  
One of those is the Molecules to Medicine initiative, which began a few years ago and involves a variety of researchers and doctors working collaboratively to create cancer-fighting antibodies and cell therapies that kill tumors but spare normal cells.
For example, Dr. Sebti shared research and emphasis on a specific protein called K-Ras, which is found normally in the body but morphs into aggressive cancer cells, in some cases for reasons still unknown to researchers. He said 90% of pancreatic cancer patients have this mutated K-Ras protein, though it's also found in lung cancer and colon cancer.
"It happens to be a very challenging protein to work with and it's not easy to make drugs to fight this," Dr. Sebti said, explaining that this protein is being studied at every level, from atomic and molecular levels and beyond. "But here at VCU, we want to take on these challenges that others don't."
Dr. Sebti also discussed VCU's charge toward precision medicine – a move that would change standard care from one-size-fits-all treatment practices to tailored plans designed specifically for an individual's needs.
Two patients who present with the same tumors and symptoms may have completely different cells within those tumors, he said.
"If their tumors are different, then we should treat them with different drugs," he said. "The one-size-fits-all approach is how we've been doing it for four decades, but our hope is that we get rid of standard care and move toward a precision medicine approach to care."
**
A cancer diagnosis is life-changing, yet few understand that cancer's impact extends well beyond a tumor.  
Dr. Palesh is a renowned expert on psycho oncology and the treatment of side effects, particularly cancer-related insomnia, fatigue and neurocognitive impairment. 
In Richmond, she explained that 80% of cancer survivors experience insomnia, for example. She also said 45-70% of cancer survivors experience neurocognitive impairment – something she said has been underrecognized within the cancer research realm for years.
Knowing these symptoms exist, however, can impact treatment, she said. Cancer researchers can work with others who study Alzheimer's or traumatic brain injuries, for example, and apply those research areas back to cancer.
Dr. Palesh noted that side effects don't go away just because patients are done with treatment, or their cancer goes into remission. She also echoed her fellow panelists by saying that this area of research benefits from a precision medicine approach, one that includes everything from physical therapy to behavioral psychological services.
"It's not just an inconvenience or a quality-of-life issue – it affects the patient's response to treatment and potentially survivorship," Dr. Palesh said about cancer's side effects.
"These symptoms are a big burden, but if we know about them earlier, we can start early to prevent or treat these symptoms so people who are going into the survivorship phase can live better and longer."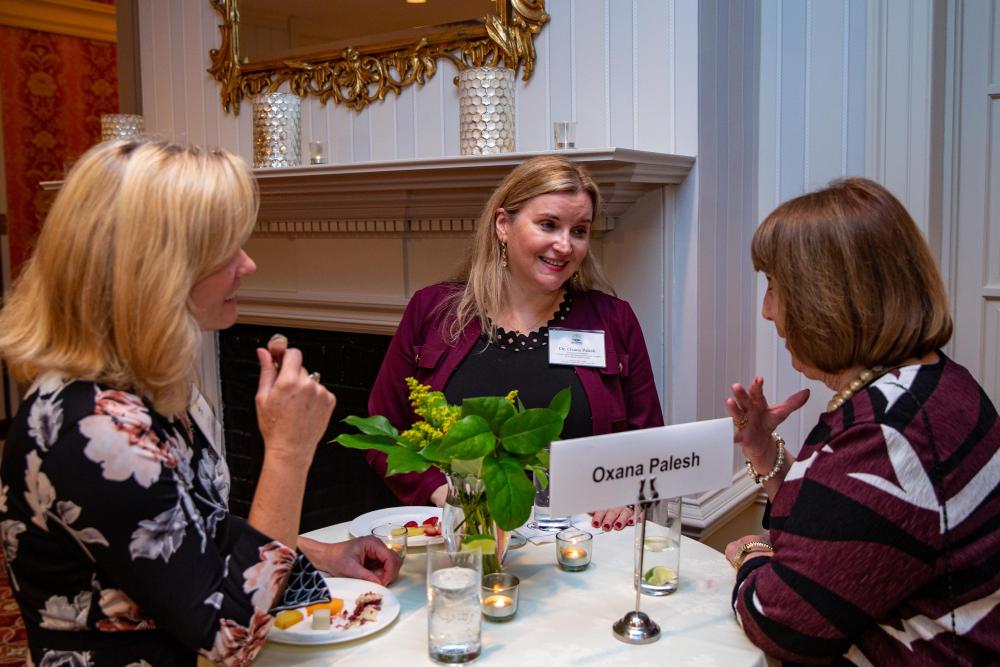 **
In Williamsburg, Dr. Myers agreed with Drs. Trevino and Sebti that the pervasive atmosphere at Massey is a collaborative one.
One example of that she explained is her participation on a "tumor board" that meets weekly to talk about new patients and existing patients, or patients who may be coming to Massey seeking second opinions. She said that the board – everyone from radiation oncologists and researchers to nurse practitioners and other clinicians – discusses new findings from scans or surgeries and then applies those findings to treatment plans.  
"When patients come in the first time, or they're coming to get a second opinion, they're really getting our entire group," she said. "We all are reviewing it together."
She acknowledged that with pancreatic cancer, finding it early enough to remove it with surgery is often the best form of treatment. But for those whose cancer may have metastasized, treatments such as chemotherapy – where the drugs move through the whole body – can target both the cancer cells that are visible on scans but also those microscopic ones that aren't.
"We all know it only takes one cancer cell to be left in the body somewhere to show up at some point in the future," she said. "What we don't want is for patients to go through a very significant surgery and then end up with the disease not being cured."
Chemotherapies prior to surgeries benefit patients who may not be able to tolerate chemotherapy after surgery. Additionally, in some cases, the pre-surgical treatments could be effective enough that they ward off the need for surgery, or, alternatively, help patients who were considered unfit for surgery to proceed with it.
Dr. Myers repeated the need for precision medicine, particularly for pancreatic cancer.
While treatments and research have come a long way, there's more that needs to be done, she said. Her goal would be to have clinical trials and treatments available for any stage of pancreatic cancer.
"Every time I see a pancreatic cancer survivor, it just makes my day," she said. "It's the most amazing feeling because its such a difficult disease to treat and these patients are some of the most wonderful patients I've ever had."
She added: "That's what helps to drive me to continue to work to move this all forward."
 **
Discovery Series events are made possible, in large part, by the host committees.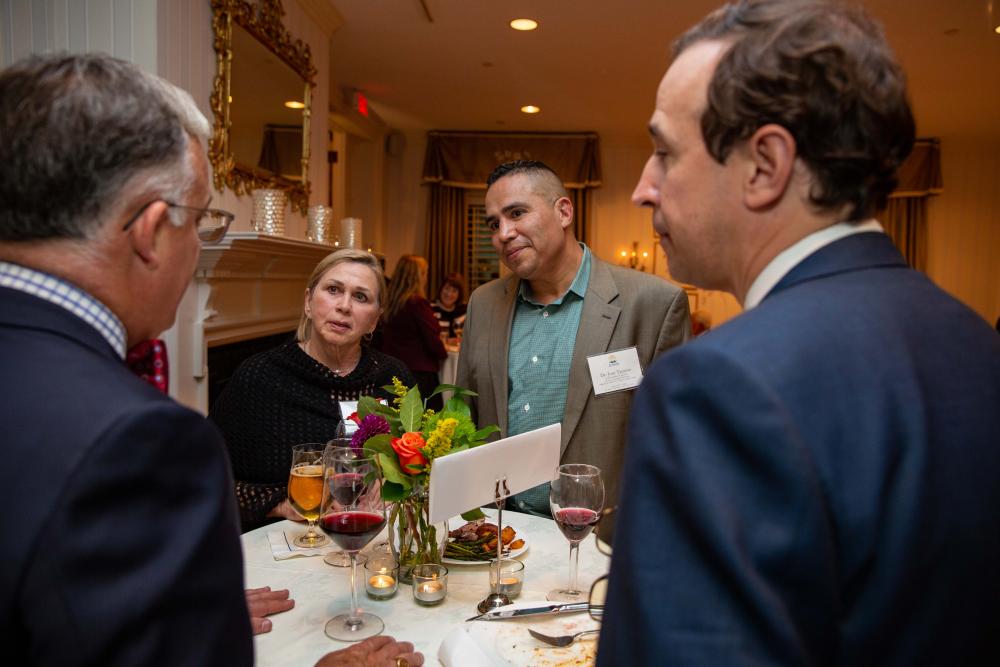 In Williamsburg, that includes Julie Baxter and Paul Dresser, Louise and Bob Canfield, Ginny and Charles Crone, Jane Kaplan and Judi Forehand Starkey. In Richmond, that's Tenley and Wyatt Beazley, Anne and Roger Boeve, Gail and Earl Johnson, Patricia and David Lyons, Becky Purdue and Judi and Jim Starkey.
To learn more about the Discovery Series and watch past panel discussions, click here.
To learn more about the Discovery Society, click here.
To view the full photo album, please visit our Facebook page here.