MCV Society Members Celebrated for Looking to the Future
The weather and the views were perfect at Upper Shirley Vineyards on May 9 as we honored some of the most important partners that the MCV Campus at VCU Health has in saving lives, advancing research and improving education. We couldn't have been happier to recognize our MCV Society members for their vital support of the campus.
The MCV Society includes individuals who have notified our foundation that they have included the MCV Campus in their estate plans. The society has more than 550 members, approximately 100 of whom attended May's event.
"Because of your forward thinking, your incredible generosity will create a lasting impact for our students, faculty, research and programs," said Margaret Ann Bollmeier, MCV Foundation president, when she addressed the group. "Thank you."
Margaret Ann acknowledged that the MCV Society has gained 31 new members this year, with an impact of $16 million in new planned gifts that will provide future support to a wide range of efforts across the MCV Campus. In total, our MCV Society members' philanthropic impact exceeds $100 million in future gifts.
These recent gifts represent incredible growth for the MCV Campus's planned giving program, which has been reinvigorated over the past several years by new outreach and communications efforts.
New planned gifts from people who care deeply about improving the lives of their families, neighbors and community members helped raise more last year in planned giving than in the previous three years combined. This year, we expect to reach an even greater total.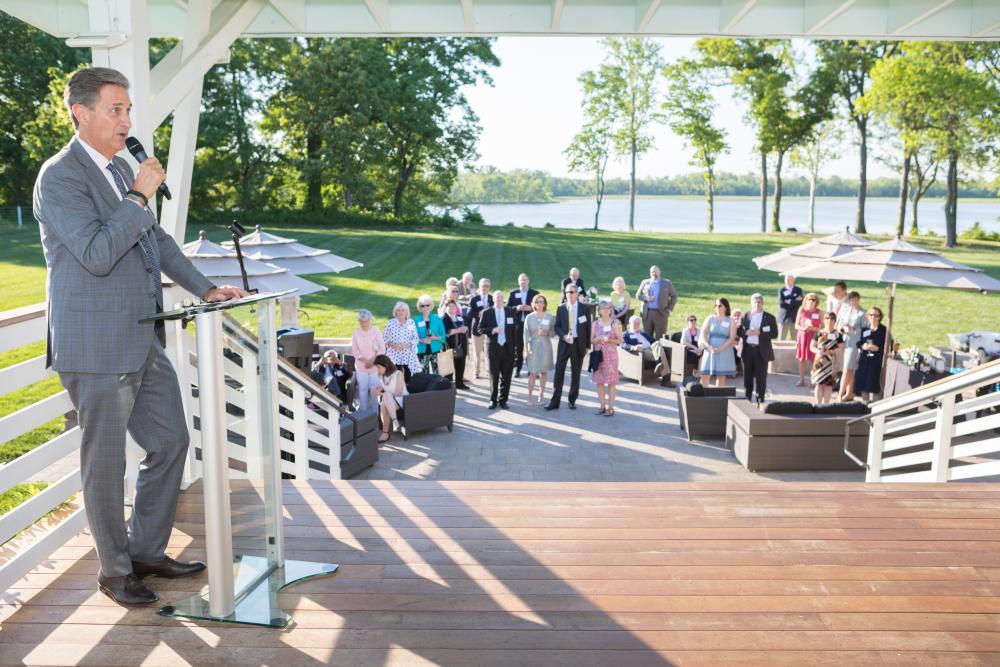 At May's event, Harry Thalhimer, MCV Foundation board chair, addressed the new donors and those who have been MCV Society members for many years.
"Your generosity will touch every area of this campus, and it is because of donors like you that the MCV Campus will continue to flourish," he said. "We cannot thank you enough for all that you do."
The two most popular tools that MCV Society members use to support the campus through planned giving are bequests in wills and beneficiary designations on retirement plans. If you're interested in learning more about these or other strategies for creating a legacy of patient care, research or education right here in Central Virginia, visit our planned giving page.
If you're interested in learning about one MCV Society member's experiences and motivations for establishing planned gifts to support students, click here.