If there is one positive outcome from all the uncertainty and concerns about COVID-19, it has been the sudden and universal sense of gratitude for frontline healthcare workers both here on the MCV Campus and around the world where our alumni are serving during the crisis. We hope this renewed collective appreciation for the healing professions is something that our society keeps well beyond the immediate crisis.
Right now, we are witnessing a renewed understanding among our community of why careers in health remain vital to our society. We see both the humility and grace that VCU Health team members have shown. They have sat by the bedsides of patients and filled in for family who cannot be present. The measure of their devotion to helping save lives and care for each other has been phenomenal.
We are proud of VCU Health and the health system's steadfast commitment to the safety of staff and patients and to providing great care to those in need. And we also are heartened by the outpouring of support from the community to share resources and nourishing food.
Our foundation exists to support that critical, healing mission to provide excellent care, discover new knowledge and potential treatments, and to educate and inspire tomorrow's leaders in healthcare.
We spoke with several VCU Health nurses who are graduates of the VCU School of Nursing and are playing a critical role during this health crisis. They trained in our community and are now saving lives in our community thanks to their dedication and their incredible nursing training. This is what makes an academic health center so unique and such a wonderful asset for all of us in the Central Virginia community — having patient care, research and education united with the ability to collaborate all under one roof. 
Ginna Slattum, RN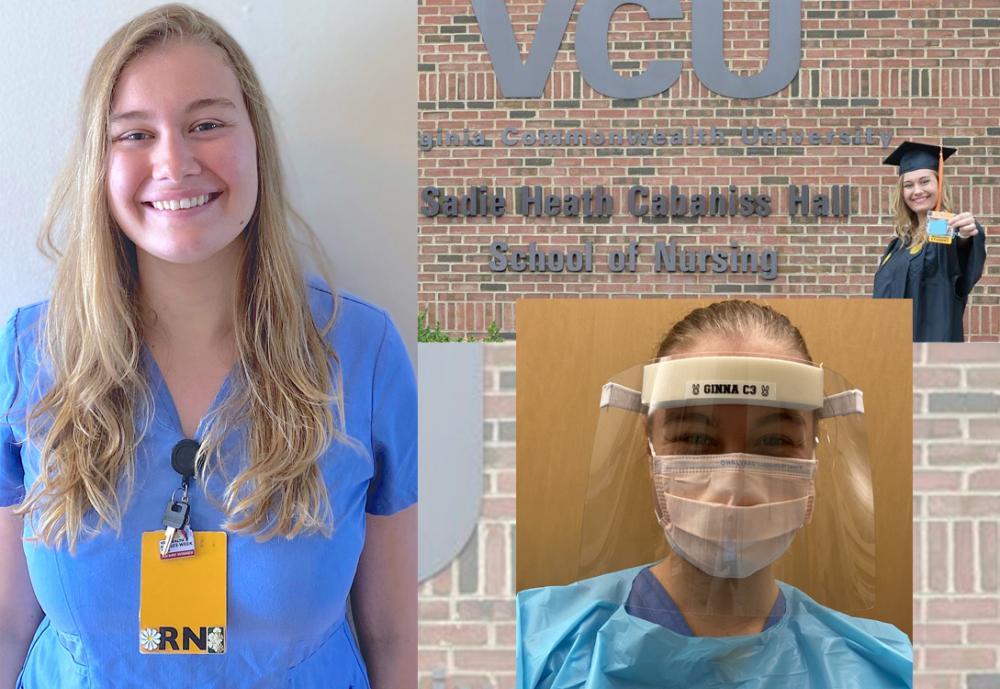 Ginna Slattum earned a B.S. degree from the School of Nursing in 2018 and is serving on the frontlines during the COVID-19 crisis in VCU Health's Acute Care Medicine Unit. She's working with patients who are hospitalized due a to a variety of symptoms they may be experiencing from COVID-19, including breathing issues.
She said one of the most important skills she learned during her training is critical thinking. "VCU's School of Nursing provided me with the toolkit to handle the clinical changes I approach daily. As a nurse, my strength in critical thinking is the most important skill I can bring to the bedside when caring for a patient and collaborating with interprofessional teams, especially in uncertain times like these when recommendations change very fast."
During times of crisis, the ability to keep calm and continue providing care is another tool the School of Nursing gave Ginna. "While it is important to act fast in times of crisis — whether in a pandemic like this or based on a patient's clinical presentation — it is important to do so in a way that continues to allow me to care for patients to the best of my ability," she said.
The focus on evidence-based practice that Ginna had in nursing school has been critical in a time of information saturation. "During times of uncertainty, I have the skills to help decipher evidence-based recommendations from misinformation as to best support my patients," she said.
"What I most enjoy about being a nurse is the connection," she said. "Nurses have a unique ability to connect with patients through spending extended time together, focusing on each individual as whole and embracing the role of a patient advocate. I cannot be more grateful for the patients who remind me why I go to work each shift."
Nicole Downey, RN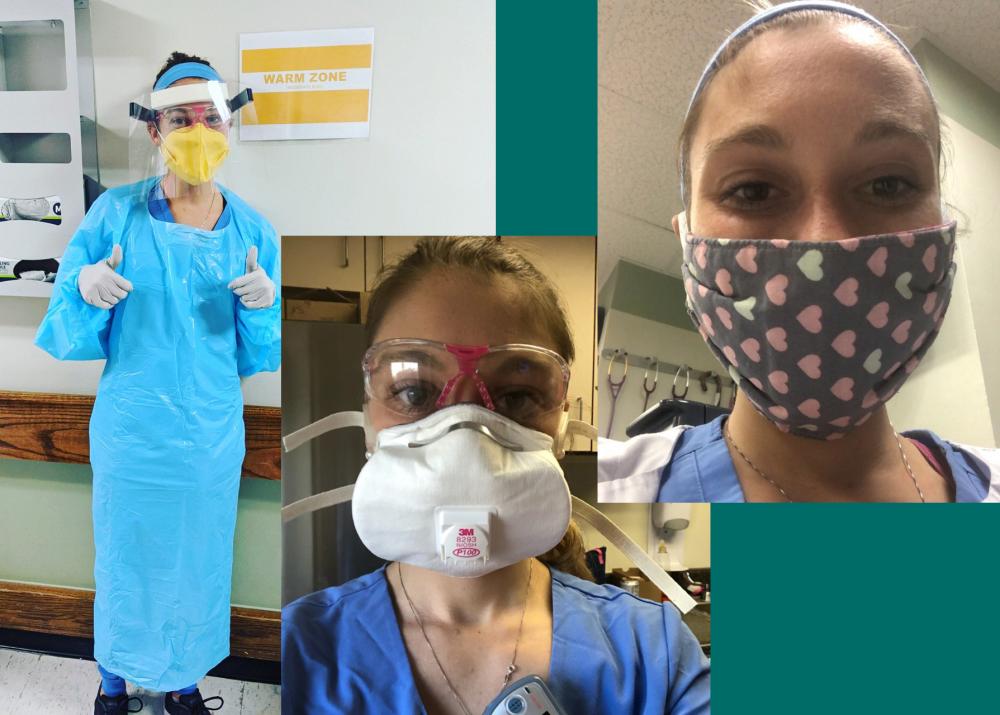 Nicole Downey works in VCU Health's Comprehensive Medicine Unit where she is assisting COVID-19 patients who are having some difficulty breathing and need access to her unit's negative pressure rooms. This is helpful for patients who don't yet need a ventilator but need some level of breathing support and can no longer remain at home.  
"Having clinicals right at VCU Medical Center helped a lot to prepare me for what I would see in the hospital," she said. "The school taught me to be very adaptive. Right now, we're all learning, and a lot of nurses are floating to different units where they're needed the most. I've seen a lot of familiar faces from nursing school, which has been nice."
As a May 2019 B.S. graduate, Nicole has continued as a lifelong learner. "No two days are the same and I learn a lot from my patients. I love my coworkers and we all support each other. Whenever I work with a patient who has COVID-19 I have another nurse helping me by watching to make sure I follow all the right procedures with the patient, and also when I come out of the room to disinfect myself correctly."
This teamwork and collaboration has helped everyone's spirits stay strong during this time. "I love my job even more than I could have imagined and I still think about how grateful I am to have gotten into such a great program at VCU. Right now, it can be really isolating for patients and I feel honored to work with them and help them feel as connected as possible."
Paige Lawson, RN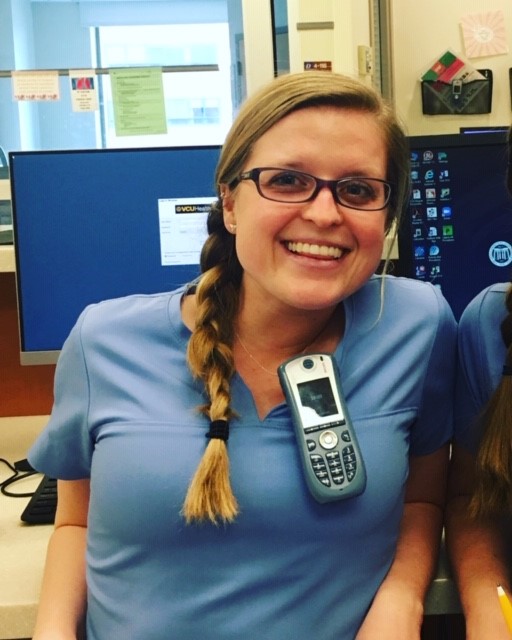 Paige Lawson, a 2019 B.S. graduate, works on one of the largest adult intensive care units in the health system, which also happens to be the unit where many COVID-19 patients have been treated since the pandemic first arrived in our community.
On the medical respiratory ICU (MRICU), Paige treats patients experiencing an exacerbation of an illness (like asthma, chronic obstructive pulmonary disease, congestive heart failure), acute respiratory distress syndrome, kidney and liver failure, and cancer patients.
"My experiences as a VCU nursing student have been pivotal in my transition to a critical care nurse. I was very fortunate to be a part of the Leadership Fellows program in nursing school and received a very broad education on how any nurse from a bedside nurse all the way up to the Chief Nursing Officer can be a leader," she said. "My favorite part about being a nurse is advocating for my patients. I specifically enjoy taking care of intubated and sedated patients and getting to be a 'voice' for them during a time that they do not have a voice." 
Paige has also been able to apply her personal experience to her work when a family member was affected by COVID-19. "It has completely changed my perspective as a nurse, as I was explaining to people I love what intubation or sedation involves. It has given me perspective to really understand what patients and their family members are going through while in the ICU and how dehumanizing it can feel with all the protective equipment nurses must wear or the recommendation for limiting time in the room. But it has also shown me the importance of the kindness that nurses can bring to their patients and loved ones at home anxiously waiting for good news."
Katie Webb, RN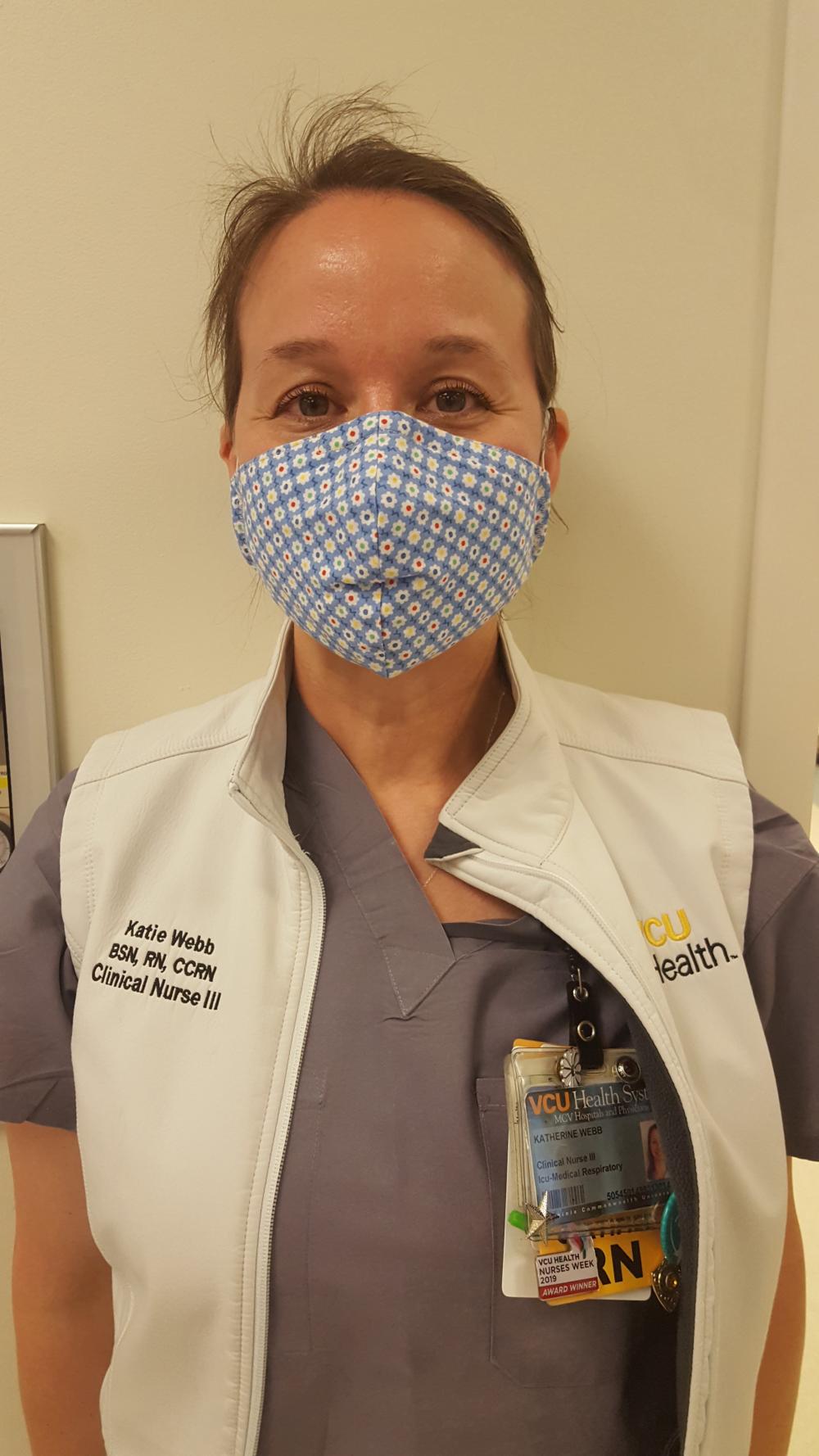 Katie Webb, a 2014 B.S. graduate, works as a clinical nurse at VCU Health in the Medical Respiratory Intensive Care Unit (MRICU), where she is also a unit representative to the hospital's infection prevention program.
"Critical care is an amazing field," Katie says. "ICU nurses are prepared to care for all critically ill patients, but the MRICU nurses especially care for patients who develop Acute Respiratory Distress Syndrome (ARDS), a serious complication of COVID-19."
Kate credits her accelerated B.S. program at the VCU School of Nursing and especially her senior clinical in the MRICU with inspiring her work today. She finds the work fulfilling because of great colleagues, and her biggest advice for others is to take the time to explain what is happening to patients, who are often nervous or scared, in a way that they can understand. The peace you can offer patients with clear explanations is often some of the best care you can provide.
During this time, Katie says, the physicians, respiratory therapists, pharmacists, and nurses in the MRICU have been collaborating tirelessly to develop and refine protocols to safely provide treatment for COVID-19 patients requiring intensive care.
Luke Balmer, RN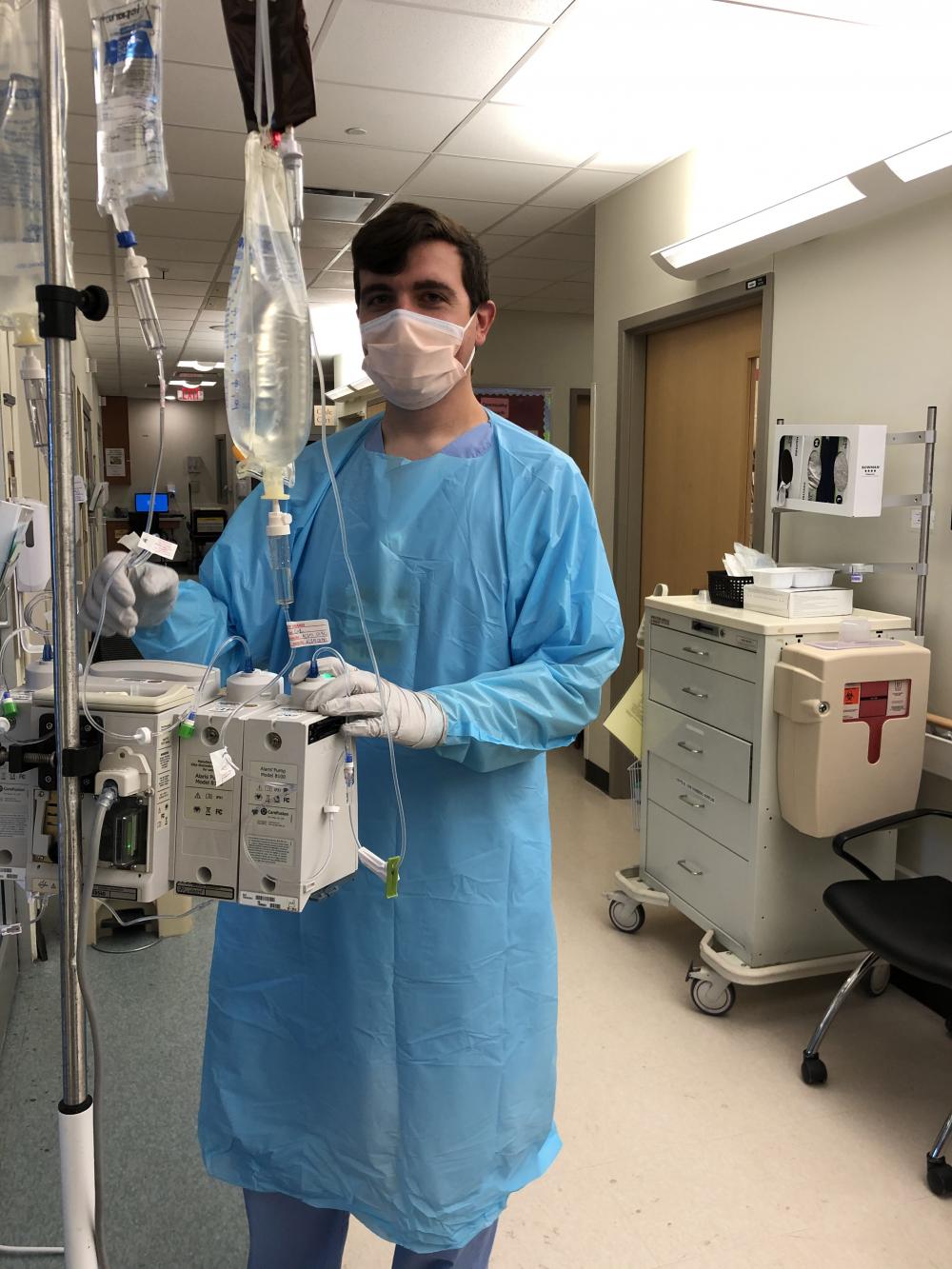 Luke Balmer is a recent graduate of the master's program in the adult gerontology primary care nurse practitioner concentration at the VCU School of Nursing. He works as a registered nurse in VCU Health's coronary intensive care unit. He said his training as a nurse provided timeless wisdom for now and beyond the health system's response to COVID-19.
"Always keep safety as your top priority, practice proper use of PPE, hand hygiene, and be proud to be at the frontlines in this time of need," he says.
Luke shared that the VCU School of Nursing prepared him for situations like the COVID-19 pandemic by training its students in provider-driven assessment skills and honing those skills through multiple simulation labs, practicums, and advanced assessments.
He became a nurse because he enjoys caring for people and takes great satisfaction knowing that he has made a positive impact on a patient's life. Luke also offered his advice and hopeful outlook as we continue to confront the challenges posed by the virus that causes COVID-19.
"It is okay to be afraid or anxious about this pandemic or any future pandemic that arises so close to home," Luke says. "It is new and unlike anything we have experienced before. But there is always support, whether it comes from your manager, nurse educator, physicians, or the many other coworkers around you."
Through the generosity of donors like you, we at the MCV Foundation are able to support the patient care these nurses provide, the education they received, and the research that advances everything they and their colleagues use to keep us all safe and healthy.
To learn more about ways you can help fight COVID-19 and support healthcare providers like these, read our How You Can Help article. If you know a student who may be interested in learning more about becoming a nurse, please visit the VCU School of Nursing.