Pharmacy Student Takes VCU Excellence to National Level
The cheering you heard around campus this winter was likely the crowds of students, faculty and staff celebrating the success of Camille Schrier, a a VCU School of Pharmacy student, who won the title of Miss America late last year.
A self-described science geek, she returned to the MCV Campus after being crowned Miss America. Earlier this month, she shared with her peers an impressive national social impact initiative she will promote during her year as Miss America.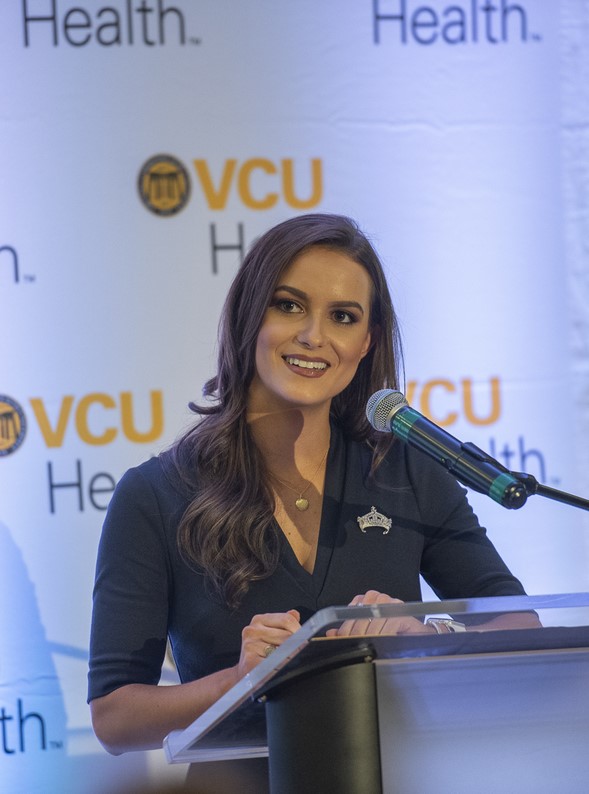 Her initiative is called "Mind Your Meds: Drug Safety and Abuse Prevention from Pediatrics to Geriatrics," and it focuses on educating the public about prescription drug safety. She urged her professors and fellow students to take extra time to discuss medication safety and educate those whom pharmacists serve.
It may be just one extra moment, but when it comes to medications, it could save lives, Camille Schrier told audience members during her presentation.
"Create an environment with your patients that welcomes questions," Camille said. "Take the extra moment that we might not seem to have to ensure patient understanding. Educate, educate, educate about safe medication storage, proper disposal instructions and disposal locations."
She will be on a national tour to promote medication safety, where she is encouraging safe medication storage and disposal to prevent drug misuse, as well as training for the opioid overdose intervention drug naloxone. In 2017, more than 130 people died every day from opioid overdoses in the U.S., according to the Centers for Disease Control and Prevention.
"It's estimated that up to 29 percent of patients who are prescribed opioids misuse them," Schrier said.
In part, Camille credits her education at the VCU School of Pharmacy for spurring her to pursue "Mind Your Meds" as her personal initiative. Her experience talking to Virginians about medication safety as Miss Virginia last year contributed to a fuller understanding of the personal impacts of opioid addiction and medication errors.
"It became increasingly evident to me as I spoke about medication safety and the opioid epidemic that there are so many people throughout our communities who are hungry to share their personal stories, who want to be heard and who want others to know the impact that pharmaceuticals, especially opioids, have had on their lives," she said.
She shared some of those stories this month. Busy parents made a medication mistake – not seeing an auxiliary label that a medication required refrigeration – that could have made their child sick. A fifth-grader told Camille he once was hospitalized for mistaking his grandfather's blood pressure medication for candy. One educator said that her pharmacist husband, despite his training, became addicted to prescription opioids after a medical procedure and lost his license and his livelihood.
Camille said she hears these stories every day and is educating community members on how to be good stewards for preventing medication mistakes and misuse.
"Take the time to read and understand your prescriptions, whether it's for yourself or someone you care for," she said. "Don't be afraid to ask your prescriber or your pharmacist questions. Follow directions and take your medications only as prescribed. Never share your prescriptions with anyone, and never take another person's medications. Lock up your medications when you're done with them and dispose of them safely."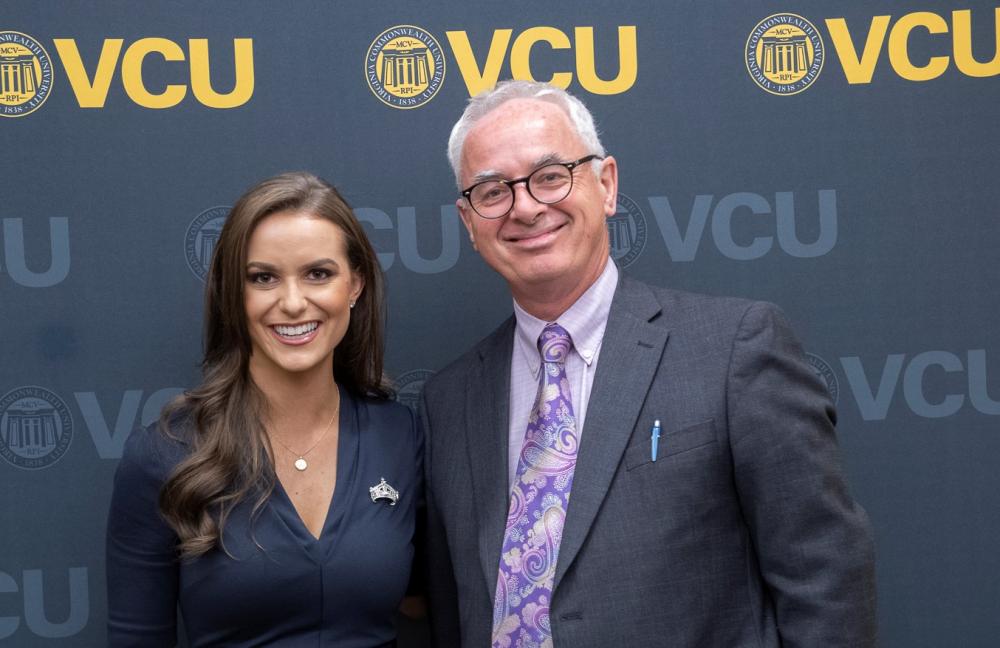 Ericka Crouse, Pharm.D., an associate professor in the School of Pharmacy's Department of Pharmacotherapy & Outcomes Science and a clinical pharmacist at VCU Medical Center, attended Camille's presentation. Dr. Crouse was impressed by Schrier's ability to reach anyone, from community members to healthcare providers, by sharing actions they can take to prevent medication misuse and stories of people she met who have felt the impact of medication misuse.
"I think (her stories) bring it home for people," Dr. Crouse said. "She has a good way of saying something that's going to touch everybody in the room."
Peter Buckley, M.D., interim vice president for VCU Health Sciences and CEO of VCU Health System, spoke of Schrier's "remarkable opportunity to do good" through her personal story and through her platform surrounding addiction as she embarks on this yearlong journey.
"We [at VCU and VCU Health] have an abiding commitment to waging war on addictions," Dr. Buckley said. "Whether you talk about policy, whether you talk about direct clinical care, whether you talk about training the … workforce or whether you talk about scientific research to combat addiction, Miss America, we are all in with you."
Camille said she will bring back more lessons about medication safety and the opioid crisis when she returns to campus in August 2021.
"By the end of 2020, I hope to see a decline in the statistics," she said of national opioid death rates. "But I also want to hear a different type of recurring story from those I encounter on the road, around the country. I hope they sound something like this: 'I just took my mother-in-law to our local police station to dispose of her old medications,' or 'My neighbor knew how to use naloxone and saved his son's life.' …
"I will, without a doubt, return to VCU pharmacy eager and ready to complete my Pharm.D. program as a more broadly prepared future pharmacist and industry professional by having this unique opportunity to explore our country through the lens of my platform."