More than 350,000 people in the U.S. experience an out-of-hospital cardiac arrest every year, and only 10% of those individuals survive.
Not to be confused with a heart attack, a cardiac arrest occurs when the pumping system of the heart suddenly and unexpectedly fails, and within 10 to 20 seconds, a person is totally unconscious and collapses with no pulse.
If victims are resuscitated in time, they most often remain in a coma and face a host of additional challenges as their bodies recover from such a catastrophic event, and it is in these vital times — from resuscitation to post-cardiac arrest care — that VCU Health has been a national leader in treatment and research for more than a decade.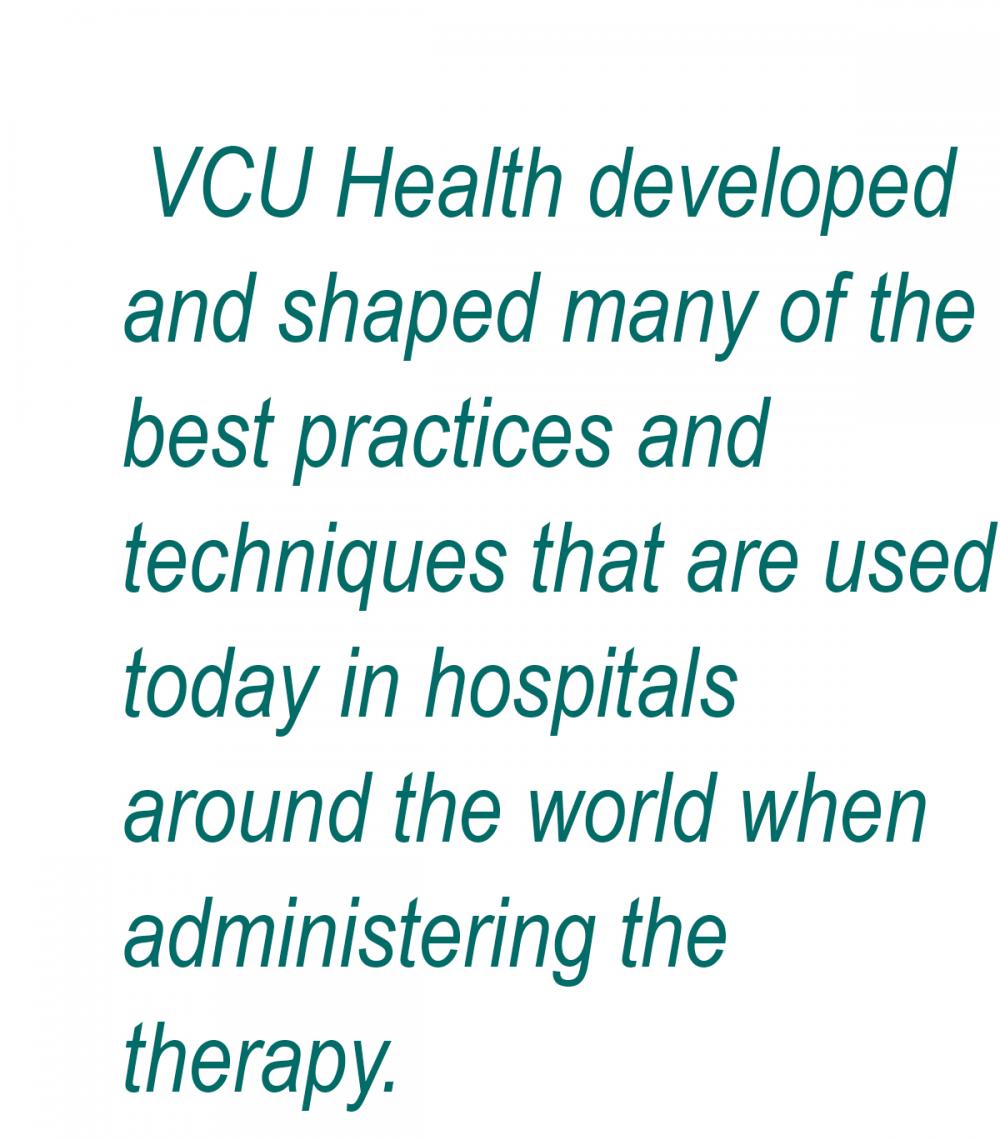 This leadership began in 2004 when VCU Health established the Advanced Resuscitation, Cooling Therapeutics and Intensive Care (ARCTIC) program, making it one of the first two hospitals in the U.S. to offer its patients the specialized life-saving continuum of care.
Holding this position as an early adopter of the process means VCU Health developed and shaped many of the best practices and techniques that are used today in hospitals around the world when administering the therapy.
One of the most important components of the process is cooling therapeutics.
Survivors of cardiac arrest usually remain in a coma after being resuscitated because of the lack of blood flow to the brain that occurred during the cardiac arrest. Throughout this vital time following resuscitation, a patient's body undergoes a massive inflammatory response that contributes to ongoing multi-organ injury. To prevent and reverse this damage to the brain and other vital organs, the cooling therapeutics component of the ARCTIC process chills the body temperature to 92 degrees for 24 hours.
Multiple beneficial mechanisms are at play as this cooling procedure is administered. Like applying ice to a swollen ankle, it blunts the inflammatory process and swelling of the brain. In addition, cooling the body reduces tissue damage caused when blood supply returns to tissue after a period of that tissue lacking oxygen. The cooling procedure also lowers the patient's metabolic rate so the injured organs do not require as much energy.
As a result of VCU Health's regional cooperation and leadership in using the ARCTIC process, it is now one of the largest post-arrest centers in the country, treating approximately 90 patients per year.
"To put that in perspective, many other hospitals our size treat maybe only five to 10 patients a year," said Mary Ann Peberdy, M.D., the C. Kenneth Wright Professor of Cardiology and medical director of the ARCTIC program.
WHEN NO ONE IS THERE TO HELP
Survivors who get the opportunity to benefit from programs like ARCTIC at VCU Health often experience their cardiac arrests at places like the gym, surrounded by trained employees and others who can help, but that isn't the case with many who suffer cardiac arrest.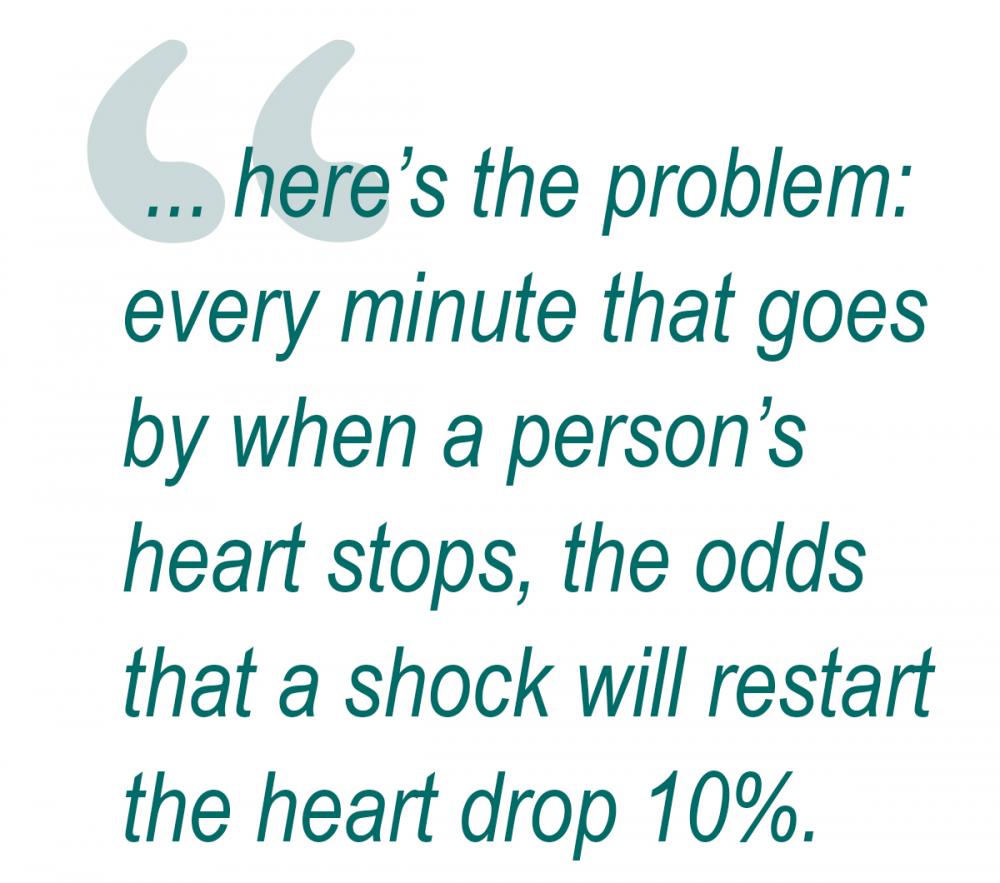 Of the more than 350,000 victims each year, Joseph P. Ornato, M.D., professor and chair of the Department of Emergency Medicine, said half collapse while no one is around to help or call for assistance, and when it comes to cardiac arrest, there couldn't be a worse scenario than being alone.
"Most of the time, all that is needed to reset the electrical system of the heart and get it started again is a shock from an automated external defibrillator or other device," said Dr. Ornato. "But here's the problem: every minute that goes by when a person's heart stops, the odds that a shock will restart the heart drop 10%. So, if you shock in less than a minute, almost everyone is going to survive. By five minutes you're down to a 50/50 chance, and by 10 minutes you're down to less than a 10% chance. That's the dilemma, time is so critical and unforgiving in cardiac arrest."
This dilemma is why Dr. Ornato has partnered with faculty and students at the Weil Institute of Emergency and Critical Care Research at VCU, VCU Health's Departments of Emergency Medicine and Cardiology, and VCU's Department of Biomedical Engineering to develop a way to ensure people don't have to be alone when they experience a cardiac arrest.
The team developed a device that can be worn on the wrist and can detect cardiac arrest instantly, triggering the victim's cellphone to dial 911 and activate its speaker and video functions so dispatchers can talk to the victim, direct bystanders in CPR or dispatch emergency responders.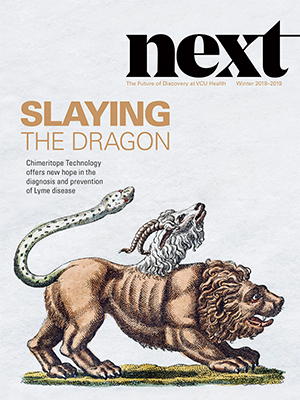 "If we can prove the concept … our dream is to license this technology to companies that already make wrist devices," Dr. Ornato said. "That way, people would be purchasing something that they were already going to purchase, not really expecting it to someday save them. Our technology can be invisible in the background, and then, God forbid, if their heart stops beating one day, it will have been the critical purchase of their life."
To read the full story of this life-saving patient care and research, visit our NEXT magazine page and find this article. To subscribe to NEXT magazine and our other publications, visit www.mcvfoundation.org/subscribe.