VCU Health Heroes Fund: Donating Food for Front-line Healthcare Workers
Food plays a unique and important role in our culture. It is of course necessary for energy and survival, but it also is a central part of our celebrations and our grieving rituals. It comforts us, it is an artform, it is used as a reason to gather when there is no other reason than to simply be together around a table.
All of these powerful connections are what make food such an impactful and meaningful gift, and why people across the region are giving meals to healthcare workers during the COVID-19 pandemic.
Since early April, individuals, businesses, houses of worship and other groups have donated thousands of meals and thousands of dollars to buy food for front-line healthcare workers and support staff at VCU Health.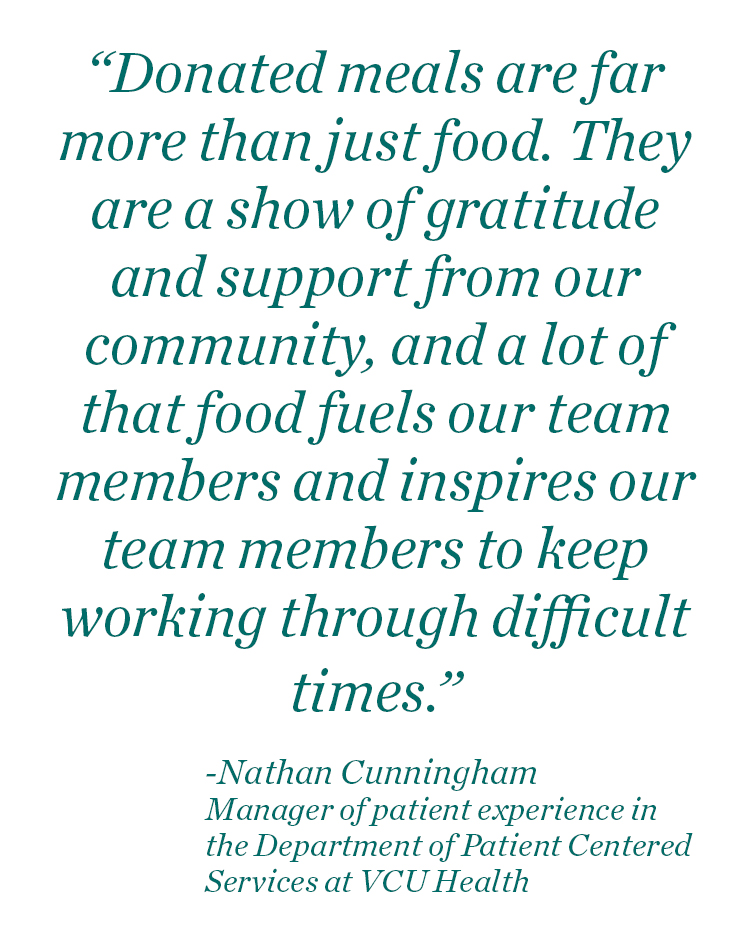 "Our team members want to be on their units near their patients as much as possible, and these meals allow that," said Nathan Cunningham, manager of patient experience in the Department of Patient Centered Services at VCU Health. "Donated meals are far more than just food. They are a show of gratitude and support from our community, and a lot of that food fuels our team members and inspires our team members to keep working through difficult times."
Shortly after VCU Health began receiving inquiries about food donations in early April, it provided guidelines about needs for individually portioned meals and suggestions about working with restaurants or catering companies. Within that first week, roughly 600 meals were donated.
Following a large donation from Michael and Sons Plumbing that resulted in some press coverage, Nathan began fielding three to four inquiries per day about food donations. Many of the inquiries involved offers of gift cards or cash donations, and that is where the MCV Foundation was able to step in and help.
The foundation was also receiving inquiries at the time about monetary donations that would provide food for hospital staff, so Brian Thomas, vice president and chief development officer at the foundation, worked with Nathan to establish the VCU Health Heroes Fund, which is a fund that enables community members to make donations specifically for purchasing meals for VCU Health staff during the COVID-19 pandemic.
There is a sense of urgency surrounding this and other COVID-19-related funds because there are opportunities to help throughout the health system, and there are eager friends and neighbors who want to take part and help in certain ways. The foundation was nimble enough to expedite the process for this fund and begin receiving donations very quickly.
"The fund's creation came at an appropriate time because, as you would expect, a lot of food donations had begun tapering off," Nathan said. "Having this fund as a reserve really helps ensure that we can maintain the meal distribution."
Maintaining distribution not only means ensuring a consistent flow of food, but also an equitable flow to both day and night shift staff members.
"In addition, we're cognizant that a lot of our team members' spouses have lost work, so we're looking at how to prepare family meals that can be taken home at night," Nathan said. "We also recognize that school closings mean a lot of children might not get that lunch for the day, so a lot of these funds help us provide meals for team members and families while they're at home."
If you are interested in helping provide these meals for VCU Health care providers and staff members, click the "Give Now" link at the top left of this page and select "VCU Health Heroes Fund" from the dropdown menu.