MCV Foundation Discovery Series: Detecting and Treating Disease Through Advanced Imaging
Medical imaging has come a long way since Polish physicist Marie Curie developed mobile radiography units during World War I, providing X-ray services to field hospitals.
In fact, medical imaging has made significant strides in just the last few decades. Today, clinicians detect and treat cancer as well as cardiac and pulmonary diseases through advanced imaging techniques that diagnose diseases at early stages, prevent diseases through regular screening and show healthcare providers how the body is working on the inside rather than simply how it looks.
These advanced medical imaging possibilities and practices were the topic of conversation in Williamsburg this October at our 10th Discovery Series event.
Over the last several years, these events have provided a venue for our friends in Williamsburg to hear about the latest advances in healthcare from VCU Health scholars, researchers and clinicians who are leaders in their fields.
Following a panel discussion at each event, guests have been able to speak directly with these experts, as well as with deans and other leadership from VCU Health's MCV Campus.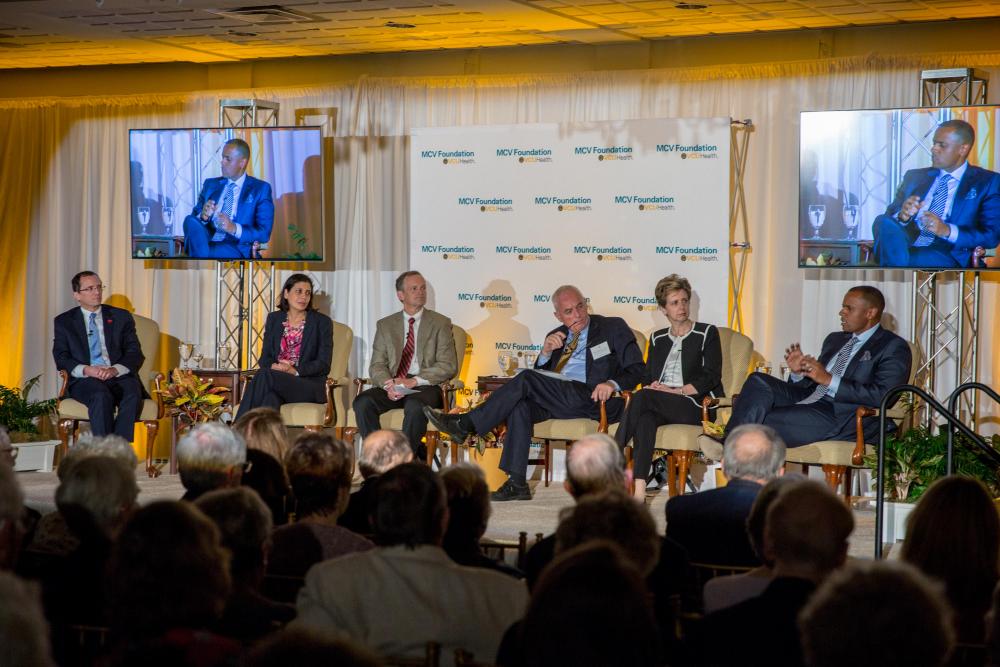 This October, Peter F. Buckley, M.D., dean of the VCU School of Medicine and executive vice president for medical affairs at the VCU Health System, moderated the panel. The panel included VCU Health experts Ralph (Ron) Clark, M.D., chief medical officer; Ann Fulcher, M.D., professor and chair of the Department of Radiology; Gregory Hundley, M.D., director of the Pauley Heart Center and director of cardiac imaging; Patrick Nana-Sinkam, M.D., chair of the Division of Pulmonary Disease and Critical Care Medicine; and Sara Temkin, M.D., director of gynecologic oncology.
The evening's official topic was "Another Peek Under the Hood: Advanced Imaging Improves Detection and Treatment of Cancer, Cardiac and Pulmonary Diseases."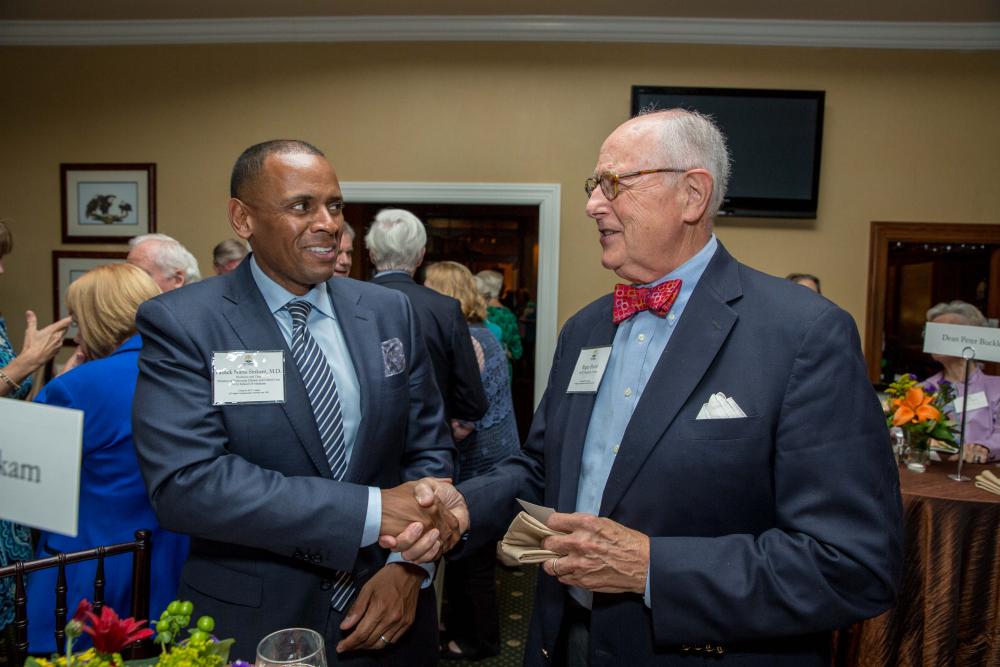 In his remarks, Dr. Nana-Sinkam said his team is now able to use imaging to diagnose pulmonary fibrosis, which is a diagnosis that used to require a lung biopsy. He also said that just 15 years ago, more than 80 percent of lung cancer patients were diagnosed at a late stage of the disease, but now, using low dosage CT scans, cancers can be identified much earlier, and more treatment options can be explored.
"What we're seeing is a revolution in how imaging impacts diagnosis and determines which therapies and responses are most appropriate," he said. "Especially when we look at lung disease, we now see more and more that imaging plays a very central role in that."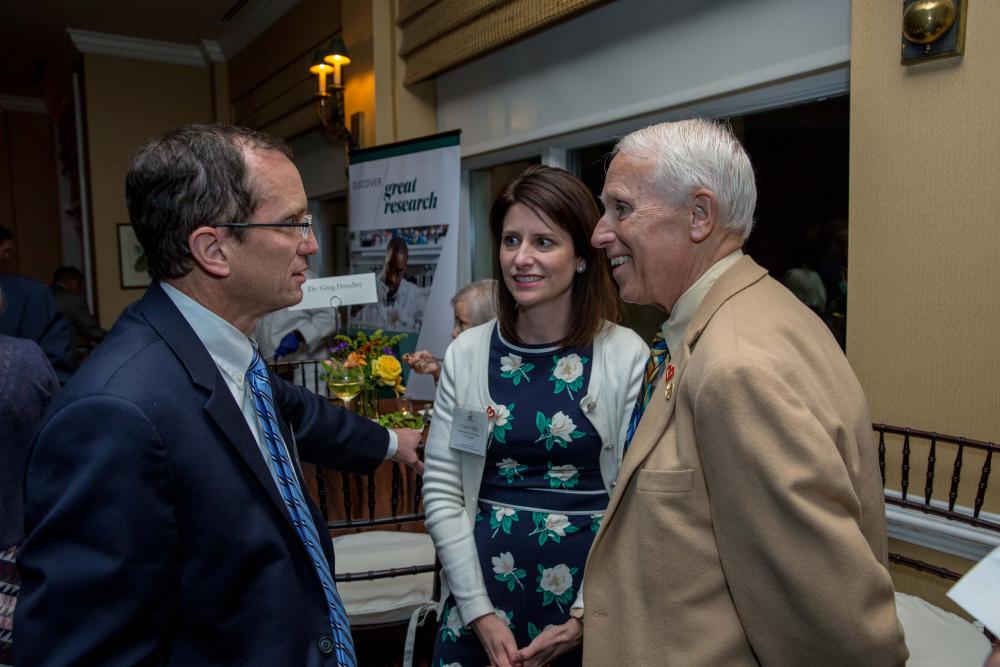 Dr. Hundley discussed current capabilities in cardiac imaging that have been made possible through combining magnetic resonance imaging (MRI) with electrocardiography (EKG). With one test, which now uses a much safer radiation than tests in the past, he and his team can see the heart's function, anatomy, perfusion and metabolism in a fraction of the time it once took to navigate multiple tests. Among other advantages, this technology helps identify those who are at risk of heart attack without having to do heart catherization, which involves threading a long tube through a patient's blood vessels to their heart.
These new advances in cardiac imaging are fueling Dr. Hundley's cardio-oncology research, which is examining the impact of chemotherapy and radiation therapy on heart health.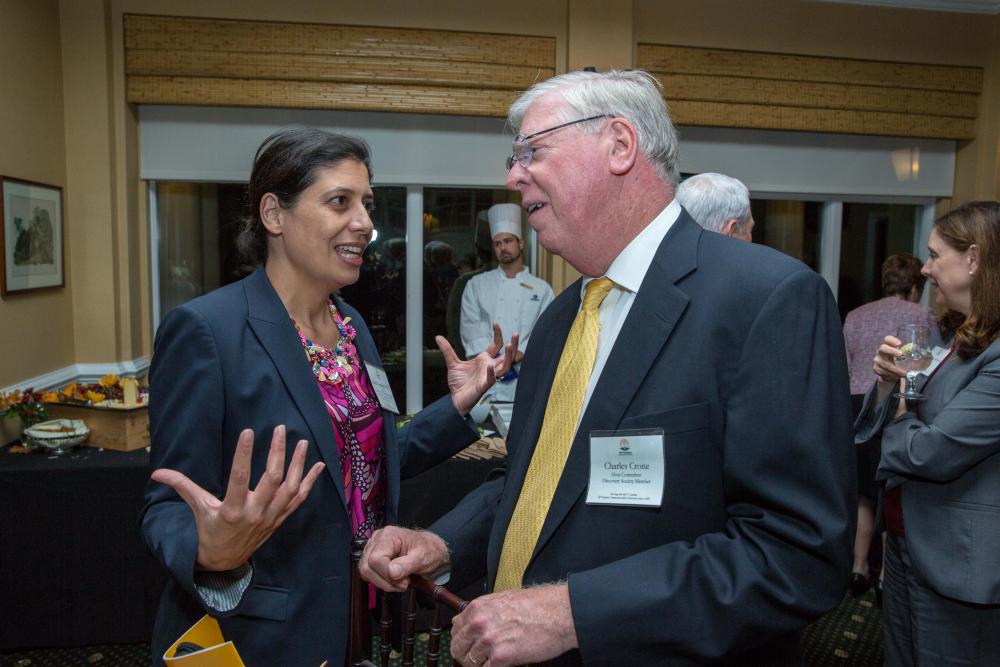 Dr. Temkin discussed using imaging in the operating room.
In the past, when treating endometrial cancer — also known as uterine cancer — she and other surgeons would remove all lymph nodes in the area while performing a hysterectomy. Now, they use a fluorescent dye called indocyanine green and fluorescent imaging to identify the single lymph node that needs to be removed in each surgery.
This is a strategy that has been used in breast surgery for many years, but only recently made possible in the confined space of the pelvis thanks to advanced cameras. The ability to remove just one lymph node reduces the likelihood of long-term complications.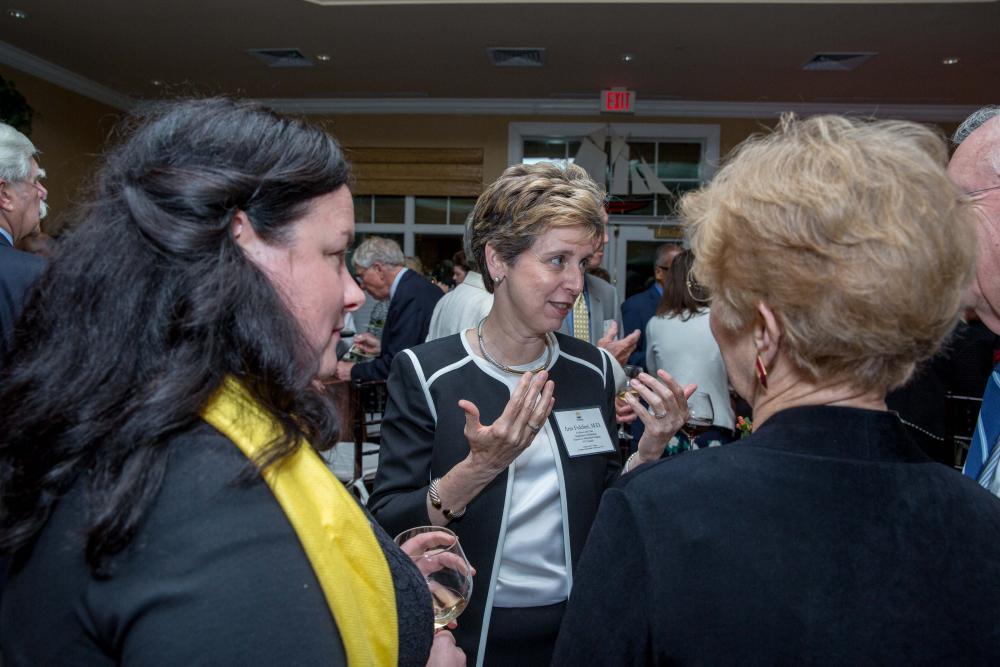 The imaging equipment required to provide these diagnoses and treatments is extremely important and extremely expensive, but Dr. Fulcher said the cost is more than justified.
"In the long run, arriving at a diagnosis sooner pays back in dividends in the life of the patient and in the productivity of the institution," she said.
Beyond equipment, the two critical components in effective medical imaging, Dr. Fulcher said, are highly trained, specialized radiologists and coordination across the academic health center. She discussed regular internal conferences that include radiologists, surgeons and other providers who collectively examine and find solutions to individual cases.
Dr. Hundley agreed that this sort of collaboration is something that distinguishes VCU Health.
"One thing that is unique at VCU Health is cardiologists and radiologists working together," he said. "The expertise that we bring together from the different specialties to make the diagnosis and then to deliver the therapy is outstanding."
MCV Foundation board chair Harry Thalhimer closed the panel discussion by thanking its participants for sharing their expertise with our friends and neighbors in Williamsburg. He said the time they gave was indicative of their outstanding leadership, collaboration and integration, which are constantly leading to better ways to care for patients and the community.
"We have something very special here," he said. "As an academic health center, we do things that other hospitals don't do. We recruit the best, we hire the best, we teach the best, we provide the best care, and we do it together in a collaborative, integrated environment. Our providers do it with compassion, they're committed to quality, and that makes us proud."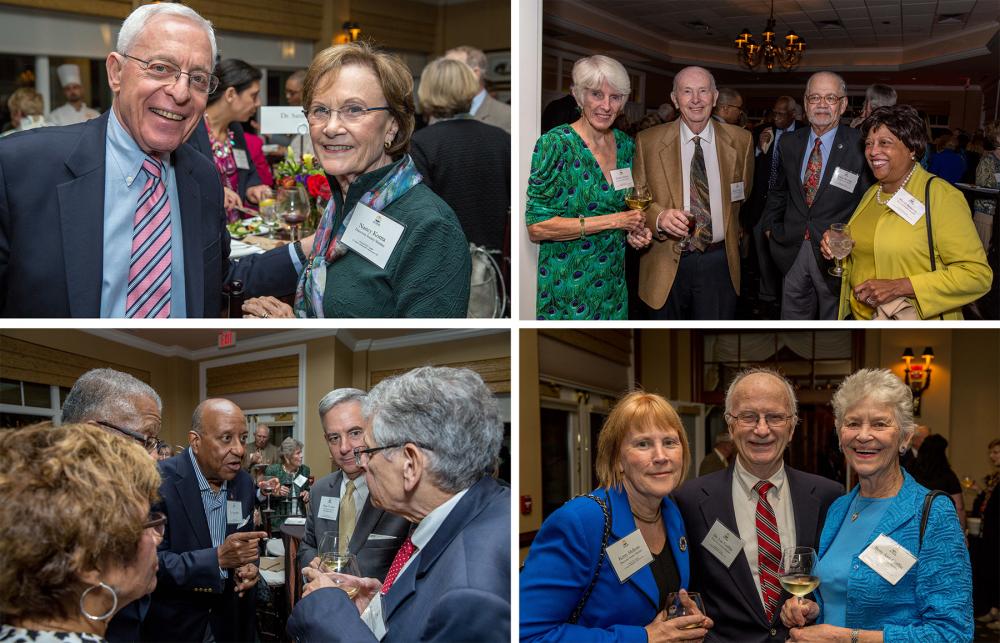 To provide an opportunity for our friends in the Williamsburg area to be a part of the excellent medical care and research that Harry and the panelists described, we established the Discovery Society in the fall of 2015. Discovery Society members help raise the visibility of VCU Health and foster financial support for clinical research, patient care and education happening across the MCV Campus.
Discovery Society members are invited to Discovery Series pre-receptions and annual Discovery Society receptions. They also have access to VIP tours and navigation/parking assistance at VCU Health on the MCV Campus.
The Discovery Series began in fall of 2013, and in 2015 74 inaugural members joined the Discovery Society. That number has now grown to 149 members today. To learn more about the Discovery Society, click here.
Discovery Series events are made possible, in large part, by the host committee, which includes Julie Baxter and Paul Dresser, Louise and Bob Canfield, Ginny and Charles Crone, Jane and Jim Kaplan, and Judi Forehand Starkey. To learn more about the Discovery Series and watch past panel discussions, click here.
Watch the full event below.