A Nurse's Gift: From the Beginnings of Massey to Leaving a Legacy at the Cancer Center
When Tina L. Bachas began her nursing career on the MCV Campus in the late 1960s, it wasn't long before her excellence in caring for the intensive care unit's cancer patients and the reverence her colleagues had for her caught the eye of Walter Lawrence Jr., M.D. a new MCV surgical oncologist at the time.
Dr. Lawrence recruited Tina to lead a multidisciplinary outpatient oncology clinic, and later the two worked together on an inpatient oncology unit where she served as the nurse manager.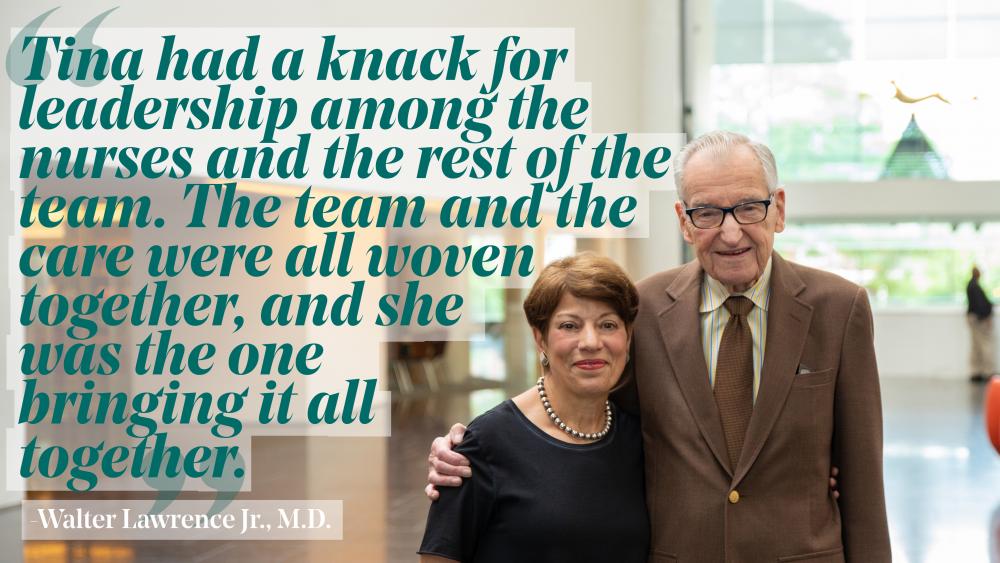 The two also worked together to strengthen oncology as a service line, meaning they cultivated a framework for coordinating care from providers in general medicine, surgery, pediatrics, social work, physical therapy, rehabilitation therapy and many other areas.
"The exciting thing was putting all those disciplines together," Tina told us. "That's the way care should really be delivered, so it was very rewarding to be in an environment where you could get to whomever you needed — medicine, surgery, radiation oncology, home health — for the patients' benefit."
"Tina had a knack for leadership among the nurses and the rest of the team," Dr. Lawrence said. "The team and the care were all woven together, and she was the one bringing it all together. Then Massey developed around what was already established in the hospital. The clinical core was already there from a nursing perspective thanks to her."
From there, the evolution was natural, and Dr. Lawrence eventually became founding director of Massey while Tina became the center's first director of oncology nursing.
Giving back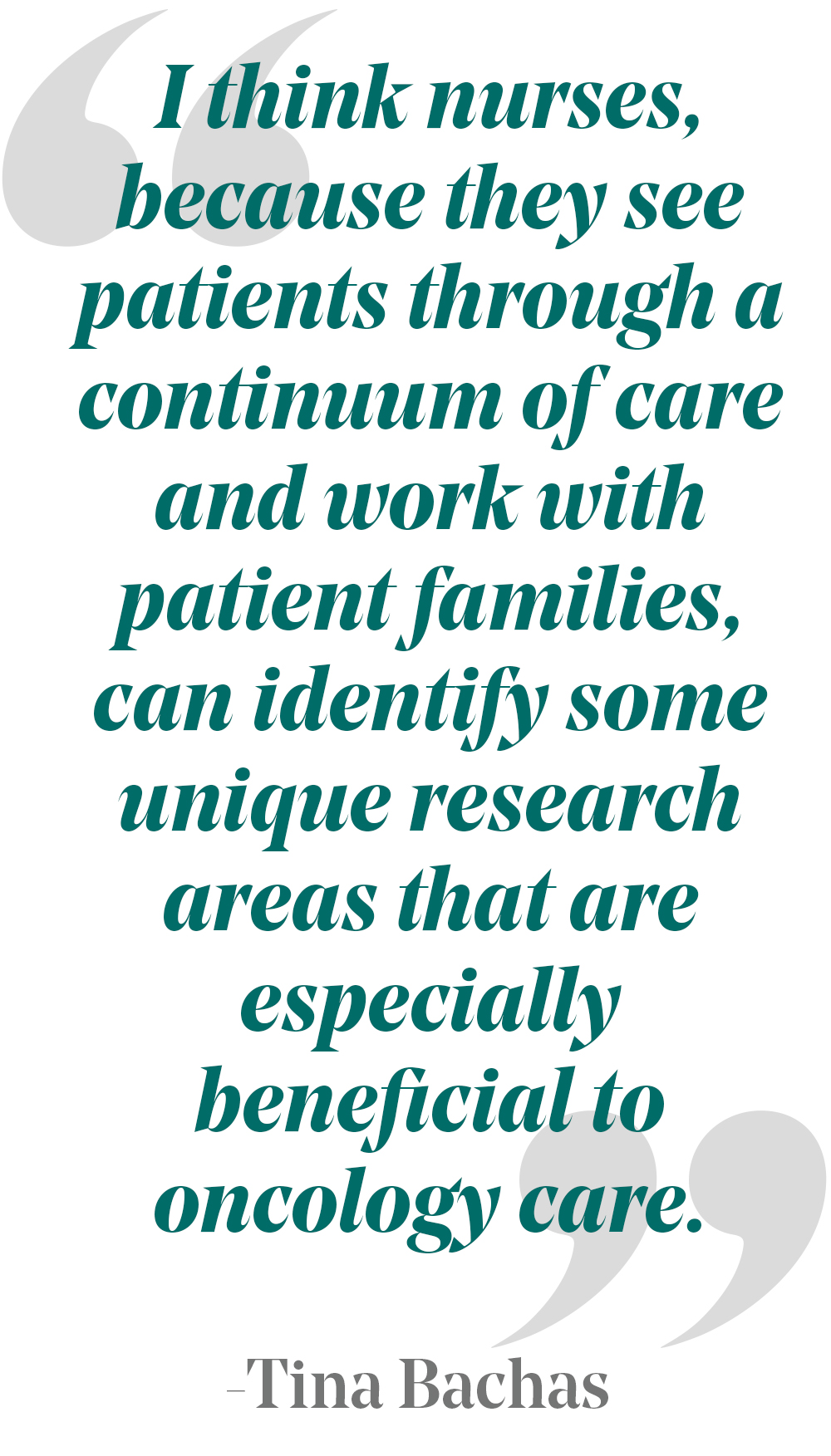 After Tina retired, she and her husband Warren Fry began to think about giving back to the center that impacted her just as much as she impacted it.
"In my career, the very best part of it was the years that I spent involved with Massey, being an oncology nurse, and working with Dr. Lawrence and the whole medical/surgical/radiation oncology physician group," Tina said. "I'm very supportive of Massey, and as a nurse, I have a great deal of respect for oncology nurses. I was trying to find a way to help them and their work."
Tina and Warren chose to create a fund for nurses who conduct research related to oncology. They recently established the Tina L. Bachas Oncology Nursing Research Award in honor of the lasting impact of Dr. Lawrence's leadership.
"I think nurses, because they see patients through a continuum of care and work with patient families, can identify some unique research areas that are especially beneficial to oncology care," Tina said. "It could be behavioral, it could be clinical or it could be drug-related. There's a broad base for nurses to explore."
Advancing Nursing Research
This year, Suzanne Ameringer, Ph.D., RN, director of the Ph.D. program and assistant dean for research, scholarship and innovation at VCU School of Nursing, was honored as the inaugural recipient of the Tina L. Bachas Oncology Nursing Research Award.
Dr. Ameringer works with a team of pediatric and adult oncology nurse researchers from around the country. About eight years ago the team developed the Computer Symptom Capture Tool. Abbreviated as C-SCaT, their tool is a web-based application that helps adolescents and young adults who are fighting cancer communicate more effectively with their care providers about their symptoms. This improved communication enables nurses to concentrate on the symptoms most concerning to the patient and, in turn, the best ways to address those symptoms.
"Because of chemotherapy and other cancer treatments, there's a high symptom burden, particularly in adolescents and young adults, that deleteriously affect their quality of life and the normal developmental parts of their life," Dr. Ameringer said. "Our goal is to improve the self-management of their symptoms."
Funding like the gift that Tina and Warren have provided is critically important to research like Dr. Ameringer's, which is still at a point where compelling preliminary data is needed in order to build a case for larger grants from entities like the NIH.
In addition, this award is particularly impactful because it focuses on nursing research.
"Funding for nursing research is not as available as funding for other types of medical research," Dr. Ameringer said. "When you have an award that is focused on nursing research, it is very valuable because we still need to do the same amount of groundwork for our studies as any other large clinical trial. When this award was announced, it was incredibly timely because we needed philanthropic support to complete this last part before we could seek federal funding."
As Dr. Ameringer moves closer to applying for federal funding, she is coordinating her research with nurses at cancer centers across the country to gather the data they need to move forward.
By providing an initial investment for this type of advancement, Tina is enabling research for the future and continuing her legacy of bringing people together to help improve care for cancer patients. In addition, Tina and Warren chose to include the research fund in their estate plans. This type of blended giving – contributing now and utilizing estate planning to make an impact later – ensures they will make an impact today and will influence nursing research for years to come.
If you're interested in joining Tina and Warren to support oncology nursing research at Massey, please consider a gift to the Tina L. Bachas Nursing Research Award. For more information, contact Cindy Zilch at 804-828-1452 or czilch@vcu.edu. If you're interested in learning about the various tools we have available to make contributions across campus, please visit our giving page.