Promising Junior Faculty Advance Health Sciences Research Through Blick Scholars Program
Every four years, an enduring and special legacy continues. That is when VCU Health Sciences selects four to six junior faculty members to become Blick Scholars, a prestigious award that honors and invests in their promising research.
"The Blick Scholars Program recognizes outstanding achievements of assistant professors and provides funding for their research efforts," said Joseph T. DiPiro, Pharm.D., professor and associate vice president of health sciences for faculty affairs at VCU. "We're excited to honor this year's recipients and the incredible work they are doing to advance medical research."
The George and Lavinia Blick Research Fund was established in 2009 through a $2 million gift dedicated to research on the MCV Campus. Inspired by the care that her father and other loved ones had received at MCV and, later, VCU Medical Center, Lavinia Blick made the gift specifically to advance research across the academic health system.
"The Blick Scholar award is a premier recognition for those junior faculty members who have been exceptionally successful in research," said Marlon Levy, M.D., interim senior vice president for VCU Health Sciences and interim CEO of VCU Health System. "They are an extraordinary group. We are so fortunate to have them here at VCU. Without question, we are extremely grateful for the foresight of George and Lavinia Blick to establish this fund."
Five new Blick Scholars hail from three schools across the MCV Campus and are engaged in research on topics ranging from longevity to asthma, health equity and addiction. The faculty honored as 2023 Blick Scholars are:
Yana Cen, Ph.D., assistant professor, Department of Medicinal Chemistry, VCU School of Pharmacy, whose research focuses on developing chemical tools and drug candidates targeting a family of longevity proteins, namely sirtuins, which provide key signaling in metabolic processes. 
Peter Hamilton, Ph.D., assistant professor, Department of Anatomy and Neurobiology, VCU School of Medicine, whose work focuses on uncovering and manipulating the brain molecular drivers of drug- and stress-sensitive behaviors. He hopes to deliver novel treatments to people suffering from related syndromes like addiction and depression.
Anika L. Hines, Ph.D., M.P.H., assistant professor, Department of Health Behavior and Policy, VCU School of Population Health, who has been recognized as a trailblazer in cardiovascular health equity for research that explores the complex effects of stress in the lived experiences of minorities as it pertains to cardiovascular disease, with an eye toward interventions that address stressors and reduce racial disparities.
Audrey Lafrenaye, Ph.D., assistant professor, Department of Anatomy and Neurobiology, VCU School of Medicine, who is investigating the progression of diffuse pathologies associated with traumatic brain injury using basic science and translational approaches.
Rebecca Martin, Ph.D., assistant professor, Department of Microbiology and Immunology, VCU School of Medicine, whose popular immunology research lab studies asthma and allergies. Dr. Martin recently received a R01 grant from the National Institutes of Health, and she is one of six people in the U.S. to win an outstanding early career investigator award from the American Association of Immunologists.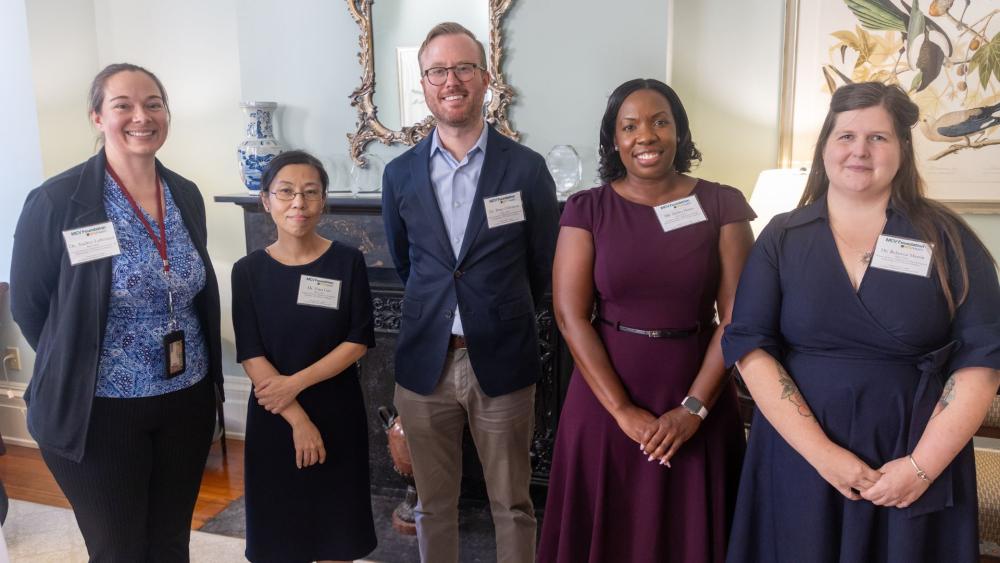 Blick Scholars are selected through a competitive process. Criteria include growth toward national or international recognition, a record of external research funding, collaborative scholarship and a primary faculty appointment in one of VCU's health sciences schools. 
"This award is critical, especially for early investigators," Dr. Hines said. "I'm really grateful to be able to extend this work in the community. I think of this research as part of my service to illuminate the voices of people who might otherwise not be heard. We're very lucky to be part of institution that invests in its younger faculty."
Each scholar receives an annual award of around $25,000 for four years to support their research. The research grants are administered through the MCV Foundation and offer a rare and important opportunity designed to help early career faculty advance their promising research.
"To be at an institution where opportunities like this exist really enriches the experiences of junior faculty," Dr. Hamilton said. "This award is meaningful, and it came at a key time as I'm growing my lab. I'm grateful for this longitudinal support and I'm humbled that it reflects an investment in my future success."
---
The Blick Scholars Program was made possible through a generous planned gift from the estate of George and Lavinia Blick. If you would like to learn more about how a planned giving can help you achieve your philanthropic goals on the MCV Campus, please contact Ann Deppman, J.D., VCU's assistant vice president for planned giving, or visit www.mcvfpg.org for more information.
Contact
Assistant Vice President of Planned Giving, Virginia Commonwealth University
804-828-7370