Looking Back on 2017 at the MCV Foundation
2017 has been an amazing year on the MCV Campus at VCU Health. As we continued to support the region's only comprehensive academic health center by inspiring philanthropic contributions and sharing the stories of life-saving global impact, the campus's progress toward reaching goals for improving patient care, research and education has been substantial.
This year we honored MCV Campus leaders and community members for their transformational contributions to VCU Health, we hosted events to raise funds that support novel treatments and care, we spoke with current and former students who are both benefiting from and creating their own scholarships, and we created a new outlet for sharing the incredible stories of patient care, research and education that happen on the MCV Campus every day.
As we look back at another year on campus that has helped shape and lead healthcare in the region and nation, we decided to revisit some of our top stories.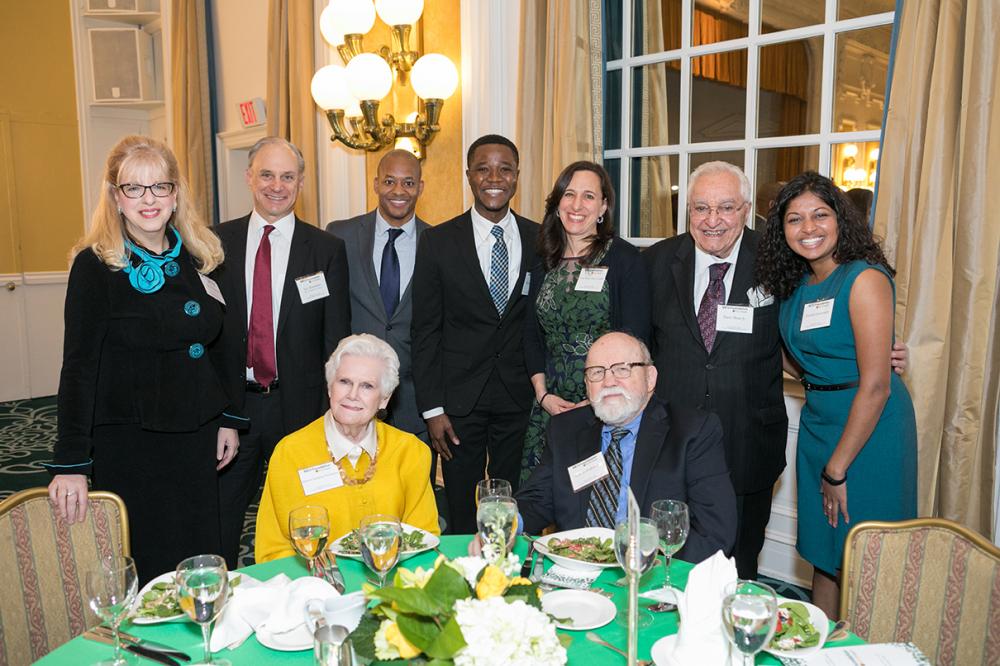 This February marked the 12th annual MCV Campus Endowed Scholarship Event. The annual event is a celebration of the generosity of our donors and the educational achievements of our scholarship recipients. More than 240 guests attended this year's dinner, which paired benefactors with their scholarship recipients for the evening.
Each year, many healthcare sciences students graduate with a debt load exceeding $100,000. More than 75 percent of students on the MCV Campus receive some type of financial aid, which can make the critical difference between having a dream and being able to pursue it.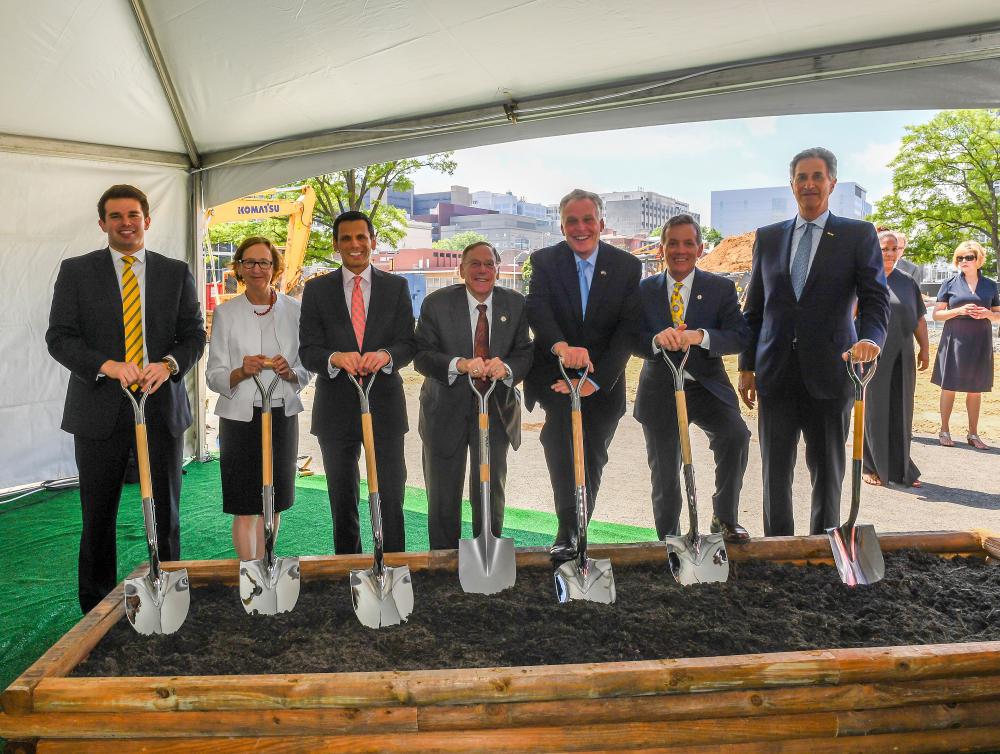 In April, we helped celebrate the ground breaking for the VCU School of Allied Health Professions' new state-of-the-art facility.
Our very own Harry Thalhimer, MCV Foundation board chair, emceed the event and introduced an impressive group of speakers that included Governor Terry McAuliffe, VCU President Michael Rao, Dr. Marsha Rappley, Dean Cecil Drain, Delegate S. Chris Jones and student representative J.D. Drasbek.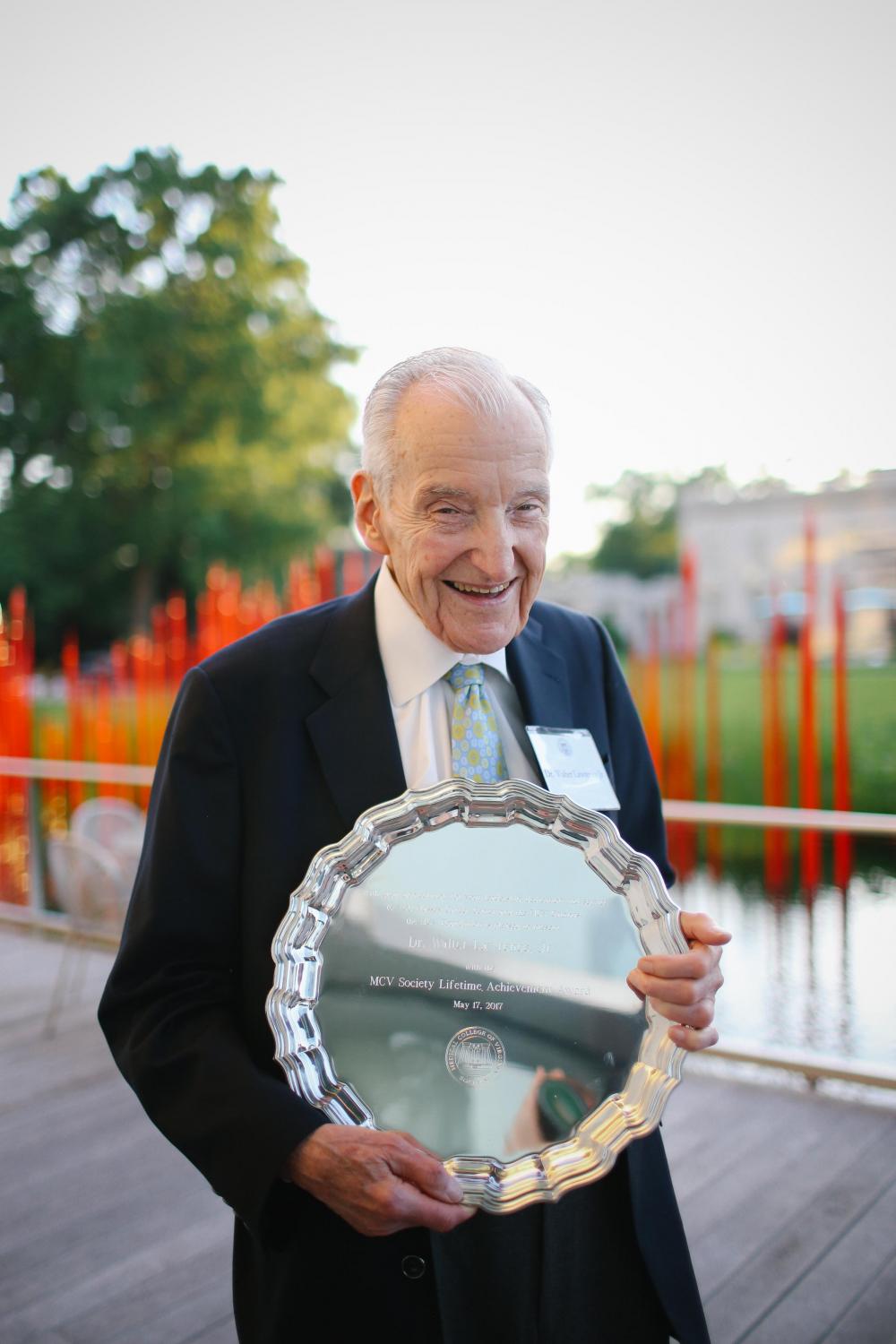 In May, Massey Cancer Center Founding Director Dr. Walter Lawrence Jr. was honored with the inaugural MCV Society Lifetime Achievement Award, given in appreciation of his leadership, dedication and service to Massey Cancer Center and the MCV Campus.
"No one exemplifies the legacy of the Medical College of Virginia or the future of VCU Health more than Walter Lawrence," said Harry Thalhimer. "His outstanding work, compassion and commitment to healthcare and the community truly sets the gold standard. As a great friend of our family, the VCU community, and as my surgeon – I can think of no greater honor than recognizing Walter today with our first Lifetime Achievement Award."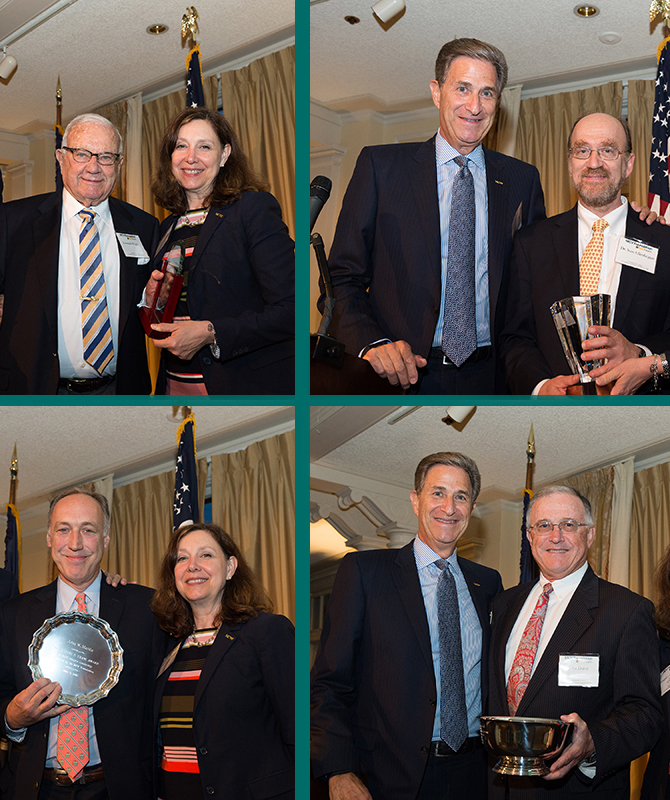 MCV Foundation trustees, staff, partners and friends gathered for a board meeting and dinner on June 5 to celebrate the culmination of a remarkable fiscal year on the MCV Campus.
The foundation recognized new board members, new board officers, outgoing board members, newly named lifetime honorary trustees and MCV Campus leaders and friends who have made significant contributions to advancing the mission of VCU Health. That group of individuals included C. Kenneth Wright (top left in photo), Dr. Kenneth Ellenbogen (top right), John Martin (bottom left) and John Duval (top right).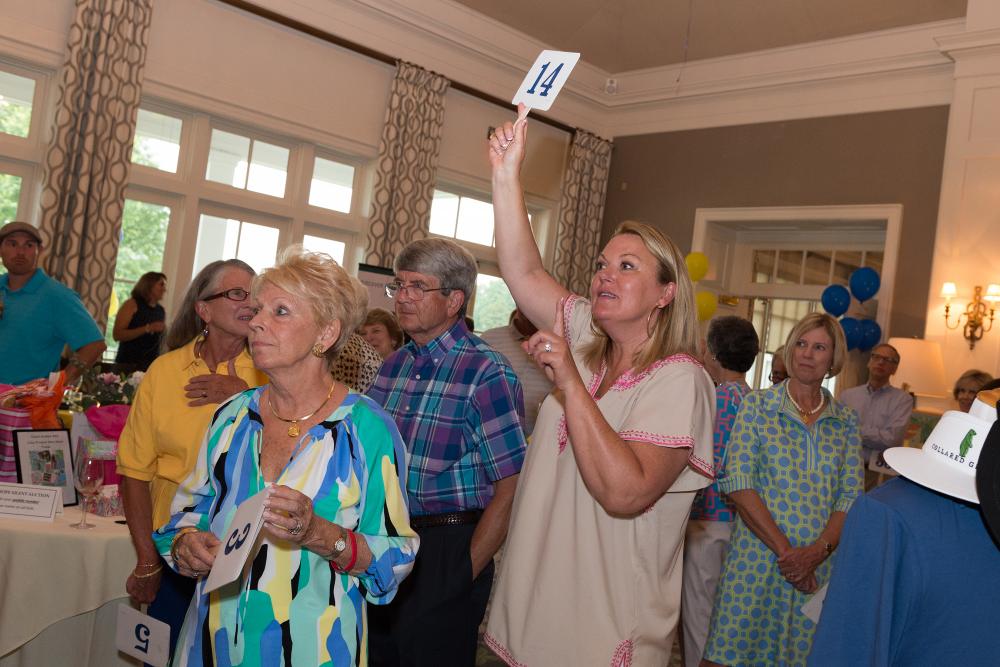 In June, friends, family and neighbors of former VCU Health ALS Clinic patient Vic Harper met at the Country Club of Virginia for the third annual Harper's Hope Golf Tournament and Auction to continue working toward making Vic's hope of improved patient care a reality.
"It's very heartwarming and amazing to see so many people attend the event each year," said Vic's wife, Anne Harper. "Our family is grateful for their support. There are many charities where they could spend their time and money, and we're grateful they choose Harper's Hope."
In August, the ALS Clinic that Harper's Hope supports was the first in Virginia to provide a new drug treatment for ALS.
"This isn't a cure, but there is a great chance that this is going to prolong the quantity and the quality of our patients' lives, and that's exciting," said clinic director Dr. Scott Vota. "It instills hope where there hasn't been hope before. They're going to be able to walk longer, be able to eat longer, be able to speak longer and be able to move around and engage with family and friends for longer than they would have before."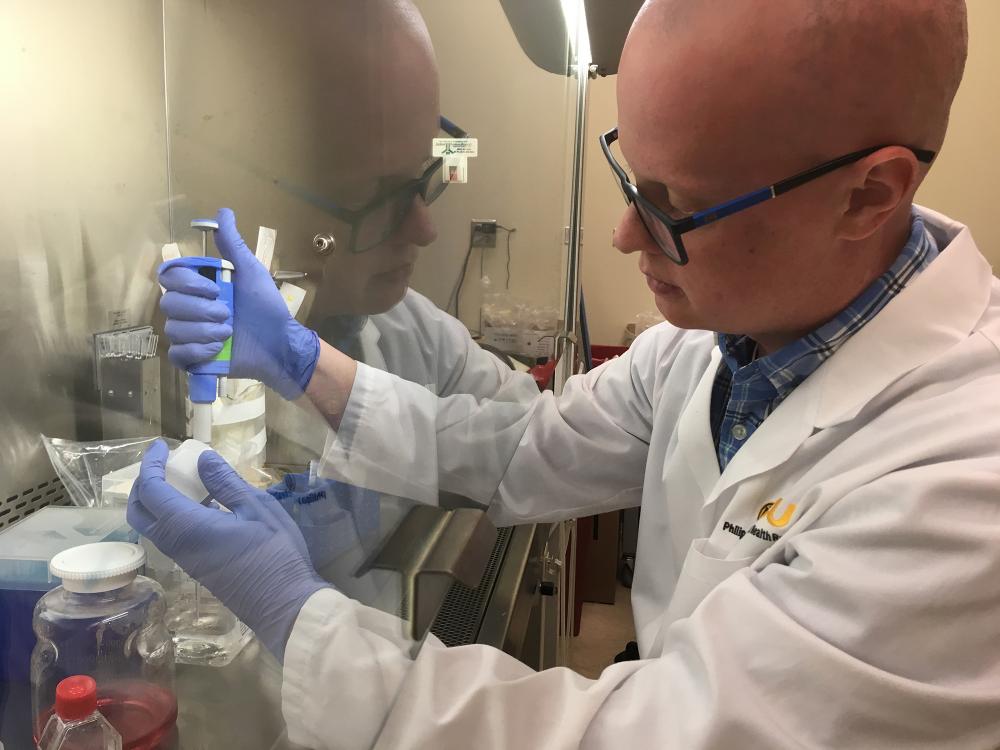 This summer, medical student Seth Spencer, who has battled acute lymphoblastic leukemia, completed research with the support of the James D. Popp Student Research Fellowship to explore targeted therapies for a childhood cancer.
"The idea is to find a treatment that affects just the tumor and not the whole body," Seth said. "One thing that's nice about these targeted therapies is that they don't work the same way as chemotherapies do. The better one of these targeted therapies is, the better it focuses on just the tumor and not so much the patient."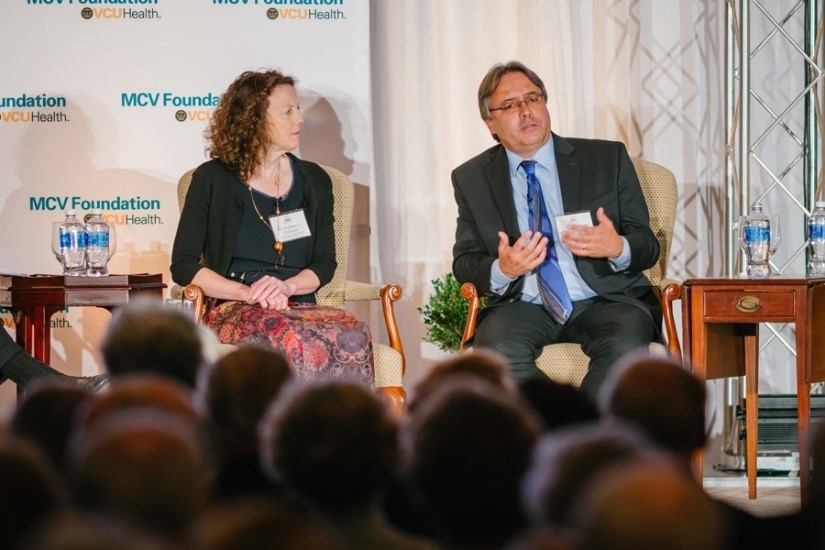 On Sept. 26, we celebrated our ninth gathering of healthcare discovery and dialogue with the Williamsburg community.
Making it our largest turnout ever, about 200 people attended the MCV Foundation Discovery Series event, which was held at Two Rivers Country Club. The Discovery Series featured a panel discussion with prominent VCU Health researchers and a reception that offered community members an opportunity to speak with the panel participants about the latest advances in healthcare treatment and research.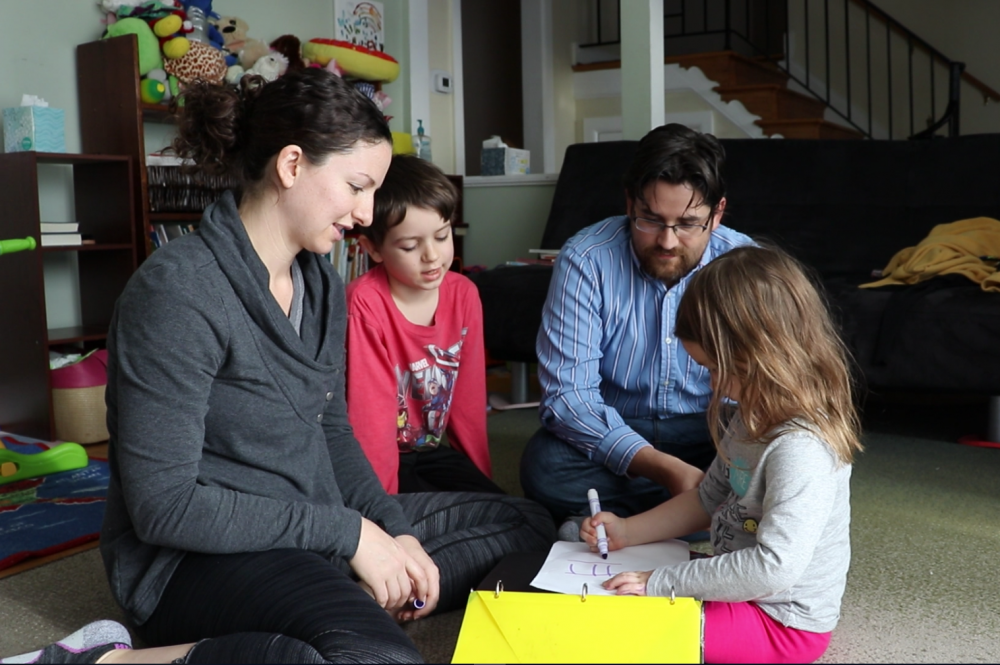 We spoke with Coffee Bourne, who graduated from the Doctor of Nurse Anesthesia Practice program at the VCU School of Allied Health Professions this past May. Her experiences while earning that degree and juggling the demands of a large family are what inspired her and her husband Adam to support future nurse anesthesia students who will face the same magnificent challenges that they did.
Coffee and Adam have pledged $5,000 per year for five years to establish the Bourne Family Scholarship, which will be made available to full-time nurse anesthesia students who have dependents.
In November, VCU Health and Children's Hospital of Richmond at Virginia Commonwealth University celebrated the ribbon-cutting for their new Virginia Treatment Center for Children.
The two-story, 119,000-square-foot facility opens to children and families in early 2018 and is located on the CHoR Brook Road Campus in Richmond's Northside.
The facility is transformational for children's mental healthcare, bringing VTCC's services out of a 50-year-old institutional space and into a modern facility with an inspirational design that incorporates natural light, green space and unique safety features important to modern mental healthcare.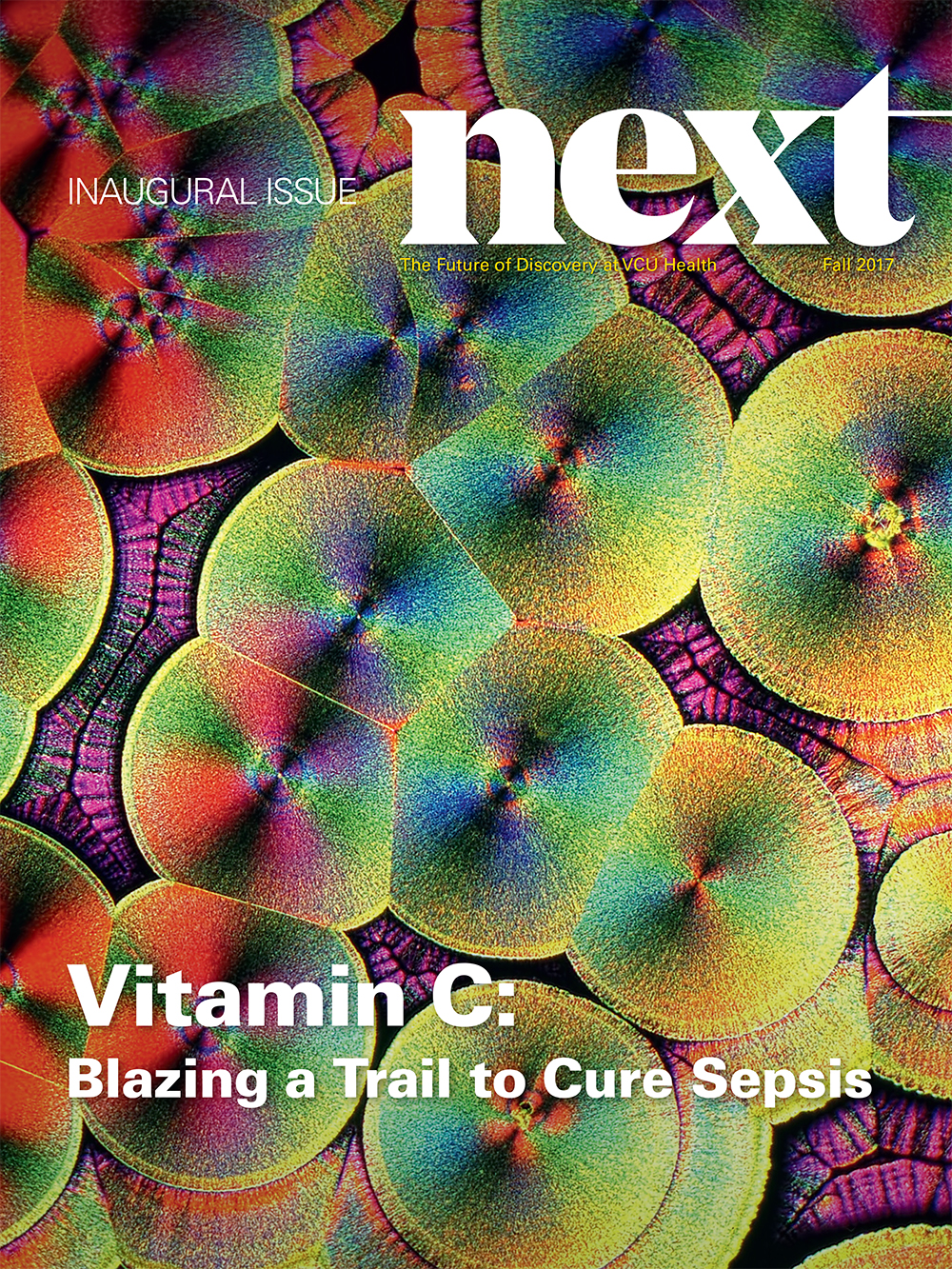 This fall, we published the inaugural issue of NEXT magazine, which chronicles the incredible advancements in patient care, research and education that happen every day on the MCV Campus.
These advancements, and the thirst for innovation that drives them, are part of VCU Health's reach through the community and around the globe to human beings who are sick and in need of help.
We are humbled and honored to have the opportunity to chronicle and support this pursuit of discovery as VCU Health's doctors, dentists, pharmacists, nurses, therapists, technicians, researchers, educators and students advance the MCV Campus's tradition and mission of improving the human condition.
We look forward to an even better 2018 and wish you, your family and your friends a new year filled with peace, joy and prosperity.
To read more about the incredible innovations in patient care, research and education that happen every day on the MCV Campus, read NEXT magazine.